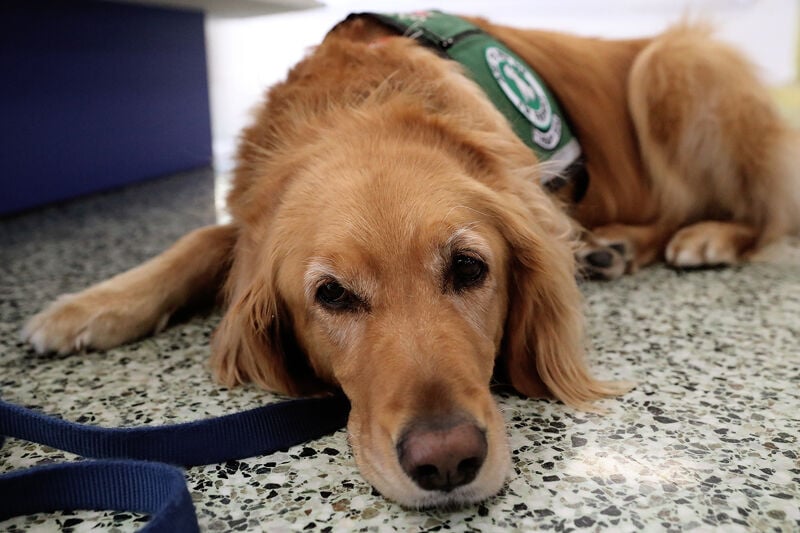 Coronavirus aside, being a student is arguably more stressful than it was 20, 10 – even five – years ago.
Jordan Engle, principal of Grand Island Central Catholic school, sees this on a day-to-day basis.
"It's a lot different now," Engle said. "I would argue that it's a lot harder now than it was even when I was a teenager."
From the outside looking in, the GICC students giddily bouncing through the school's hallways in homecoming spirit week garb make it difficult to imagine any of those students are struggling.
Research reflects many of Engle's observations, however.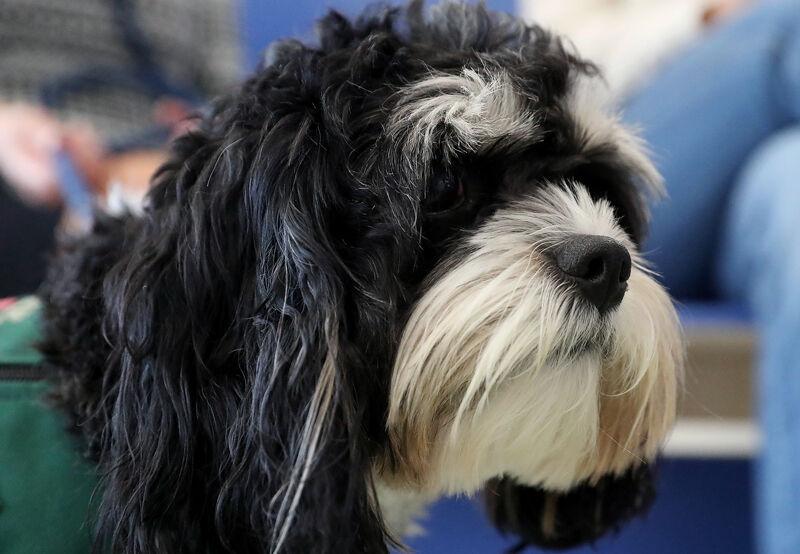 "In education research of right now, one of the major things is mental health issues caused by social media and just constant connectedness – a complete lack of any opportunity for students to decompress with the issues that they're facing socially, paired with the fact that even in this environment where we're constantly connected, students feel more isolated than they ever have," he said.
"We really are in a situation where we have to look for ways to help our students cope with the stress of being a teenager."
Two of those ways are Shire and Oakley, GICC's therapy-dogs-in-residence. Shire's handler is Dawnell Glunz, special education and English teacher at GICC, who has been with the school two years. Shire became a furry part of GICC's faculty and staff when Glunz was hired.
This school year Oakley was added to the roster. Oakley is handled and cared for by physical education, health and technology teacher Kelley Ward who has worked with service dogs for 20 years.
Before GICC, Oakley and Ward worked at Grand Island Public Schools Barr Middle School.
Shire and Oakley are both trained in not only obedience, but to tolerate different types of touch, crowds, loud noises and separation from handlers, but it's what they do best that makes the biggest difference: just be dogs.
"Oakley's just there kind of for emotional support," Ward explained. "She walks around the room and finds a kid to lay down next to. It's usually a random kid. She just seems to find somebody that maybe needs somebody to give her a scratch and give her a pet."
It is a dog's way of knowing that can help the fact that a teacher isn't always aware of what is going on in a student's life, Glunz said. "With all schools, we have no idea what they're walking into the school building with in the burdens that they have or what their night has been like or (if they) have a rough morning."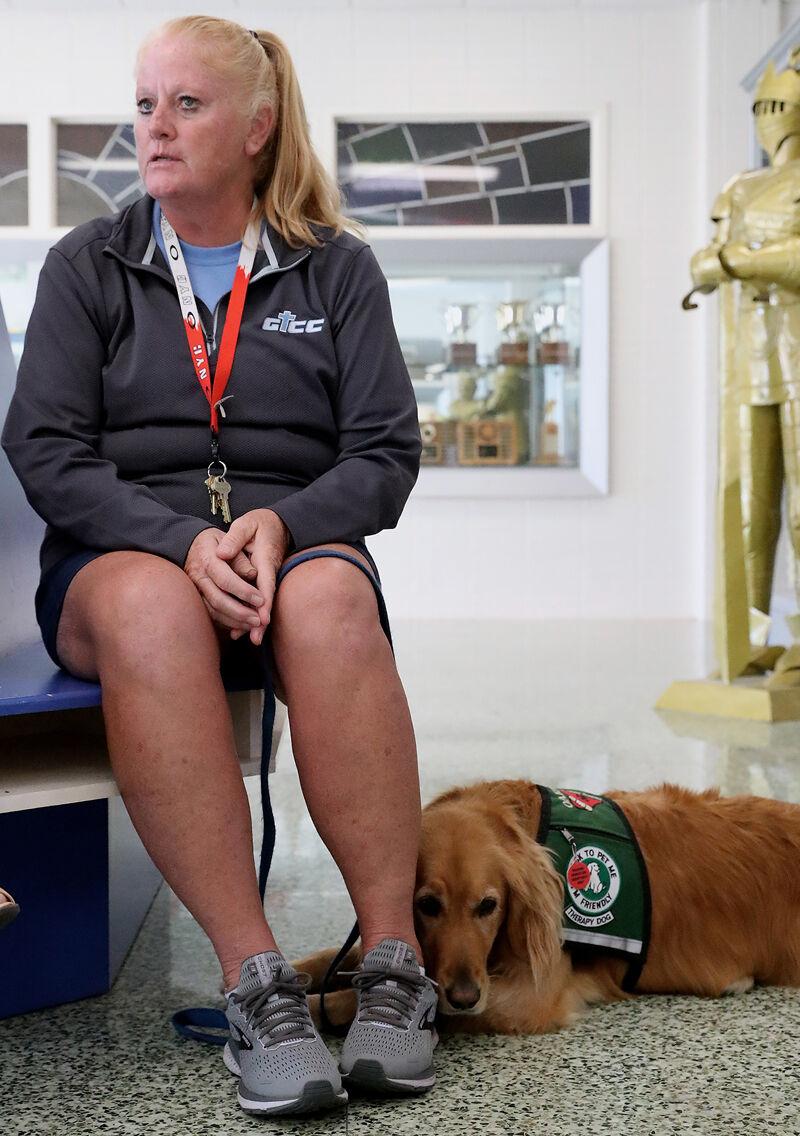 "They just provide that sense of calm peace and serenity," Glunz said. "Some of my students have said, 'We need a therapy dog in every classroom.'"
Shire and Oakley are shared throughout the school, Glunz said. "There's times where a student teacher will call me on the school phone and say, 'Hey, I'm sending down a student that needs some Shire time.' If it's a student that has a relationship with Shire, and I know that they can be trusted with Shire, then I'll say, 'Shire needs to go outside and go to the bathroom. Why don't you take him for a walk?'"
Ward said Oakley, though new to GICC's campus, already has proven popular. "There's not a kid that they don't like, there's not an adult that they don't like here at the building. Oakley and I were walking in the morning and she found a girl at her locker and just laid down. She was there petting her and Oakley is just loving every minute of it."
Having therapy dogs in school came to GICC at a time of tragedy, Engle said. "Two years ago this month we tragically lost a student," he said, referring to the October 2019 death of 16-year-old GICC student Nini Pham.
"That was an incredibly difficult time for our school," Engle recalls. "You can train and train and train for a situation like that, but it's not going to make a difference until you're in that situation. We were blessed to have four therapy dogs show up, and the difference that they made with our kids that day, it was just ... it was amazing. It was absolutely amazing."
In a way, with her death Pham created a legacy of bringing therapy dogs into GICC's classrooms and a schoolwide mission for mental health.
"Therapy dogs were something that I was familiar with because we had to have them at certain public schools where I taught previously," Engle said. "It was not something that I had ever considered for our school until that day. That really opened my mind to it."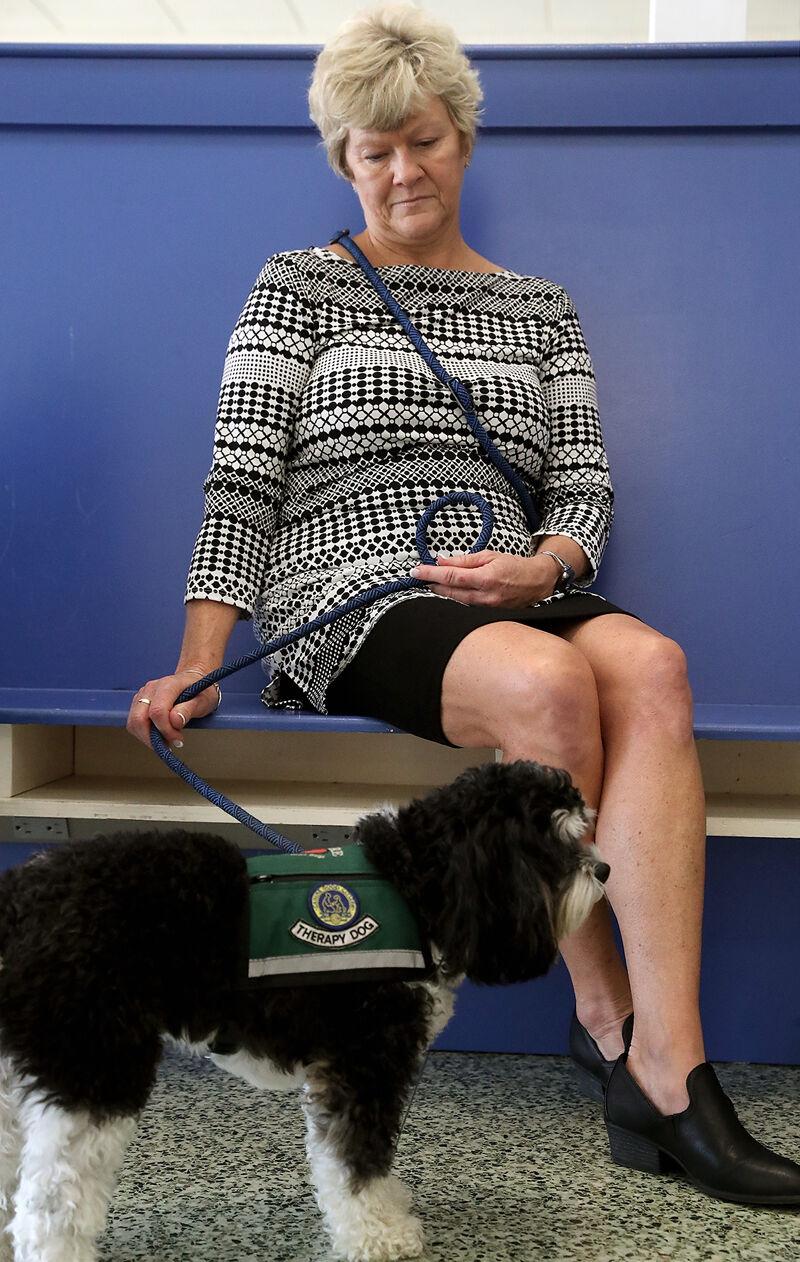 Therapy dogs have opened up students, too, including those who struggle with reading often coupled with teasing from peers, Glunz said. "When they're struggling to read in the classroom, peers might ho or huff because they're reading slow, or will correct their reading as they're reading out loud. So they've become very intimidated by reading. When they're sitting with Shire, they can read to him, and there's never any feedback. It really has increased their competence in reading and with their academics."
Glunz said, "Mental health awareness is something that is top priority for all of us, regardless of subject matter or grade level. If we're not mentally and emotionally sound, then we don't care about speech or computers or PE or social studies. The mental health piece has to be first."
Engle has reached out to students' families to evaluate where students need the most support. "Surveys to parents last year indicated that one of the areas that our students struggle the most with in mental health is feeling as though their peers are mistreating them."
As a result, school policies and procedures were reviewed and areas identified to promote treating one another with kindness and teaching self-care.
"I would argue that student health has collectively been better," Engle said. "Our students feel more comfortable advocating for themselves when they are feeling down, which is good. We've had fewer referrals to mental health specialists this year, which is the most obvious metric that we have. Students know that we're making efforts to look out for their mental well-being by just looking for new and creative ways to advocate for their mental health."
Indications are that having dogs promotes positivity and compassion in the classroom and beyond seems to have been part of a greater plan for GICC, Engle said. "Just having two wonderful teachers apply that happen to have therapy dogs is complete divine intervention. That wasn't something that we were actively seeking out. All of these things are pointing in the right direction and our hope is that we can continue pushing them that way."
Jessica Votipka is the education reporter at the Grand Island Independent. She can be reached at 308-381-5420.