When I moved to Grand Island in 2015, I knew very little. I'd never even heard of Amick Acres. I didn't know there's a bowling alley at the Liederkranz.
But over the course of five years, a guy picks up some information.
What are some of the things I've learned about Grand Island?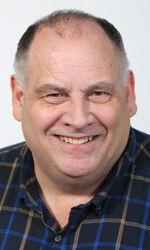 — You can get a lot of free dinners at the Saddle Club if you're willing to sit through a sales presentation.
— At GISH, some employees ride Segways.
— On Election Day, you get to vote for members of the Hall County Weed Board.
— Sharon Zavala really understands volleyball.
— The name of the buffalo at Stuhr Museum is Samson.
— GIAMPO stands for Grand Island Area Metropolitan Planning Organization. And it has a long-range transportation plan.
— A guy named Beau is the baron of the Second Street Pump & Pantry. Everybody knows Beau.
— Grand Island not only has a French area (Rue de College), but also an Irish neighborhood (St. Patrick Avenue, O'Flannagan and O'Grady streets).
— A sticker on the back of Jon Rosenlund's pickup says, "Keep calm. I'm a Boy Scout leader."
— Cathy Howard is the best writer in Grand Island.
— At Burger King, you can get senior coffee for 50 cents.
— We have big raccoons around here. They can do a lot of damage to cars.
— I rarely agree with letters to the editor written by Bert Peterson and Gerald Kosmicki.
What else have I learned?
— Some people use a golf club to close gates on irrigation pipes.
— A lot of guys around here helped build Interstate 80.
— Grand Island is a city of education. Not only do we have the Law Enforcement Training Center, but we are home to Heartland School of Dance, Xenon Academy, Joseph's College of Cosmetology and Step It Up Dance Academy.
— In the Grand Island urban forest, the dominant tree is the hackberry.
— A lot of people shop at Habitat ReStore.
— College kids sometimes put vodka in their Sonic drinks. Or rum or tequila.
— Healy Biodiesel will turn used cooking oil into diesel fuel.
— Older Nebraskans Day is a very big deal at the State Fair.
— Students at Central Catholic refer to their football field as Sader Sod.
— You can have a real age and a 4-H age. They're not always the same thing.
— For some reason, police canines tend to be Belgian Malinois.
— You can put a Dino in your pocket by getting Dinopay.
— A lot of people like to play 10-point pitch.
— Gun owners like to visit GI Loan.
— Some people go for daily walks in the cemeteries.
— 40 North Tap + Grille has a TV screen that is 9 feet tall and 16 feet wide.
— Groundwater management is a big deal around here.
— This town has a lot of vaping shops.
— I used to have trouble typing Lukasiewicz, Janulewicz, Bonczynski. Woitaszewski and Wojtalewicz. Now I can spell them in my sleep.
— Nobody issues more statements than Ben Sasse. If I asked him, he'd probably release a comment about this column, no doubt condemning it.
I will end this column with two bits of advice: If you've lived in Grand Island for any length of time, you probably don't need them.
— Don't ever drive on Diers Avenue during the lunch hour.
— Don't ever run against Karen Bredthauer. You won't win.
Get local news delivered to your inbox!
Subscribe to our Daily Headlines newsletter.