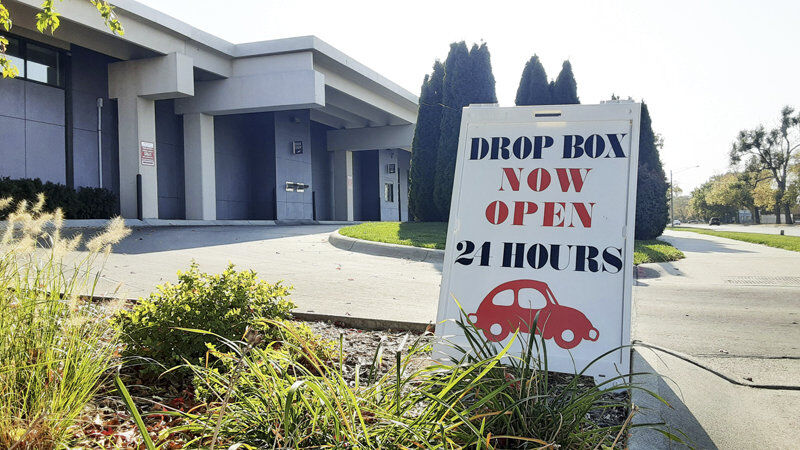 Grand Island Public Library will resume charging late fees on overdue materials starting Oct. 19.
"We haven't done fines since COVID started back in March, and we had over 9,000 items checked out at that time," interim Library Director Celine Swan said. "We need people to bring back their stuff."
Fines are 15 cents for children and 30 cents for adults per item, per day.
In the wake of the pandemic, this year, the library wanted to be considerate toward its patrons' needs, Swan said.
"We tried to be lenient and let people have their time to feel comfortable coming out into the community," she said.
The aim for the library is to get back its materials, and not collect any money.
"We don't want the cash," Swan said. "We quarantine everything, for three to five days. When people return their items, we clean them off and look through them. The longer people have items, the more people forget about them. They sit on a shelf, or get left in a car."
There are multiple ways to return materials: going into the library, using the library's drive-thru window or using the 24/7 dropbox.
Extended checkout times remain for DVDs.
"We know people are still not wanting to get out as much," Swan said. "When things are back into more of a normal atmosphere, hopefully after there's a vaccine, we'll probably switch back those time periods."
From March through May, Grand Island Public Library was closed due to the pandemic.
Since reopening, returned items have been cleaned and quarantined for several days.
On Aug. 22, the library resumed its drive-thru services.
Demand has continued for library resources.
"Books are so important to people, people come in and they're like, 'This is the first place I've come to!' or 'I can't live without my books,'" Swan said. "One lady said she was lonely without her books."
Even after five months, it's a surprise for some that the library reopened.
"I still have people say, I didn't know you were open!" Swan said. "People will drive by and come in and say, well, we haven't seen very many cars so we didn't think you were open."
After reopening, curbside service was offered to avoid contact with the public.
"When you do anything like that, it's a lot of work to set up and we had to have people check the book returns more," Swan said. "Now we're back into more of a rhythm of regular services, even though we don't have every single thing open here and there's things people can't use still."
Library attendance has increased each week since reopening, Swan said, though numbers have not been made available.
The potential of a second wave of COVID cases has been considered, Swan said.
"If things get bad again, if we have to go back to curbside, we would just go back to what we were doing a couple of months ago," she said. "We figured out great ways to do curbside with people able to call in and pick up their stuff."
She added, "Fines will definitely be back on, but we will have the drive-thru open."
Swan encourages people to get their library card.
"A library card opens up so many opportunities for people of all walks of life," she said. "I see people who have nothing who come in and it's a real lifeline for them to be able to look for jobs or contact family. Or they're a student and need resources for school. And then we have people who do a lot of recreational reading."
The library will work with patrons to remove any outstanding fees, Swan said.
"Call and let us know you have these items and we'll work with you on taking off fines, just to get the items back, as long as they're in good condition," she said. "We try to work with everybody."
For more information about library services, visit the Grand Island Public Library, 1124 W. Second St., or call 308-385-5333.
Concerned about COVID-19?
Sign up now to get the most recent coronavirus headlines and other important local and national news sent to your email inbox daily.