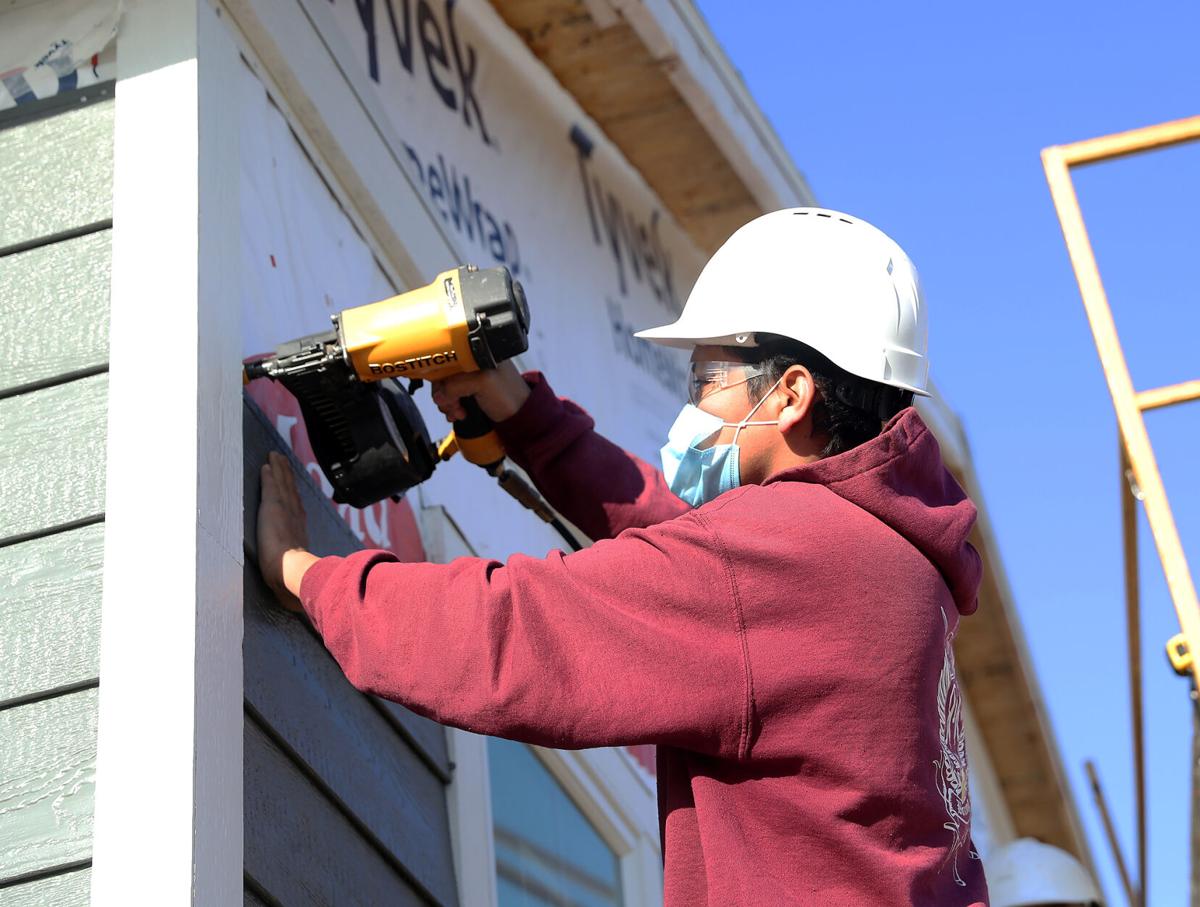 Seniors enrolled at the Grand Island Public Schools Career Pathways Institute building program are on the last leg of their house project near the Indian Lake Golf Course on Congressional Plaza.
The project, which started in September, will be completed in May.
For the seniors, this project is the culmination of three years of hands-on education on the way to good paying jobs and a lifelong career in the building trades that can begin immediately after graduation.
For eight years, the Career Pathways Institute has been helping students follow a direct pathway to a career after high school, along with helping the community fill a crucial labor need and retain these students in Grand Island where they will live and raise their families.
"This is the seniors' capstone project," said Brett Forsman, construction and building instructor for the GIPS Career Pathway Institute.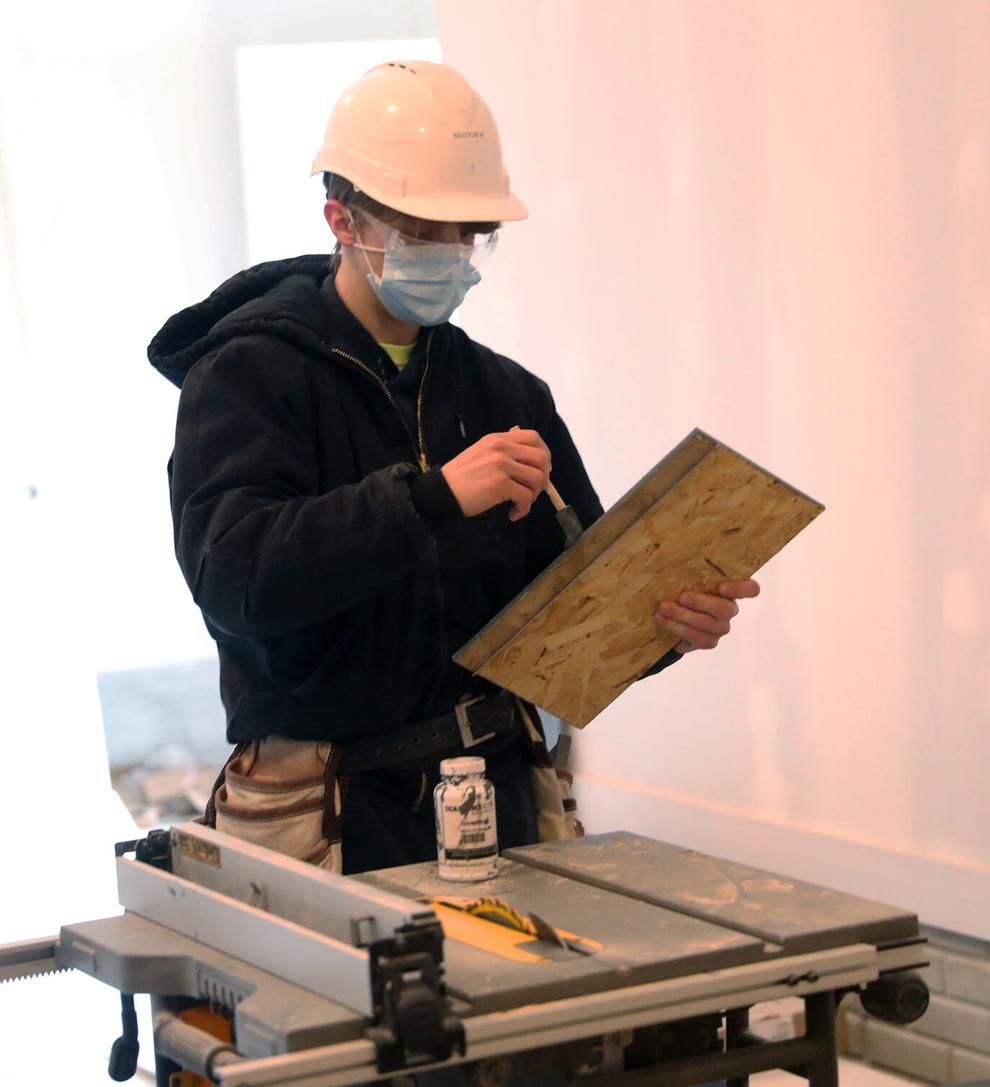 Forsman calls it the "capstone project" because it is the last project the seniors do before they graduate.
"They started their sophomore year with an introduction in construction and work their way up during their junior year and this is their final project," he said.
It is not the first house these students have built. As juniors, they built a home for Habitat for Humanity.
For these seniors, this is a "hands-on" educational experience that allows them to demonstrate the skills they learned in the classroom at an actual job site.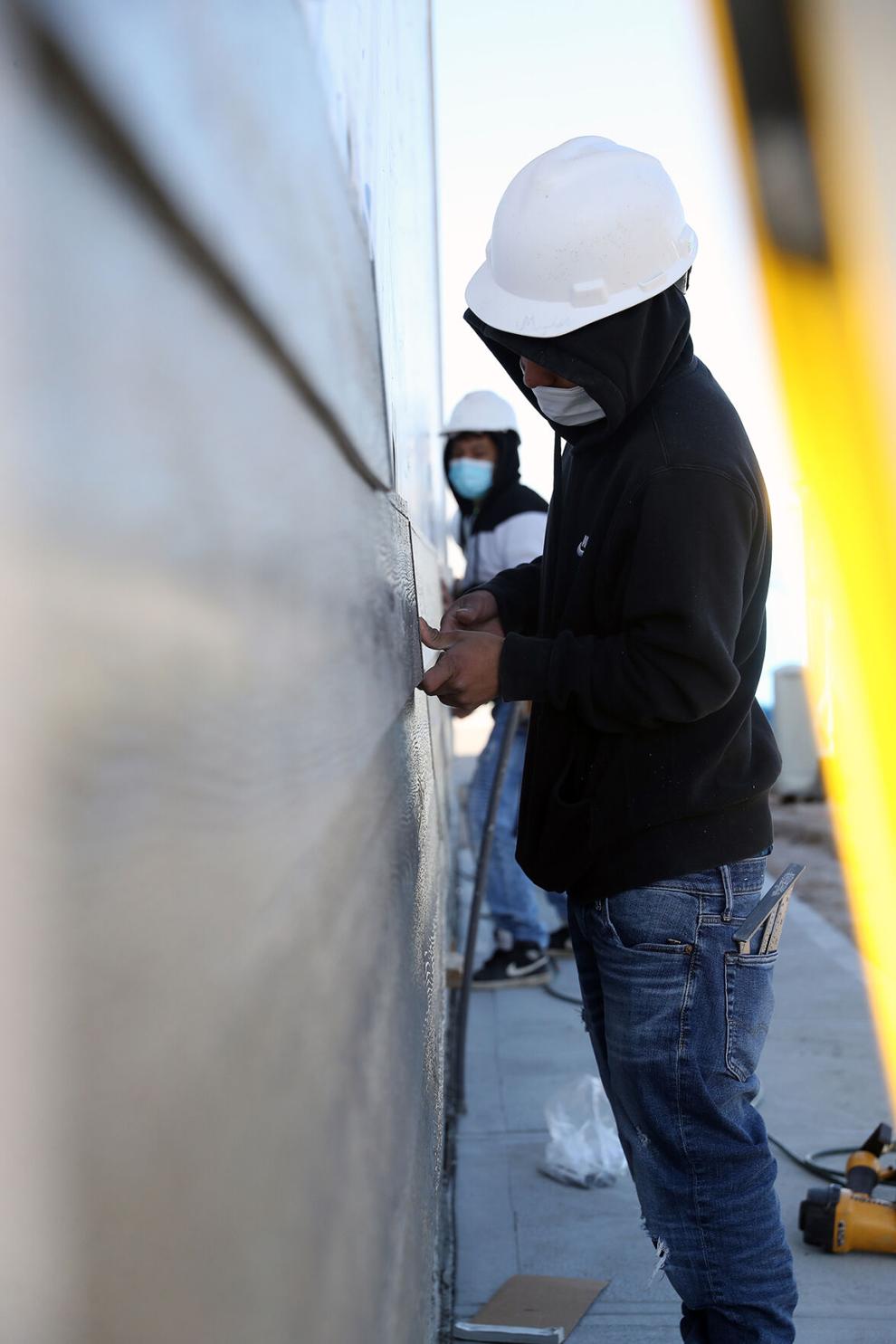 "This is as hands-on as it gets," Forsman said. "We are trying to prepare them for the construction industry and a career outside of school."
He said not every student will advance after high school into a construction career. "But we want to prepare them so they can have the skills and the abilities to go into that industry."
Forsman said at CPI, "We really put a focus on the career aspect of it and preparing them for a job site."
The program also teaches responsibility.
"They drive out to the job site just as if they are going to work," he said. "They spend three hours a day here."
There is a morning class and an afternoon class that goes out to the job site.
"We really try to make it as if they are going to work," Forsman said. "That better prepares them if they decide to go to work in the industry after graduation."
He said as sophomores, the students get their first taste of building while attending classes at Grand Island Senior High. They build storage sheds, learn about building and get their OSHA certification.
As juniors, Forsman said, they go to CPI, where they get their first experience of building a house for Habitat for Humanity. Then as seniors, they put all that they have learned together and build a 2,000-foot spec home from the ground up.
"They really learn the construction industry and trade," he said. "We are really getting them prepared for that."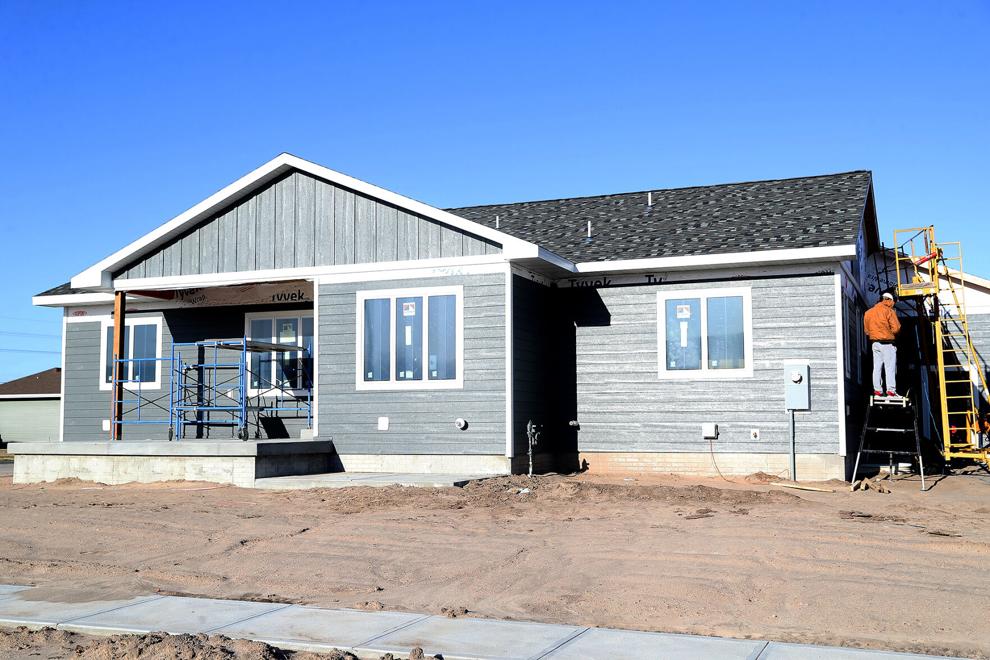 Forsman said the students also use a lot of what they have learned in the classroom, such as math, science, business and communication skills, when they're on the jobsite. That helps them get a more complete education when it comes not only to hammering a nail into wood, but also the hows and whys of what they are doing.
"That's our goal, that if they do go into the industry they are prepared and the contractors don't have to teach some of those skills." he said.
As a teacher, Forsman said, "I really try to stay as hands-off as I can."
"Obviously, there are certain aspects where I have to be right there with them," he said. "I really want these students to know that this is their project and this is their house."
The project starts in the fall. When the students start their senior year, Forsman said, the concrete work is completed and they start building from there.
"We start about Sept. 1 and we have been going at it ever since, good weather, bad weather," he said. "Some of these students will go into construction management and I really try to stress to them the scheduling piece of it. You have to plan for those bad days. You have to have something to do inside if the weather is bad and keep the project going. That is half of my job, trying to schedule and organize things so they can keep going."
Forsman said having the hands-on experience of building a home makes a difference in the students' education and their lives.
"I get a lot of students that come back to me and talk about after graduation what they are doing," he said.
One of his former students is working for a contractor and he is building a nearby house.
"That is really fun to see," Forsman said. "I can see him working. I have some former students who own their own companies already. It is fun to have students come back and talk about their experiences and what they are doing."
Many of these students will have a chance after graduating this spring to go to work for a local contractor as workers are in need since the construction and building industry is booming in Grand Island.
Not only is the program teaching applicable skills for the seniors, but it also is meeting an employment demand that helps keep these students in the community, working and raising a family.
"It is a great experience for the students," Forsman said. "This is a student-built house. These guys take pride in their work. This house is already sold. That is really exciting."
The money from the sale of the house goes into the school's building trades program to help ensure future students can have a house building project.
"These students in the construction pathway have many options," Forsman said. "They can go to a four-year school for construction management, or a two-year college for construction tech, or they can go straight to work. They have all kinds of options."
One of the student builders on the site Thursday morning was Bradden Weeks.
"This is a good opportunity to learn hands-on," Weeks said.
He also is earning college credits for participating in the program.
Weeks said he has learned a lot from being a part of this class.
"You retain a lot more information with hands-on," he said. "That is the big thing."
Another student, Luis Anzora, said, "This has been a good learning experience."
Through his hands-on experience, Anzora, whose family is also in the building trades industry, has learned all the various aspects of what it takes to build a house.
What is the most important thing Anzora has learned during the last three years?
Like the old saying, "Measure twice, cut once," it is not only a great rule for a builder as it is faster to double-check than to make a mistake, but it is also a lesson that can be applied to many aspects of life.