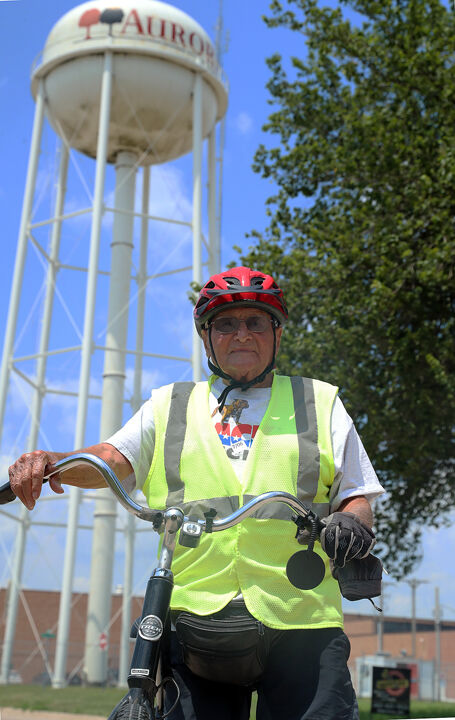 AURORA — By 8 a.m. each day, Dave Oswald already has put in a dozen miles on his bicycle.
The 89-year-old Aurora man gets up about 5:30 a.m. and gets going on his Trek bike by 6:30.
Altogether, Oswald has covered more than 35,000 miles on his bicycle.
You can do the same thing.
"You're never too old to start. I was 79 when I started," he says.
Oswald began his riding after his wife, Delores, passed away in May 2011 at the age of 78.
Their son, Craig, an avid bicyclist, suggested that he take up bike riding "and it's worked out well," he said.
Once Oswald started, he just got into the habit.
"I would feel lost if I didn't get up and go out, I guess," he said.
He averages about 11 miles a day.
Along the way, he might say hello to two or three other riders.
"I don't go very fast. I just pedal along," Oswald said.
The easy rider enjoys fresh air and being outside.
He pedals through town, "looking at the beauty of God's creation, mainly," he said.
Almost all of his bike riding is within the city of Aurora. He used to go on the highways, but the popularity of cellphones made him change his route.
Too many drivers are concentrating on their phones rather than where they're going, Oswald said.
"When you hear a tire on the rumble bar behind you, you want to get pretty concerned," he said.
His ride takes about an hour and a quarter, finishing at about 8 a.m.
But Oswald usually gets up and goes out again later in the day, using his bike to run errands.
He buys only a few items at a time, so he can wrap the plastic bag around his handlebar.
At the grocery store at the Aurora Mall, he says hello to his grandson's wife, who is the co-manager.
Five days a week, he rides to the Hamilton County Senior Center to have lunch. He also rides to the Aurora McDonald's to have coffee with his pals.
Mostly, he enjoys looking around.
"You're seeing something different all the time," Oswald said. But he can't look around too much.
On a bicycle, "you've got to watch where the front wheel is going all the time," he said.
Oswald, who grew up on a farm southwest of Aurora, graduated from Aurora High School in 1951. The following year, he was drafted by the U.S. Army. He spent two years in the Army, including 14 months in Korea.
For most of his working life, he was a truck driver. Twenty-five of those years, he drove for Herman Brothers, based in Superior.
The former Delores Meier was a Grand Island native.
"Her dad was a dairyman north of the airport in Grand Island," he said.
How did Oswald meet his future wife? She was part of a group of girls who asked him for directions to the Aurora roller skating rink. They got to talking, and "one thing led to another."
They were married in 1952.
"She was a sweetheart," he says.
For two years of their marriage, they lived in Akron, Ohio. They returned to Aurora in 1995.
Most of his bike riding, but not all, is done in the morning.
He sets his alarm for 6 a.m., but he usually gets up before the alarm goes off.
"I always did like to get up and get going in the morning," Oswald said.
Not only did he grow up on a farm, but the trucking business often required an early start.
How would Oswald describe himself?
"I love my God, for one thing. And my wife did, too. Also, my kids do, too," he said.
So you could say he rides religiously.
Oswald doesn't ride for his physical health, but the bike riding undoubtedly keeps him fit.
"Otherwise, I'd probably be sitting here watching TV and eating candy," said Oswald, who weighs 150 pounds.
The riding definitely benefits his knees. After he had his left knee replaced in January, he needed less rehabilitation than most people do.
Oswald's three-speed bike has a semi-automatic transmission. A generator in the hub of the front wheel is connected to the back wheel. The energy comes from his cycling.
He bought the bike from Wayne Cyclery in Grand Island. Owner John Wayne told him, "That bike was never designed to run the kind of miles you put on it."
Since Oswald started biking, he has replaced a tire 10 times.
He does his early morning ride six days a week.
On Sunday, he drives to Grand Island for church at Trinity Lutheran. He also has a friend at Grand Island. So he does his Sunday riding in the afternoon, assuming the weather's not too warm.
He rides in the winter, "unless it really gets nasty. I've had a few spills on the ice," he said.
Oswald's son, Craig, is a more avid rider than his father is.
"He goes faster than I do," he said.
In honor of his 64th birthday, Craig rode 64 miles in one day, on June 28. A former captain with the Hastings Fire and Rescue Department, Craig now drives full time for T-L Irrigation, delivering pivots around America.
Oswald has relatives close by. His daughter, Kathryn Guenther, lives in Henderson.
He has a grandson in Hampton and another one in Hastings.
He has a total of five grandchildren and 11 great-grandchildren.
"My kids check in with me nearly every day," he said.
Oswald's bike has a lot of miles on it. But he has no thoughts of trading it in.
"I don't think there's any trade-in value to it," he said.