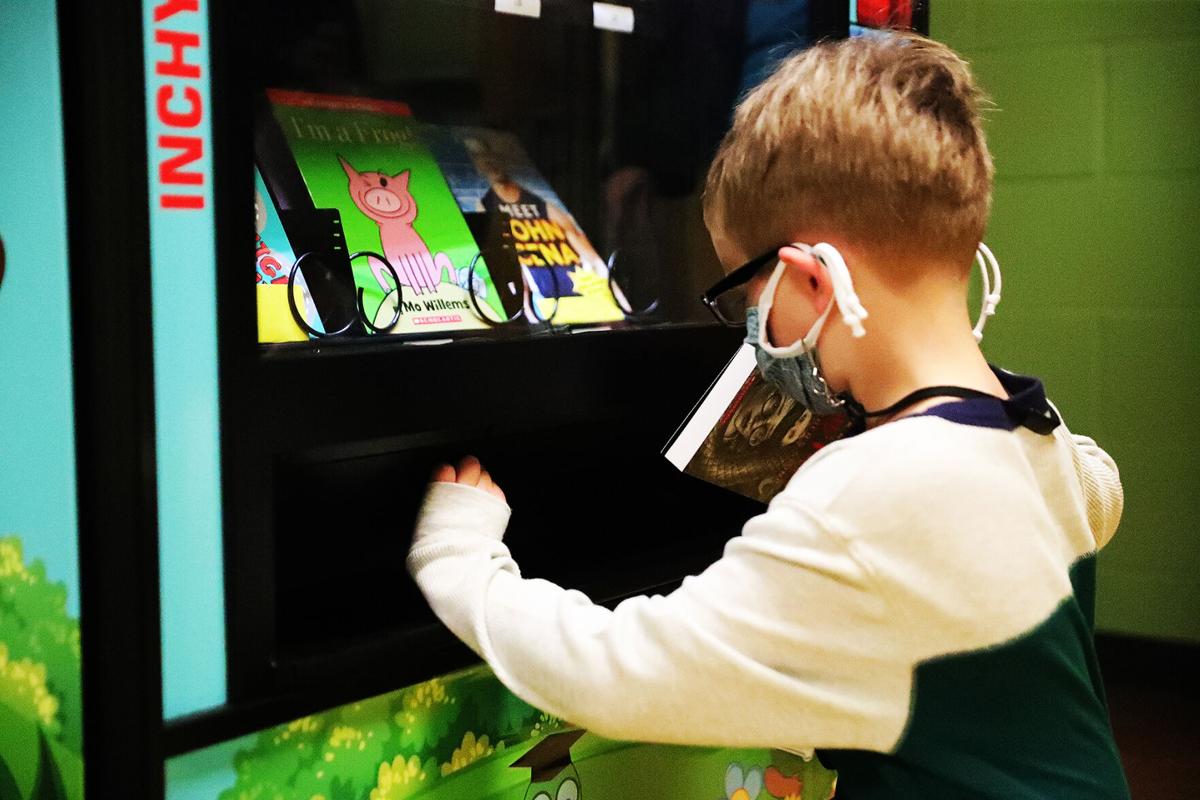 While most people think of a vending machine as a place to get a snack, Engleman Elementary is using one to dispense books.
At a small ceremony Friday morning, Engleman cut a ribbon to officially put the book-dispensing vending machine — named "Inchy" — into service. The machine is just outside the entrance to the school's library.
Engleman Principal Carrie Kolar said students will be able to select books from Inchy by earning tokens for doing a variety of positive things, such as earning a good test score, having good attendance, having high reading times or for being kind to another person.
Kolar said the school has enough tokens for all of its 473 students to use to redeem a book. The students get to keep the book.
Engleman PTO Co-President Natalie Lukens said Inchy is a result of a collaboration with first-grade teacher Jen Ehlers to improve literacy at the school.
After seeing various social media posts about book vending machines, Lukens said they decided to bring one to Engleman to get students excited about reading and to support new reading measures coming from both the state and Grand Island Public Schools. She said the PTO held a Read-A-Thon from Feb. 19 to March 5 to the raise funds needed to bring Inchy to Engleman.
"The timing was actually pretty interesting. It was set to end the day before spring break started, so this was the last collaborative measure that the school had before we switched over to e-learning " Lukens said. "I know that for so many of the students and their families, this became something that they were really looking forward to over these long months in the summer."
During the Read-A-Thon last spring, Lukens said Engleman raised $15,523. The funds were used to purchase the machine and the books to put in it. She said the Engleman PTO has reserve funds to use to purchase more books for the machine as needed.
Lukens said Engleman students read a total 124,212 minutes during last spring's Read-A-Thon.
After cutting the ribbon to dedicate Inchy, the three Engleman students who read the most minutes during the Read-A-Thon — now second-graders Donovyn Atwood, Carter Hirschman and Zachary Hazleton, respectively — were the first to redeem a token to get a book out of the vending machine Friday morning.
"It is really cool that is has lots of books," Zachary said. "I like that it gives me more knowledge on every page. I can read it (book) and it gives me the knowledge."
Zachary said he was able to select "School Days According to Humphrey," a chapter book by Betty G. Birney, from Inchy.
Kolar said Engleman hopes the book-dispensing vending machine will allow students to choose books that interest them to support the habit of reading for pleasure and to help build home libraries. She added it also will build excitement around book ownership, independent reading and academic success.
Lukens said the Engleman PTO hopes to hold the Read-A-Thon again during the spring semester.