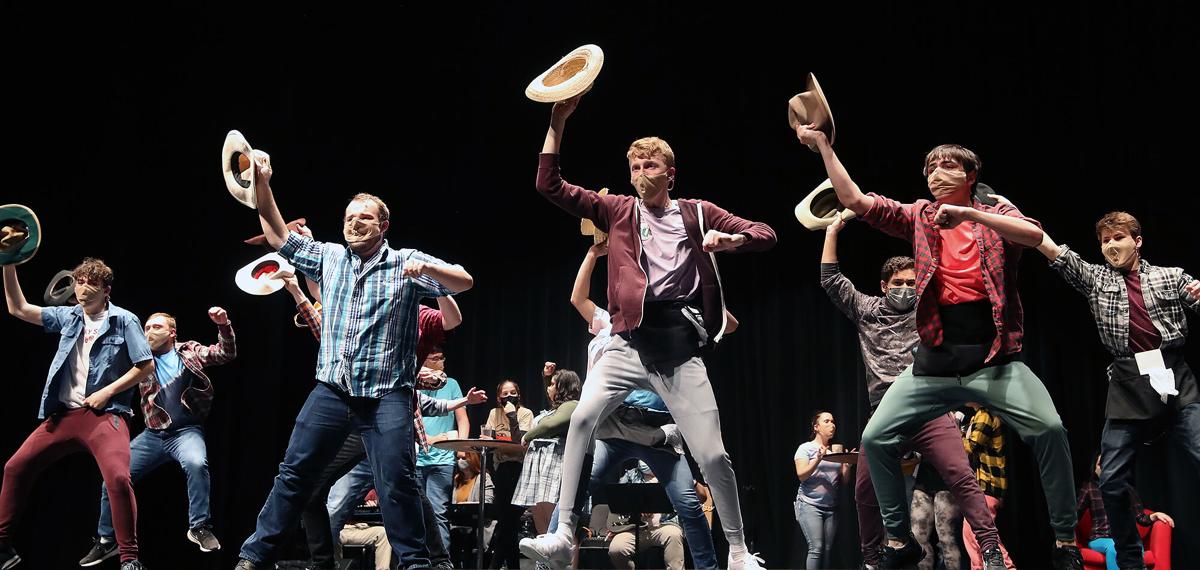 When the cast of "A Musical Showcase" takes the stage Friday night, it will be the first time the Grand Island Senior High Auditorium has hosted a theatrical production since "Elf: The Musical" in the fall of 2019.
The show is notable for another reason.
This is the first time Grand Island Senior High students present a musical written by students themselves.
"A Musical Showcase" was written by GISH seniors Jackson Kissler, Abby Vajgrt and Emaline Bockoven.
"We've never done anything like this," says Greg Ulmer, who's wrapping up his career as the school's theater director this spring.
Kissler, Vajgrt and Bockoven are not actually in the musical, which has 14 speaking parts and a 32-person ensemble.
In addition to writing the show, the three seniors are producing the show and helping to direct, Ulmer said.
They are members of Ulmer's advanced theater class, where they did the bulk of the writing.
Normally, GISH presents its musical in the fall. But the school delayed the show until this spring.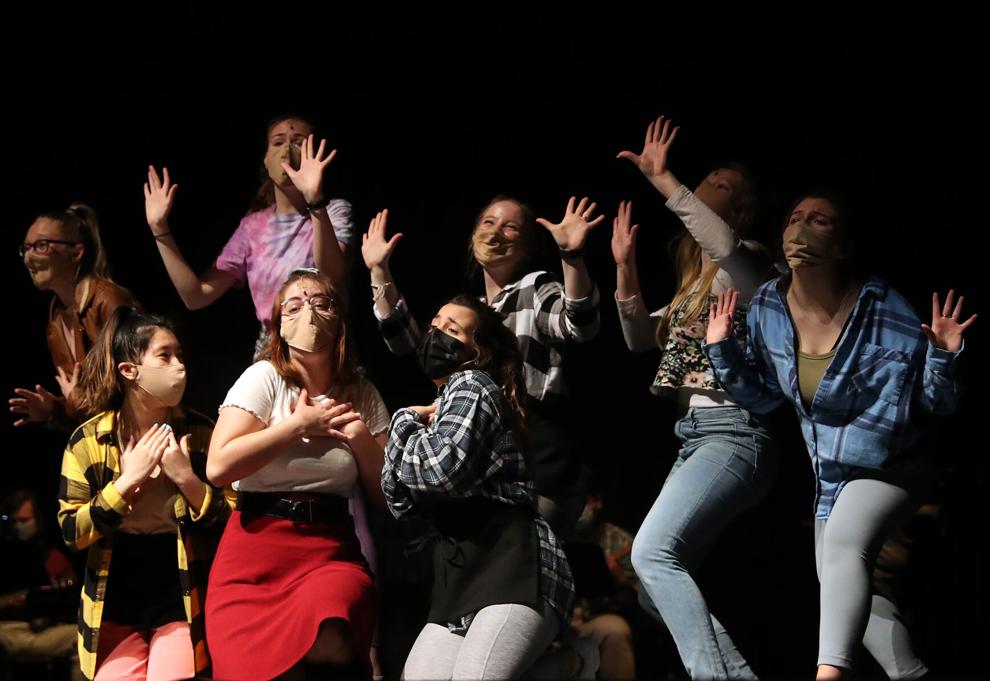 When the students started writing the play, they didn't know if it would ever make the stage. For all they knew, GISH might do something completely different, or not have a show at all.
So to have a musical that they wrote, directed and produced and that showcases "the talent of a bunch of really, really talented people, it's just amazing. Because I didn't think this was going to happen this year. I didn't think this was going happen any year," Bockoven said.
"A Musical Showcase" includes well-known songs from Broadway musicals. But it also has a plot.
The two main characters, Harper and Oliver, are high school seniors who "are making their final decisions about college," Vajgrt says.
Harper and Oliver are sweethearts who've always planned to go to college together.
But things happen, and plans change. The show is "all about learning to adapt to different situations and learning that sometimes being a senior in high school means that you need to make tough decisions that are eventually going to have a positive impact in the long run," Vajgrt said.
"It's a really good story about resilience and relationships and just teenagers in general," said Kissler, whose mother is Jill Kissler. He also noted that "it's a really cute show."
Chloe Holsinger plays Harper. Oliver is played by Zach Brisenhan.
The authors set "A Musical Showcase" at Grand Island's Chocolate Bar, following a recommendation made by choreographer Danny Dwaine Wells II.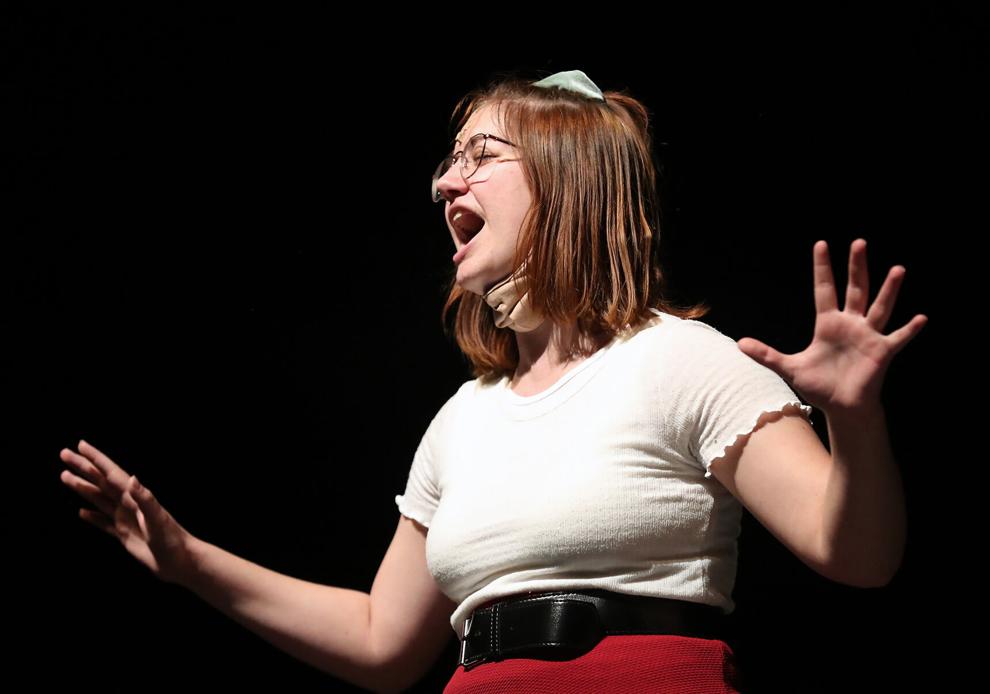 Among the songs featured in the show are "Willkomen" from "Cabaret," "Be Our Guest" from "Beauty and the Beast," "Seasons of Love" from "Rent" and "Good Riddance" from "American Idiot." The latter is based on the music of Green Day.
Other songs come from "Hair" and "Annie Get Your Gun."
Putting the show together has been "a really fun experience," Vajgrt said.
"It's something that we've never been able to do before," she said. They've directed one-acts, but they've never had a chance to direct a musical or create a show.
The musical will be an opportunity for audiences to see what "student-driven theater looks like," Vajgrt said.
Everyone in the show has been "super-involved" and "super-invested," Vajgrt said, "and this is a really cool opportunity that we're never probably going to get again. This is something that's really unique."
The pandemic "kind of blessed us in that way because this was something different and something that we were able to come up with on our own," said Vajgrt, the daughter of Cheryl and Andy Vajgrt.
The most fun part, Bockoven said, was seeing it come together onstage.
"We had been writing it, we had been casting it, we had all been practicing it. But when you see it all run through at once onstage, it's really a gorgeous show," Bockoven said.
"We have some really, really amazing numbers in this, and the actors are just wonderful. It's going to be a really good show," said Bockoven, the daughter of Sarah and Mike Bockoven.
Kissler, Bockoven and Vajgrt are "all pretty advanced when it comes" to theater, Ulmer said. So they've enjoyed doing the show.
It's also a different experience for them, said Ulmer, who will retire at the end of the school year. The 56-year-old Aurora native is in his 29th year as GISH's theater director.
The show, Ulmer said, will be good because the students' singing is "fantastic" and "the acting's wonderful."
Audiences will walk away from the musical singing because they'll know most, if not all, of the songs, Ulmer said.
He urges people to "just come out and support the kids and the fine arts."
The cast includes Carly Gartner, Avalon Wedige and Abigail Casarez, who play friends of Harper. Oliver's friends are played by Anthony Priester, Corbin Bergmeier and Lewis Hendricks. Sofia Dominguez plays the Liz, the owner of the Chocolate Bar.
Servers are portrayed by Logan Ripp, Kaden Renner, Yosi Borrego-Federico, Anne Martinez and Gage Brockmeier.
The ensemble consists of Abigail Casarez, Alejandro Amandor, Alexis Osborn, Alieka Matzner, Anne Martinez, Anthony Priester, Ashley Perez, Braylon Bilsend, Bri Sanchez, Carley Pool, Casey Sorensen, Christian Tennant, Clark Boettger, Daniela Contreras, Emma Smith, Gage Brockmeier, Haley Wiemers, Hannah Madison, Isabella Mora, Ivan Medina, Kerrigen Jelinek, Kia Clark, Lexie Osborn, Logan Ripp, Madyson Schleicher, Mainor Ramirez, Mali Xayarath, McKenna Zapata, Nansy Yusif, Olivia Shultz, Ryan Sodomka and Zoey Roundy.