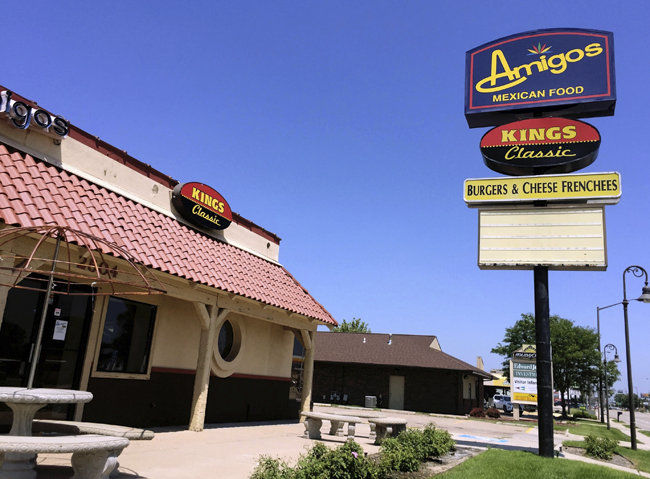 For the first time in 34 years, you can't buy crisp meat burritos, Cheese Frenchees or Crispos on South Locust Street.
The Amigos/Kings Classic on South Locust, which opened in February 1986, closed its doors on June 26.
The Amigos at 2325 N. Webb Road isn't going anywhere.
It was a tough decision to close the Amigos on South Locust, said owner Kevin Kershner.
"In the current business environment, we just made a corporate decision that we were going to downsize in Grand Island," Kershner said.
Of the two Grand Island restaurants, "the Webb Road store makes the most sense to still be open. And so we chose to close the South Locust location," said Kershner, who lives in Kearney.
Kershner and his wife, Julie, own five Amigos restaurants. In addition to the Webb Road store, they own two in Kearney, one in Hastings and one in North Platte.
You don't just decide to close a store overnight, especially one that's been there that long, Kershner said.
"I really wasn't looking to get out of South Locust," Kershner said. But another party was "very interested in that piece of property. And so the timing just made sense."
In addition to the current economy, COVID-19 was also a factor. Grand Island "was Phase 1 and 2 so much longer than the rest of the state," he said. COVID "and everything else" contributed to the decision. "All those things take a toll on you."
Kershner couldn't identify the new restaurant because the deal is not signed.
Kershner had been involved with the South Locust restaurant since it opened. He was formerly vice president of operations at the corporate headquarters in Lincoln.
He and his wife became franchisees 14 years ago.
The Webb Road store is "doing very well," he said.
That location is now the longest-operating Amigos anywhere. It was the second Amigos to open. The first one, at 55th and O streets in Lincoln, closed three or four years ago. Like the south Kearney Amigos location, the South Locust Amigos restaurant was originally a Bell Pepper.
Get local news delivered to your inbox!
Subscribe to our Daily Headlines newsletter.