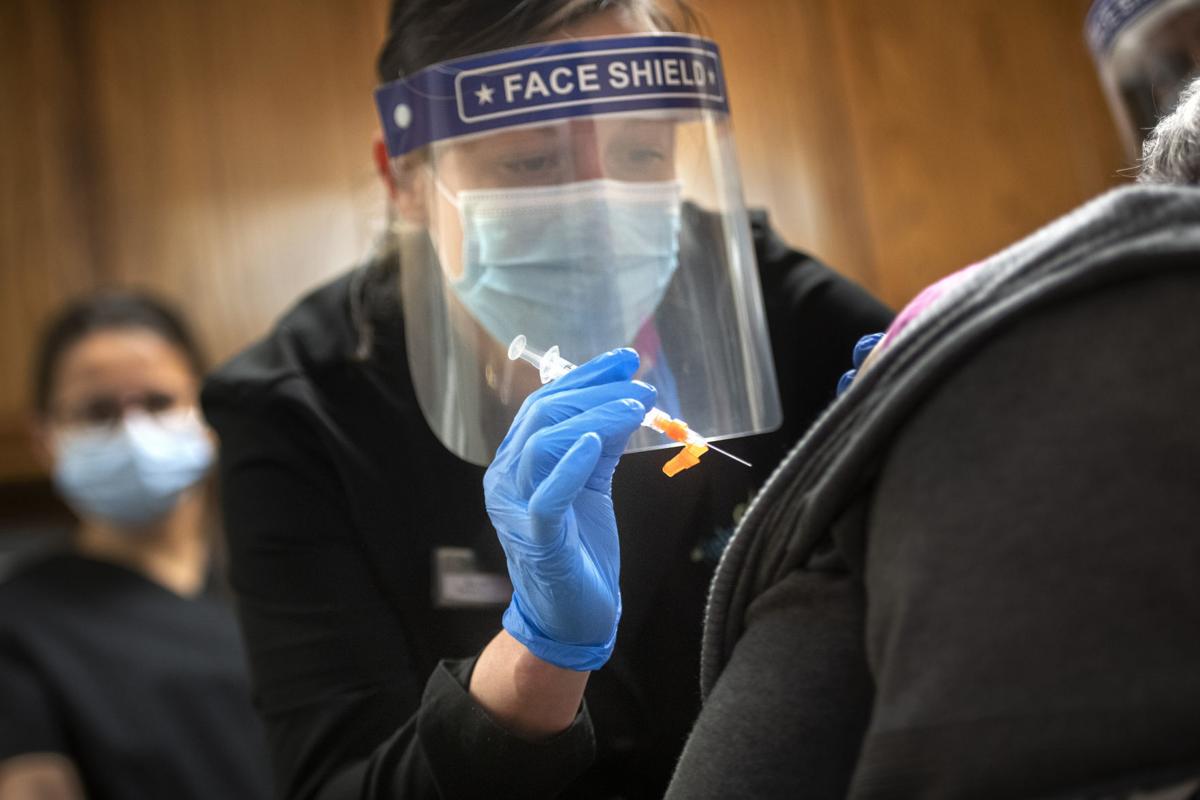 As COVID-19 vaccinations ramp up in Nebraska, state officials are looking to take more control of the process.
Gov. Pete Ricketts said Friday that officials are working on a plan to migrate all vaccine registration and tracking to the state's vaccine website within the next month or so.
He said the state is working with its vendor, Microsoft, to develop what will be both an inventory management system as well as a scheduling system.
"This is so we can provide really a one-stop shop for customers all over the state," Ricketts said, noting that the new system would allow someone to get their first COVID-19 shot in one county and then get their second somewhere else.
That flexibility is important and something the state wants to provide, he said.
Ricketts also said it's important to have everything on a state site to be sure inventory can be tracked and that vaccine doses are being used quickly and for the populations for which they are targeted.
He noted that some counties are keeping paper vaccine records, and "we want to get away from that paper."
"We want an automated system," Ricketts said.
In the first couple months of the state's vaccination effort, people have been told they can sign up either on the state's website or a local health department one if that's an option.
As of its last public update on Feb. 9, the Lincoln-Lancaster County Health Department's site had registered nearly 72,000 people.
"We're going to collaboratively work with our health departments to be able to get them onto that (system), but we do need everyone on that," Ricketts said.
He said that also includes pharmacies that are part of the Federal Retail Pharmacy Program.
Ricketts did not give a specific date but hinted that it might go into effect at the beginning of April.
He said that the focus over the past couple of months has been vaccinating as many people as possible as quickly as possible, but vaccinations are likely to continue throughout the rest of the year.
Those will likely occur at a slower pace and people may get them differently, Ricketts said, and the state needs to have a system in place that can accommodate that.
Currently, the state is still working through Phase 1B of its vaccination plan, which focuses on people older than 65 and certain front-line workers such as police officers and teachers.
The phase had originally included younger people with serious medical conditions, but Ricketts earlier this month announced that group was being bumped and moved to a later phase that includes the general public.
On Friday, however, Dr. Gary Anthone, the state's chief medical officer, said officials are working on a plan to prioritize that group in Phase 2A, which will be the first part of the public vaccination stage.
He said the plan, which he hopes to have ready in a couple of weeks, will focus on people under 65 with three main types of medical issues: immunosuppression caused by cancer treatments or organ transplants, kidney failure that requires dialysis and pulmonary diseases that would put them at higher risk of complications if they need a ventilator.
The plan will take time to finalize, "because we need to set the logistics in motion on how we'll get to those groups of patients," Anthone said.
That includes things like who to prioritize, how to notify them and where they will receive their vaccinations, he said.
There is still no timeline on when those vaccinations might occur, however, Anthone said.
Ricketts has said he hopes to start vaccinating the public in April or May, and those efforts will likely get a boost from the the one-shot Johnson and Johnson vaccine, which is expected to get approval from the Food and Drug Administration, possibly as early as this weekend.
Officials have said the vaccine could start shipping next week and Nebraska could get as much as 15,000 doses the first week.
Moderna and Pfizer, which make the two vaccines that are currently in use, are expected to continue ramping up production in the coming weeks, meaning the state will likely to continue to get an increase in its vaccination allotment. This week, it received 18,720 Pfizer vaccine shots and 18,400 Moderna ones.
PHOTOS: LINCOLN VACCINE CLINIC