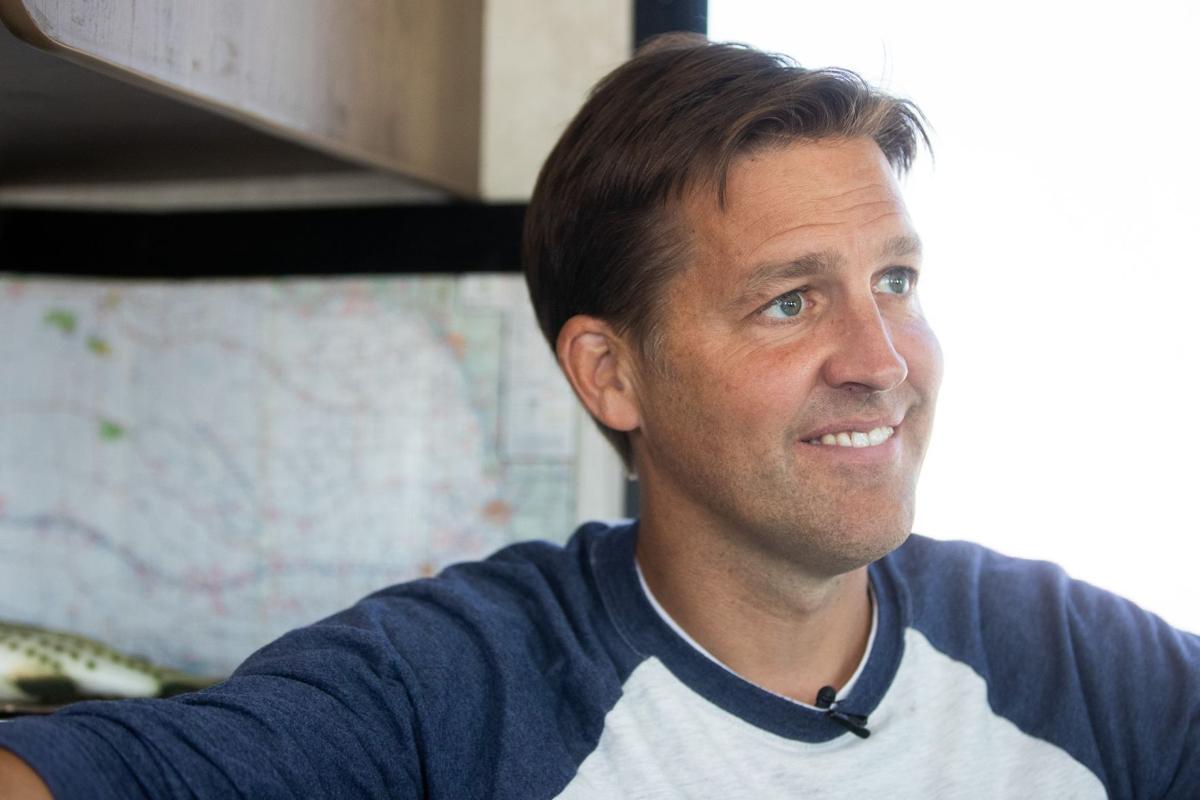 WASHINGTON — Sen. Ben Sasse torched President Donald Trump during a Wednesday telephone town hall with constituents.
The Washington Examiner obtained an audio clip of the conversation and was first to report Sasse's statements. A woman on the call asked Sasse why he criticizes the president so much.
Sasse responded by first talking about areas where he agrees with Trump, such as judicial nominations. But then he said a number of the president's values are deficient — not just for a Republican, Sasse said, but for any American.
"The way he kisses dictators' butts. I mean, the way he ignores that the Uighurs are in literal concentration camps in Xinjiang right now," Sasse said. "He hasn't lifted a finger on behalf of the Hong Kongers. I mean, he and I have a very different foreign policy.
"It isn't just that he fails to lead our allies. It's that the United States now regularly sells out our allies under his leadership. The way he treats women and spends like a drunken sailor. The ways I criticize President Obama for that kind of spending, I've criticized President Trump for as well. He mocks evangelicals behind closed doors. His family has treated the presidency like a business opportunity. He's flirted with white supremacists."
It's hardly the first time that Sasse has leveled scathing criticisms at Trump. Sasse critics were quick to note that despite his rhetoric, the senator has often backed Trump when it counts — most prominently during the president's impeachment trial.
But the latest flamethrower-style comments come at a crucial time, with votes currently being cast in both the presidential race and Sasse's own reelection contest. His criticism made national headlines and could be a factor in the Omaha-based 2nd District, where both the presidential and congressional contests are competitive.
Trump campaign spokesman Tim Murtaugh declined to comment on Sasse's remarks.
In a statement to The World-Herald, Sasse pointed to his support for Trump's Supreme Court nominee: "I've said this a million times over the years: When we agree, the President and I work together — on stuff like Judge Amy Coney Barrett who is a total rock star. When we disagree, I'll tell Nebraskans what I believe."
Sasse spokesman James Wegmann also provided a statement in which he said that too little attention is being paid to Democrats' ongoing talk about expanding the Supreme Court and that control of the Senate is "ten times" more important than the presidential race.
"The fragile Senate seats that will determine whether Democrats nuke the Senate are the races Ben cares about, the races he's working on, and the only races he's talking about," Wegmann said.
In the audio clip from the telephone town hall, Sasse specifically criticized Trump's response to the coronavirus pandemic. Sasse offered a partial defense of the president by saying the media had been unfair in its coverage.
But he also described Trump as careening from one approach to another on the virus and treating it as a public relations crisis rather than the multiyear public health challenge that it actually is.
"I don't think the way he's led through COVID has been reasonable or responsible or right," Sasse said.
Sasse said he feels obligated to share with Nebraskans his assessment that the president does some things well and others poorly. That mixed assessment is actually shared by many voters in the state, he said.
"I think that it's my duty to level with Nebraskans even though I recognize that a lot of our voters in Nebraska are Trumpier than I am and they sometimes get frustrated with me," Sasse said.
Sasse went on to say he fears that Trump will ultimately drive the country to the left by causing young people and women to turn away from the Republican Party.
He said it's a bad idea for the Republican Party to be selling a "TV-obsessed, narcissistic individual" to the American people. It appears likely that Trump will lose and could take GOP Senate candidates down with him, Sasse said.
"I'm now looking at the possibility of a Republican bloodbath in the Senate, and that's why I've never been on the Trump train," Sasse said.
If Democrats take the Senate, Sasse said, they could move to eliminate the filibuster and expand the Supreme Court.
"We are staring down the barrel of a blue tsunami, and we've got to hold the Senate, and so that's what I'm focused on," Sasse said.
Sasse has criticized Trump before.
During the 2016 presidential election, Sasse more than once offered harsh words for then-candidate Trump and ultimately said he was writing in Trump's running mate, Mike Pence, for president.
Matt Innis, a former chairman of the Lancaster County Republican Party, launched a primary challenge against Sasse this cycle based on the idea that Sasse had been insufficiently supportive of Trump.
That challenge was undercut by Trump offering a full endorsement of Sasse, who went on to win the primary easily and now seems a lock to be reelected.
Although Trump endorsed him, Sasse has not said whether he will vote for Trump this year and instead indicated only that he will support the Republican ticket.
Nebraska Democratic Party Chair Jane Kleeb said in a statement that Sasse was too late in distancing himself from the president.
"Saying these words now, when it seems safe for Sasse, will not erase the years Sasse was complicit in the horrendous behavior and actions of Trump," she said.
Despite Sasse's history of criticizing Trump, the timing and intensity of the comments this week have left Nebraska Republicans grappling with the fallout.
Rep. Don Bacon told The World-Herald: "I don't agree with most of the comments. I hope Ben will explain himself."
"Senator Sasse is entitled to his own opinion," Rep. Adrian Smith said in a statement. "I appreciate what President Trump has accomplished for our country and will continue to work with him on efforts which help Nebraska."
Ryan Hamilton, the executive director of the Nebraska Republican Party, said Sasse's comments just go to show the diversity of thought in the party.
"I obviously don't agree with the senator's characterization of the president," he said. "That having been said, there's more than enough room in our party for disagreements on a variety of issues."
Hamilton predicted that Nebraskans will broadly support both Trump and Sasse statewide in this election.
While stressing again that he personally disagrees with Sasse's assessment of the president, Hamilton said that even those who agree with Sasse could still vote for Trump based on Democratic presidential nominee Joe Biden's record.
"Ben Sasse could still be 100% accurate, and that wouldn't make Joe Biden a better candidate for president — not one bit," he said.