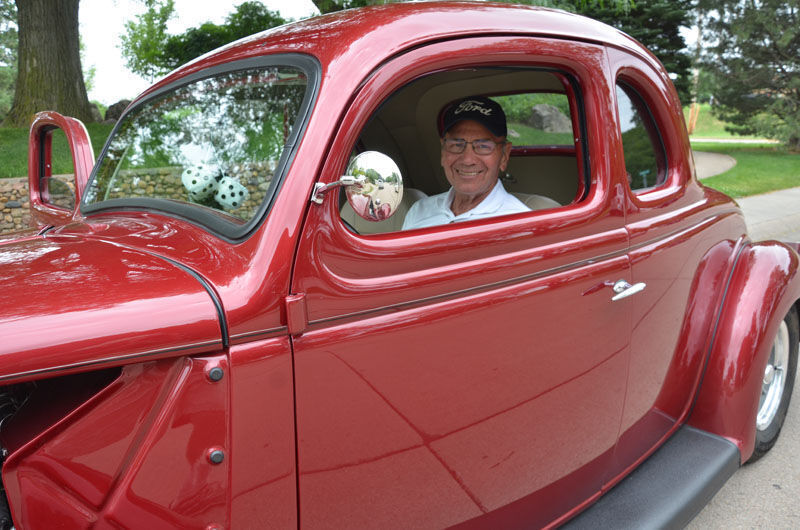 KEARNEY — Stan Staab's mother helped him pay for his first car in 1963.
"I was 16 years old and I paid $50 for the car," he said of the 1936 Ford Model 68 five-window coupe, also called a businessman's coupe. "She bankrolled me; I didn't have 50 bucks so I had to borrow a few bucks from her."
Staab's father never liked the vehicle.
"I don't know why," said Staab, who grew up in Ansley. "He graduated from high school in 1936. It was the Depression era and all of those sorts of things. It sat out behind the shed for years and it was an eyesore. I was off at college in Kearney and one day he just sold it. When I came home, I asked, 'Hey, Dad, where's the car?' 'Well, it's gone. I sold it.'"
That should be the end of the story except for one twist.
"In some mysterious, strange way, we kept the title for it in a safe deposit box," Staab said. "We just forgot about it. For 40 years."
A collector in Kearney bought the car from an individual in Sumner who used it in parades.
"They painted it pea green and hung pots and pans on it and disfigured it quite nicely," Staab continued. "This car has always been a passion for me. I always wanted to make it into a street rod, but I never had the money to do that. But it's got that sentimental value for me, like a lot of these cars and street rods do. That's why we spend the time and money to fix them up."
Now fully customized, automotive patrons can see Staab's finished product during Cruise Nite events, presented by Central Nebraska Auto Club. The main show and shine, scheduled for Saturday at Downtown Kearney: The Bricks, usually attracts more than 500 vehicles.
Admission for most events is free. Check the organization's website for a full schedule and details at CruiseNite.org.
For 40 years, Staab's 1936 Ford was missing. He finished his education and found a career in Norfolk working for the Lower Elkhorn National Resources District. In 2000, Staab's mother called him with news about his car.
"She told me there was a guy in Kearney that bought the car," Staab said. "Well, he gave me a call and said, 'I think I have your '36 here.' And I said, 'No, that's impossible.' So I drove over on the next weekend and brought the title with me."
The new owner wanted to get a clear title and started a title search. That search led to Staab's mother.
While visiting with the owner, Staab pulled out the old title and they eventually cut a deal on the car.
"I spent five years trying to find somebody to work on it," he said. "It sat in my garage with primer on it. Finally I found someone in Norfolk who said he would work on it. It sat in his shop for 12 years."
During that time, the mechanic finished some body work and put on seven coats of paint. He worked to make sure the doors closed correctly.
"Sometimes the doors on these old cars don't hang straight," Staab said. "He spent a lot of time to get them straightened out as best he could. And putting the engine in was a trick."
As the work progressed, Staab made choices to create a vehicle that interested him, not one that restored it to original specifications. The mechanic installed the front end of a Mustang, put air conditioning in the car and added details to make it a street rod.
He points out original pieces of trim and body work along with some details that remain true to the original concept of the car, like a hand-cranked rear window.
Staab said he likes the rounded edges of the Ford.
"The only things flat on it is the running boards and floorboards," he said. "Everything has curves to it. They call them fat fenders. I put Navigator seats in it and took off the headrests off those so that everything flows with rounded contours. And then I spent a year picking out a color. This is Chianti Red, named after a Tuscan wine from Italy. The color will change when you get it in the sun."
In September, Staab moved to Kearney with his wife, Vicki, from Norfolk. Since then, he has found a place volunteering at the Classic Car Collection and as a member of the Central Nebraska Auto Club.
With all the changes and modifications, Staab looks at his 1936 businessman's coupe as a new car.
"It drives great for an old car," he said. "The engine has more power than you need. This wasn't a total, 100 percent frame-off project, but close to that. I wanted a good car, one that's reliable and something I could trust on the road. This is basically a new car. It only has 230 miles on it since we got it out of the shop."
Creating a street rod gives the owner a lot of leeway.
"You can do what you want with these cars," Staab said of his coupe. "You keep the basic shape and design of the body, but that's about where it stops for a lot of guys. Then they go beyond that and decide how extravagant and how carried away they want to get. You want to put a big engine in it? You want to spend a lot of money on the wheels? You've got to decide that stuff along the way as you work with the builder on it."
As he stepped back from his vehicle, Staab remarked, "It turned out better than I thought it would."
12 things invented in Nebraska
Railroad engineer invented the ski lift -- in Nebraska
The next time you sit on a ski lift on the way to the top of a mountain, think of bananas and the Union Pacific Railroad.
Credit them with the modern-day chairlift system used by ski resorts around the globe.
Seventy-five years ago, Jim Curran, a structural engineer with U.P., came up with the idea of adapting a system used to load bunches of bananas onto boats into one to move people up steep, snow-covered slopes.
His design called for replacing the hooks for bananas with chairs for skiers to sit on while wearing skis. The chairs would be suspended from a single cable running overhead.
Curran's idea was so out of the box for its day that his co-workers thought it was too dangerous and his boss tried to shelve it.
Fortunately, Charlie Proctor, a consultant brought in by the railroad to help plan the Sun Valley Resort in Idaho, saw Curran's design, which he had slipped in with some approved designs, and thought otherwise.
Proctor, a famous skier from Dartmouth College, convinced the railroad's top management to allow Curran to make his idea a reality.
This winter ski season, the Union Pacific and Sun Valley Resort are marking the 75th anniversary of the world's first chairlift operation, which was invented not in the mountains but in the flatlands of Nebraska in Omaha.
"From our side ... it's kind of unusual that a railroad would invent a chairlift," U.P. spokesman Mark Davis said.
The railroad did so to serve a need, "and it turned out to be groundbreaking for the skiing industry," he said.
During the 1930s, Union Pacific Chairman W.A. Harriman saw Americans beginning to embrace winter sports and knew his railroad operated through some of the most scenic and mountainous territory in the western United States, according to the railroad's history.
Harriman's vision: Develop a world-class winter sports resort served by the Union Pacific. Other railroads were thinking the same way.
Harriman enlisted Austrian sportsman Count Felix Schaffgotsch to find land for such a resort. In winter 1935, the count came across the area that would become the world-famous Sun Valley Resort in south-central Idaho, about 100 miles northeast of Boise.
"Among the many attractive spots I have visited, this (location) combines more delightful features than any place I have seen in the United States, Switzerland or Austria, for a winter sports resort," Schaffgotsch wrote to Harriman.
Based on Schaffgotsch's recommendation, the railroad bought 4,300 acres adjacent to the Sawtooth Mountain National Forest.
The Sawtooth Mountains, running east and west, would protect the future resort from northern winds. The mountains also surrounded a small basin, with hills and slopes largely free of timber. Snowfall and sunshine were abundant. And natural hot springs would provide outdoor swimming year-round.
Schaffgotsch had found the perfect spot for a winter sports resort.
Construction of the ski lodge and other facilities began in April 1936.
Meanwhile, nearly 1,200 miles away in Omaha, members of the railroad's engineering department were investigating ways to transport skiers up slopes, including by rope tows, J-bars and cable cars. But those designs were put aside after Curran's chairlift idea was championed by Proctor.
Soon prototypes of the lift were being built and tested at the railroad's locomotive and railroad car repair shops, on land that is now home to the Qwest Center Omaha and the new downtown baseball stadium.
To help determine how fast a chairlift should travel up a mountainside, engineers attached one to the side of a truck for tests. Because it was summer and relatively flat in Omaha, engineers wore roller skates to simulate skis running over snow. Their conclusion: 4 to 5 mph would be a comfortable speed to pick up and drop off skiers.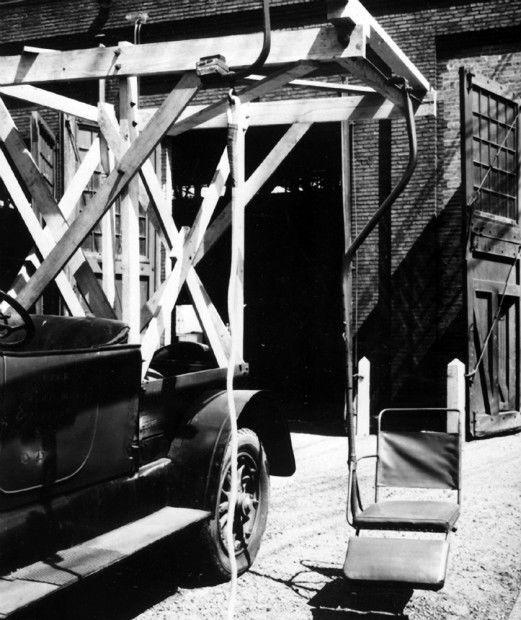 When Union Pacific opened the Sun Valley resort on Dec. 21, 1936, the world's first two chairlifts went into operation.
As with anything new, it took skiers awhile to get used to the newfangled invention that changed the sport forever.
The railroad sold the Sun Valley Resort in 1964.
Frozen TV dinners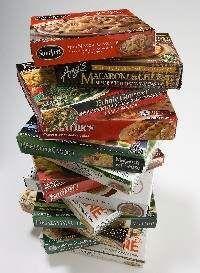 In 1896, 17-year-old Carl A. Swanson borrowed enough money from his sisters to travel from his native Sweden to Omaha. Without knowing a word of English, he began working on a farm near Wahoo, then moved to Omaha, where he continued studying English, business and accounting.
While working in a grocery store, he met John Hjerpe, who sold produce for farmers on a commission, and in 1898 went to work for him. After saving $125, Swanson put his nest egg into a partnership with Hjerpe and Frank Ellison for a net capital of $456.
Although the enterprise was intended to be called the Hjerpe Commission Co., the sign painter accidentally eliminated a letter and the firm was spelled Jerpe from that day forward.
In 1905, the partnership became a corporation with $10,000 in capital and within a decade moved from a commission firm to paying cash for all purchases. With Ellison's death at the beginning of World War I, the corporation assumed his stock and began moving seriously into butter production and, a short time later, into poultry in general. Swanson bought out Hjerpe's interest in 1928 but retained the name Jerpe.
About 1923, Clarence Birdseye developed fast-freezing as a method of not only preserving food but also retaining fresh flavor, which had not worked well with conventional freezing. As the Depression lessened, Jerpe Co. became a distributor for Birdseye, which was purchased by General Foods and inexplicably named Birds Eye.
By the beginning of World War II, Jerpe's had grown to the point where Swanson was known as the "Butter King," one of the four largest creameries in the United States.
During the war, production again was diverted, with the firm becoming one of the largest suppliers of poultry, eggs and powdered eggs to the military. At the end of the war, the firm's name was changed to C.A. Swanson & Sons, its major brands being called "Swanson Ever Fresh."
With Carl Swanson's death in 1949, management was assumed by sons Gilbert and Clarke, who had been apprenticing for the position for some time. A year later, after considerable experimentation with crust recipes, the company introduced a frozen chicken pot pie using some of Birdseye's techniques.
Although some of the story of frozen dinners may be apocryphal, it is simply too good not to repeat. Two ill-fated versions of the idea, the Frigi-Dinner and One-Eye Eskimo, already had been attempted. Then an overpurchase of 500,000 pounds —-- 10 refrigerated boxcars -- of turkeys— sent the Swansons scrambling for a solution. One of the less probable versions of the incident said that the only way the boxcar refrigeration worked was when the cars were in motion, which necessitated their constant movement from Omaha to the east, then back.
Back in Omaha, Gerry Thomas discarded the previous metal trays and perfected an aluminum compartmentalized container with turkey, cornbread dressing and peas, which could be retailed for 98 cents. Because the box design resembled a rectangular television screen, the product was dubbed the TV Dinner. Unsure of the salability, 5,000 were produced and instantly sold in the first year, 1952. The second year, mashed potatoes and cranberry sauce were added and an astounding 10,000,000 were sold. Not resting on the success of the TV Dinner, 1953 also saw the Swansons as one of the nation's largest margarine producers.
Despite their success in butter and margarine, both products were discontinued in 1954 to allow the company to concentrate on its main items of canned chicken fricassee, boned chicken and turkey, frozen chickens, drumsticks, chicken pot pies and TV Dinners. In April 1955, Swanson merged its more than 4,000 employees and 20 plants with the Campbell Soup Co., which ultimately dropped the famous TV Dinner label, thinking it limited their market.
Still generically thought of as TV dinners, the frozen dinner joins butter brickle ice cream, raisin bran and maybe even the Reuben sandwich as an Omaha original.
Historian Jim McKee, who still writes with a fountain pen, invites comments or questions. Write in care of the Journal Star or e-mail jim@leebooksellers.com.
911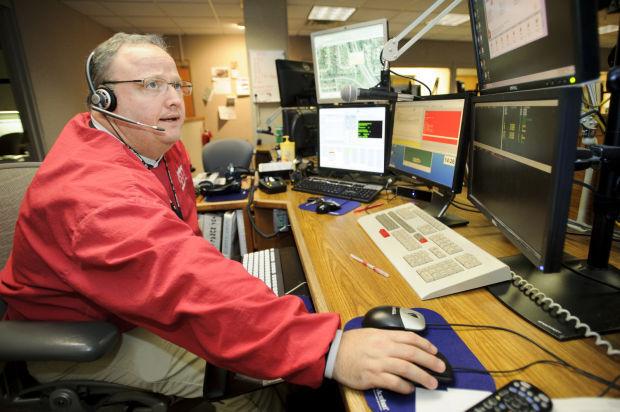 SAFER barrier a key player in motorsports safety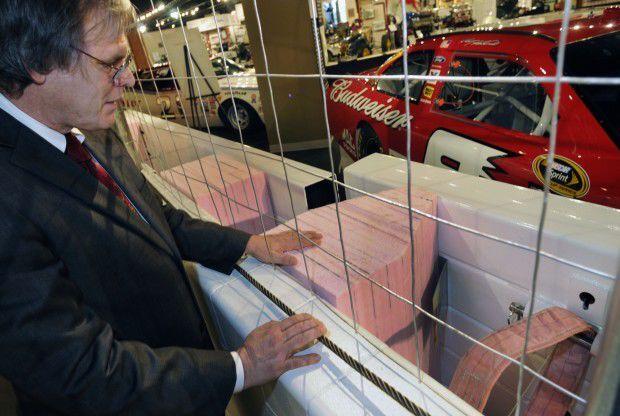 Don't turn until you know where to turn.
Mac Demere watched the car in front of him lose control and veer left toward the inside of the track. He tried to anticipate the car's next move, not wanting to turn until he knew where the other car was headed next.
Don't turn until you know where to turn.
He finally swerved far to the track's outside. But as the other car regained traction, it veered sharply to the right, directly toward Demere, and Demere's car smashed into its right side.
"I can't tell you what caused him to lose control," Demere said of the 1983 crash at Watkins Glen International in upstate New York. "It happens so fast."
Demere, now 57, walked away from that crash, but the other driver suffered a broken ankle.
Sometimes, no matter how hard you try, you crash, said Demere, a former racer from South Carolina and longtime motorsports journalist.
That certainly seemed to be the lesson at the Las Vegas Motor Speedway a week ago when 15 cars crashed, killing two-time Indianapolis 500 winner Dan Wheldon. He was the first IndyCar driver to die on a track since Paul Dana was killed during a practice run at Homestead-Miami Speedway in 2006.
On Oct. 16, two cars went airborne -- Wheldon's and Will Power's. Wheldon hit a catch fence built to protect spectators from crash debris. He died later at a hospital of head injuries.
Power hit a barrier designed by the University of Nebraska-Lincoln's Midwest Roadside Safety Facility. He walked away.
The tragically different fates of Wheldon and Power have raised concerns about the catch fence at NASCAR and IndyCar tracks and have highlighted the safety performance of the UNL-designed SAFER barrier.
Dean Sicking, director of the safety facility at UNL, said the SAFER -- or Steel and Foam Energy Reduction -- barriers now are in place at all NASCAR and IndyCar tracks. There have been no fatalities involving crashes into those barriers since 2004, when all of the barriers were fully installed at NASCAR tracks.
Before those barriers were installed, 1 to 1.5 drivers died each year at NASCAR tracks alone, Sicking said. In an especially cruel span of 10 months in 2000 and 2001, NASCAR crashes claimed the lives of budding stars Adam Petty, Kenny Irwin Jr. and Tony Roper, and one of the sport's legends, Dale Earnhardt.
The trapezoidal barriers designed at UNL are made of insulation foam that is waterproof and effective at absorbing the impact of cars going well over 100 mph, Sicking said. Steel tubes serve as a barrier between the foam blocks and track. The SAFER barriers protect drivers from the unforgiving nature of concrete walls.
Sicking -- whose office is decorated with a photo of him shaking hands with former President George W. Bush, as well as numerous awards -- related the story of how the UNL center got the contract to design the barriers.
In 1998, Tony George, the longtime former IndyCar president and Indianapolis Motor Speedway CEO, wanted a new racetrack barrier. The concrete barriers simply weren't good enough.
IndyCar designers had developed a new barrier made of sheets of plastic, but it broke into 50- to 100-pound chunks that littered the speedway when hit too hard. George asked the UNL center to improve the design.
"He said, 'Can you fix this?'" Sicking said. "We never admit we can't do something."
Initially, Sicking wasn't convinced it would be worth the extra effort. Then his assistant director, Ron Faller, convinced him it would drive the UNL center to find new solutions to road safety and new materials with which to build them.
Sicking agreed and asked George for $1 million.
"He said, 'When can you start?'"
It didn't take the UNL center long to figure out the IndyCar plastic barrier would never perform as well as foam, and Sicking worked to convince a skeptical George. Finally, George relented.
In 2002, the Indianapolis Motor Speedway installed the SAFER barriers, and, seeing how well they performed, NASCAR CEO Bill France Sr. ordered them installed at all NASCAR speedways by the end of 2004 at a cost of $100 million.
The UNL center oversaw installation.
"No one can ever put it in right," Sicking said, laughing.
The barrier has earned the UNL center numerous awards, including the prestigious 2002 Louis Schwitzer Award, presented in conjunction with the Indianapolis 500.
IndyCar senior technical director Phil Casey called SAFER barriers the greatest achievement for safety in automobile racing. 
The barriers were installed at the New Hampshire Motor Speedway in 2003, and the speedway where both Petty and Irwin Jr. died has had no fatalities or serious injuries since, said speedway spokeswoman Kristen Costa.
"It's better on impact. It moves with the vehicle," she said.
Costa said the speedway reconfigured its catch fence in 2009 to make it safer as well. Sicking said catch fences at motorsports facilities need to be re-examined.
"The catch fence is a difficult safety issue, a tough nut to crack, but I think it can be," he said.
Sicking said IndyCar is reluctant to invest the large amount of money required to redesign the catch fence, and NASCAR isn't as interested in redesigning it as its cars rarely go airborne like the open-wheel Indy cars are prone to do.
While nothing has been determined, the UNL center could end up leading the investigation into the crash that killed Wheldon, as it did with the 2001 crash that killed Earnhardt, Sicking said. The UNL center has examined nearly 2,000 crashes under federal contract.
"Any time you have a big wreck, we normally get to look at it," he said.
Demere, the former racer who now is pursuing a master's in journalism from UNL, said it appears Wheldon tried to slow down by lifting his foot off the accelerator and tried to direct his car toward the gearbox of the slowing car in front of him. But his car's nose lifted, and, traveling at more than 200 mph, his car quickly took to the air.
With 15 cars involved, it was simply impossible for Wheldon to avoid the carnage, Demere said.
He said drivers try not to think about getting seriously injured or killed while they're racing. They simply try to focus on the track and the racers around them.
"We all know that it might happen to us," he said. "Quite frankly, I'm surprised that it didn't happen to me."
CliffsNotes
Before the Internet and Wikipedia, the distinctive yellow-and-black covers of CliffsNotes adorned the bookshelves of many a college and high school student. The series of study guides (which are not to be used as a substitute for reading the actual text, OK?) was launched in Lincoln by Cliff Hillegass and his wife Catherine. From the original 16 Shakespeare titles, CliffsNotes has grown to include hundreds of works and has saved many a student.
Nebraska's connection to the McRib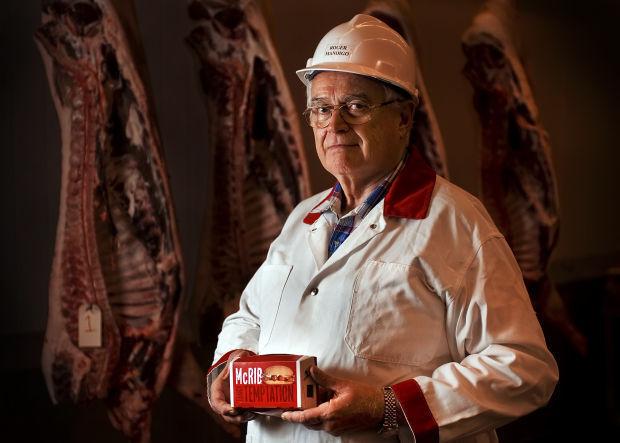 Move over, Richie Ashburn and Bob Gibson.
Another Nebraskan has made it to the hall of fame.
Of course, University of Nebraska-Lincoln meat scientist Roger Mandigo never had Ashburn's ability to hit to all fields or Gibson's ability to back batters off the plate with an inside fastball.
His induction Saturday in Scottsdale, Ariz., was into the Meat Industry Hall of Fame. And his biggest claim to fame outside that industry is research that led to the introduction of McDonald's McRib sandwich in 1981.
His company is no less exclusive. Among the 10 other honorees were Col. Harland Sanders, founder of Kentucky Fried Chicken; Dave Thomas,founder of Wendy's Old Fashioned Hamburgers; and Ray Kroc, founder of McDonald's.
And it just happens that Mandigo's return coincides with what the Wall Street Journal describes as the first nationwide featuring of Mc-Donald's McRib sandwich at 14,000 restaurants, including more than a dozen in Lincoln,in 16 years.
Wouldn't this be a great time for a big guy - squeezed into a small, obscure, windowless office during an $18.3 million renovation at the Animal Science Building - to step up, at last, and claim credit for his highprofile work?
"I get credit for inventing the McRib fairly often," Mandigo conceded in an interview earlier this week.
But taking credit was not something he did back in 1981. And he won't be doing it now, in his 44th year at UNL.
That's because, despite common misperception, it's just not true.
"We played an important role in the technology to bind pieces of meat to each other.I didn't invent the McRib sandwich," he said. "Mc-Donald's did that."
All this is said with the kind of smiling patience that a McDonald's associate is supposed to demonstrate when asked for the 44th time during the lunch rush to hold the pickles.
Pickle slices, by the way, are part of the standard preparation of the McRib. As its ravenous fans, including Steve Glass of Walton, know so well, a McRib is a pork patty that's also garnished with raw onions and smothered in barbecue sauce.
Glass, 47, had two McRibs on his lunch tray Thursday as he made his way to a table at the McDonald's near the intersection of 10th Street and Cornhusker Highway.
That's right, two. "I haven't decided whether to eat the one now or eat it later,"he said.
Rapid progress on the first one seemed to leave the choice between one and two very much open to question for a guy who likes "something different - not a burger."
Glass is not one to worry about what's under the barbecue sauce."It's like a hotdog," he said. "What's in a hotdog? If it tastes good, go ahead."
Decades ago, it was Mandigo who was going ahead with a research initiative launched by the National Pork Producers Council. Its members were looking for another reliable source of demand for pork shoulder.
There were never any royalties associated with the results, Nebraska's newest hall of famer said.
And to this day, the McRib comes and goes from the McDonald's menu for reasons that have to do with its intense popularity and a national supply of pork trimmings that's typically a lot more limited than the supply of beef trimmings.
"If you suddenly start to buy a large amount of that material,"said Mandigo,"the price starts to rise."
As the cost to McDonald's rises, the McRib tends to go out of circulation again. And then the same parts of a hog tend to flow back into the processing lines for Spam, Vienna sausages and other specialized products.
Anything else that goes into periodic McRib feeding frenzies is not for Mandigo to analyze. "It's a function of a business strategy and that's McDonald's decision, not mine."
The official word on that subject comes from Ashlee Yingling at the headquarters of McDonald's USA.
The McRib is in something called "a national limited time promotion for the month of November in the U.S.," Yingling said by email.
This is only the third time that's happened in the 29 years since it hit the market. The rest of the time, the company has chosen a regional strategy.
"To keep it relevant and appealing," Yingling said, "it will continue to be offered as a limited-time promotion on a regional basis."
Does Mandigo eat this sandwich that he did NOT invent? "Every chance I get," he said.