LINCOLN — An incendiary racist statement in the back window of a pickup truck in Lincoln has triggered a social media storm and death threats against the Nebraska owner of the truck and his ex.
Austin J. Cordis, 21, of Ohiowa, Nebraska, said that the truck belongs to him but that he didn't write the message.
An image of the white Chevrolet pickup was shared on Twitter and retweeted by, among others, retired professional basketball player Rex Chapman, who has more than 947,000 followers.
"Sick of this (expletive)," Chapman tweeted. "Twitter do your thing… #BlackLivesMatter."
That prompted Twitter users to find and share the pickup owner's name, based on its Fillmore County plates.
Lincoln Mayor Leirion Gaylor Baird and Nebraska Gov. Pete Ricketts weighed in on Sunday.
"This is horrific," Gaylor Baird tweeted. "Acts of racism and intimidation have no place in our community or country. We are better than this."
Ricketts tweeted in part, "This is disgusting. Racism has no place in our society. … This language is wrong and hateful. We must all strongly condemn statements like this. "
Cordis said he drove his 2002 Chevy Silverado K1500 to the Gateway Mall near 61st and O Streets in Lincoln about 5 p.m. Saturday.
He said he was in the mall for "about 20 minutes" and came out to find the message written on the truck's back window. He claimed to have seen other vehicles also "marked up."
Cordis said he then took his truck to a car wash. He did not file a vandalism report with the Lincoln Police Department.
"It's something someone else did," he said. "I just washed it off. I thought it was stupid."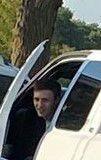 A Lincoln mother of three said she and a friend saw Cordis pull into the mall parking lot with the statement on the truck.
Brittany Struble said she and her friend snapped a photo as Cordis was leaning out of his truck. She said he looked at them and said: "What, what, what?"
Struble said he didn't go into the mall but left after being confronted by her and her friend.
"He knew what we were asking about because I was taking a picture of it," she said. "He was smiling the whole time."
Struble posted the photo on her Facebook page and sent The World-Herald a copy.
Lincoln Police Capt. Danny Reitan said Sunday that he could not find any reports of vehicles being vandalized Saturday. "There was no vandalism of that nature reported to the Lincoln Police Department," he said. "There's nothing (reported) in the area of the Gateway Mall."
Lincoln police received several reports about the message on Cordis' truck but no reports of disturbances involving it, Reitan said.
Cordis said he has been receiving threats since Saturday.
"I've got everybody and anybody you can think of calling me and texting me," he said. "There have been a lot of death threats from people that I don't know."
A Stromsburg, Nebraska, woman who has a 15-month-old child with Cordis said she has also received death threats. A tearful Josephine Ewing returned a call from The World-Herald on Sunday to say that she and Cordis are no longer in a relationship and that she doesn't know anything about what was written on his truck.
"I want people to know that he does not live here and we are not together," Ewing said. "Me and my daughter have been getting death threats. Everyone needs to keep me and my child out of this. My kid needs to be left alone."
Cordis is awaiting trial in Fillmore County District Court on felony charges of operating a large marijuana growing operation, possession of a firearm while manufacturing marijuana and being in possession of a firearm while committing a felony. He said "it's possible" that someone may have been trying to add to his legal troubles.
"I don't know, but I don't even vote," he said. "I'm not a racist. All lives matter."
World-Herald staff writer Nancy Gaarder contributed to this report.
Be the first to know
Get local news delivered to your inbox!