LINCOLN — Two microschools — the modern-day equivalent of one-room schoolhouses that have gained in popularity over the past decade — will soon be open in Lincoln.
Though both schools are opening during the unprecedented disruption to education the pandemic caused — one that has resulted in a 73% increase in home-school filings in the state — both families involved say that wasn't their motivation. 
They were, instead, drawn to the learner-driven philosophy of the Austin, Texas-based Acton Academy nonprofit, though one of the families says the pandemic prompted him to move up the timeline.
Zach Harsin, whose oldest child is 5 and ready to start kindergarten, said he and his wife stumbled across an Acton Academy business fair in Omaha in February, were intrigued and moved ahead with plans to open one near 14th Street and Yankee Hill Road in the fall of 2021.
"Enter COVID, and now we have sped up our timeline," he said. "It really was all the families we were talking to were saying the same thing: 'This is the most amazing thing ever; we can't imagine life without it,' and any other year, we could sit around and wait for you to launch.'"
But not this year, when schools in Lincoln — and around the state — are balancing a mix of remote and in-person learning and parents are worried about everything from the coronavirus to balancing work and monitoring remote learners.
That uncertainty has undoubtedly played into a significant increase in home-school filings — from 3,737 in Nebraska at this time last year, to 6,483 so far this year. There are 13,426 home-school students, compared with 8,570 at this time last year — a 57% increase.
Parents who choose to home-school their children file for an exemption from many of the state education rules, which means they are neither approved or accredited by the state. Schools such as Acton file for similar exemptions.
Education officials estimated 25-30 such "microschools" operate in the state, though it's hard to come up with a specific number because any time two or more home-school families work together they file as a school, or group.
Harsin and his wife, Heidi, plan to have a "soft opening" of their Acton Academy in November, he said, capping enrollment for the first year at 10 students, with plans to expand next year.
The second school, Ascension Academy, opened this fall in a portion of the City Impact building at 1035 N. 33rd St.
Quintin and Michelle Yallaly learned about Acton Academy a couple of years ago and started pursuing the idea of opening a school in earnest when their children's school, Sacred Heart Elementary, closed in May 2019.
When the Harsins' school opens there will be four Acton-affiliated schools in the state.
"We started meeting with a small group of families at Sacred Heart and looking at this as a possibility," Quintin Yallaly said. "The more we looked at it, the more we liked it."
Students are in mixed-age groups and adults are "guides," not teachers, who lead discussion but allow students to be in charge of their own learning.
"Teachers don't plan lessons. They don't stand in front of the room and go over materials," Yallaly said. "The goal is always for learners to figure out the problem and find the solution rather than just being told the answer."
Another basic principle, he said, is that every person has a calling and that school should help them realize that calling. Students have business fairs and seek out apprenticeships as they get older.
Acton Academy is a secular organization, but the Yallaly's Ascension Academy is a Catholic-based school, which means it is considered an affiliate of the national organization.
Because of the philosophy of the school, Ascension Academy doesn't teach Catholic doctrine in the way traditional parochial schools do, and it's not associated with the Lincoln Diocese, he said. But one way they incorporate their faith is by talking about saints during discussions of heroes and their journeys — another way the schools focus on individual students' interests.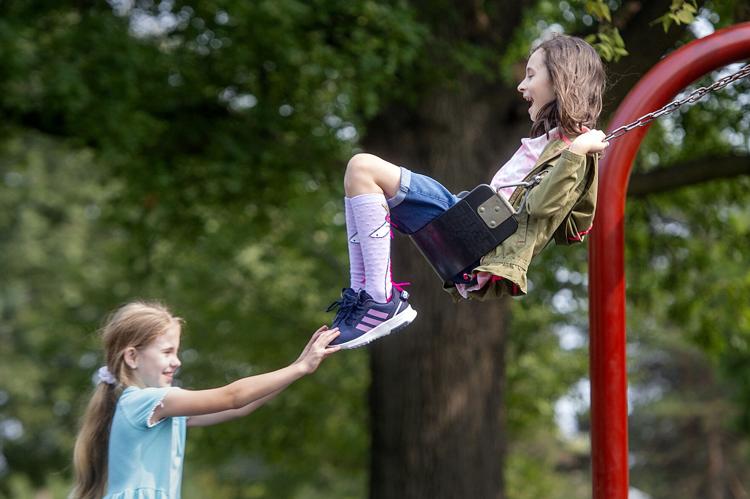 Ascension Academy opened this fall with two adult guides and 15 elementary and middle-school students.
The Harsins, both entrepreneurs who had been looking for the right school setting for their daughter, said the business fair helped sell them on the Acton philosophy.
The business fairs, he said, were like "lemonade stands on steroids," where students came up with a business plan, got "loans" from their parents and sold their ideas.
"Being our own independent people who have always charted our own paths, we wanted our own kids to do that," Zach Harsin said. "I knew it was the right fit for our family, and I knew Lincoln well enough to know it fits the personality of Lincoln as well."
Harsin said he thinks the pandemic may have accelerated some changes in education, such as more emphasis on individualized learning and more focus on student learning than on grades and assessments. And he thinks it could be a catalyst for families looking for something different.
"COVID has become the accelerator in deciding this isn't the education I thought my kids were getting or what I want going forward," he said. "They use it as a springboard to make change."
Be the first to know
Get local news delivered to your inbox!