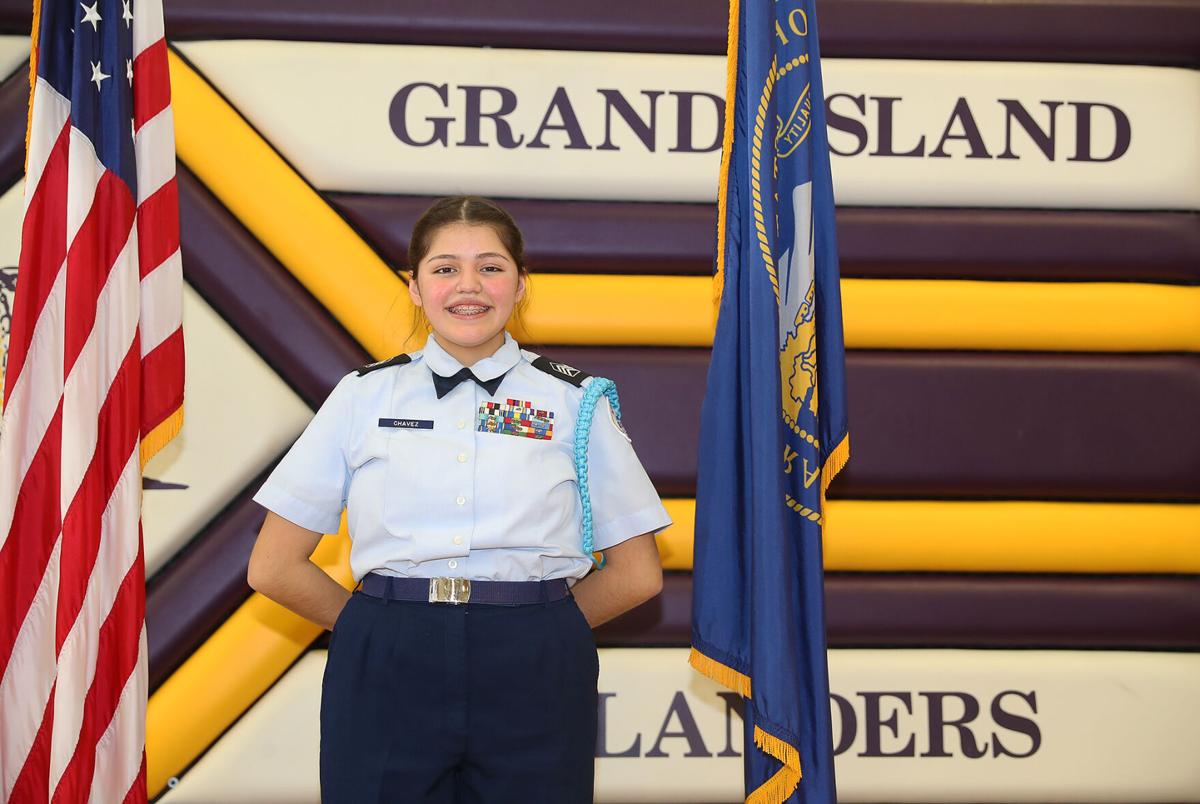 Since arriving in Grand Island a few years ago, Stefany Chavez Gomez has immersed herself in the community and into a life of serving others.
Stefany's journey serving her community began when she moved to Grand Island in eighth grade.
"I didn't have very much involvement here in Grand Island," she said. "My science teacher told me, 'You should join JROTC; it will help you learn more about the community.'" Stefany decided to give JROTC a try. "From then I just moved on."
Stefany, a senior at Grand Island Senior High Academy of Technical Sciences, is an Air Force Junior Reserve Officer Training Corps cadet, recently awarded the Daughters of the American Revolution Bronze ROTC Medal. The medal is bestowed on junior or senior JROTC and junior college graduating ROTC students.
Grand Island Senior High AFJROTC instructor USAF (Ret.) Lt. Col. Hien T. Nguyen nominated Stefany. "Stefany is one of several exemplary cadets I have that seem to always show unselfish dedication to the Corps, the school and the community," Nguyen said of the cadet. "Even when her schedule is busy, she finds the time to be there."
Her schedule is busy and includes the following volunteer activities: Salvation Army, Loaves to Fishes, Veterans Cemetery Cleanup, Wreaths Across America, Stuhr Museum and Heartland Event Center events. In her spare time she crochets handmade items for others and practices for school orchestra.
Nguyen said Stefany has proven herself ready to go the extra mile. "If I need a cadet to train someone, to tutor someone, to provide drill instruction, to take on a Color Guard detail, I can always rely on Stefany," he said. "And normally I don't have to ask."
Being in AFJROTC helps her manage that busy schedule, Stefany said. "They teach us about leadership and management, like how we manage our time."
As for AFJROTC roles, Stafany has served as a flight chief supervising her class, the Cadet Corps digital officer and Color Guard deputy commander, who is responsible for Color Guard training and event management. Currently, she belongs to AFJROTC Kitty Hawk Air Society, which is an ROTC academic honor group similar to National Honor Society. Stefany is the operations officer, which is the society's equivalent to vice president. Stefany is also an upper squadron commander in charge of approximately 50 fellow cadets.
"She's a leader with great character, which sometimes becomes a fault, because she'll exhaust herself to help others," Nguyen said. "She's been one of my most reliable Cadet Corps leaders – especially this year with COVID impacting our corps size."
School activities Stefany takes part in have been Grand Island Senior High Unity Council, school orchestra, GISH Academy Ambassador and Class of 2021 secretary. She also shares her aptitude for academics (she is in the upper 25% of her class) as a mentor and tutor.
Stefanie, who plans on attending Central Community College in Hastings to study manufacturing upon graduating, will carry on her JROTC values. "Having a lot of integrity, respect are the most important things for us," she said.
Since Stefany joined JROTC she's amassed a heart full of experiences, including her volunteering with Loaves and Fishes.
"The families in need always come up to us and say 'thank you very much,'" she said. "We see so many families; just the connection – it's heartwarming. Each family has a different story and a different background. It give me a different perspective."
It's a sense of community that seems to touch Stefany most.
"In JROTC we do cemetery cleanup," she said. "When we go over there I see the whole community – not just us – but other people helping out."
"I enjoy seeing others happy and just helping in general. It's a good feeling."
Jessica Votipka is the education reporter at the Grand Island Independent. She can be reached at 308-381-5420.