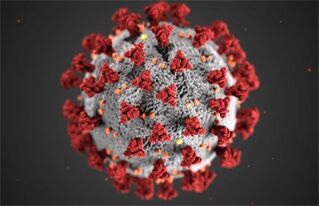 Despite the Central District Health Department moving into Phase 4 Monday, the department's top official says the public needs to continue to take precautions to prevent the spread of COVID-19.
In a weekly update broadcast on the city of Grand Island's website and on GITV, its public access channel, Health Director Teresa Anderson said the number of COVID-19 cases have gradually gone down in the past few months and the positively rate also has decreased to 7% as of Tuesday morning.
The reason for this, she said, is due to the public continuing to take proper precautions such as staying home when sick, maintaining proper social distance, washing their hands frequently, using hand sanitizer when this is not possible and wearing a face mask when they are around others.
Anderson began her update Tuesday morning by talking about how to properly wear a mask and when to wear it. She said that to communicate better with viewers of the update, she was not wearing a mask, but was maintaining a proper social distance.
During the update, Anderson placed her mask on her face to show viewers how it should be worn. She said the mask loops should wrap around one's ears and the front of the mask should be tucked underneath their chin, covering their mouth and nose.
"I can wear this mask for a long period of time," Anderson said. "I would want to change it if I feel it is getting damp or I just feel like changing it. Cloth masks should be washed at end of each day worn and left out to air dry. But there is a lot of discussion around masks and the actual use of wearing masks. The most important reason to wear a mask is it allows us to protect each other."
Anderson said over the summer, CDHD has worked with school districts to help them develop plans for reopening and to provide them with health guidance and expertise to keep kids in school.
If a child or adult at a school tests positive for COVID-19, she said CDHD will work to identify the case and "get them out as quickly as possible" to reduce the spread of the coronavirus.
"What we do is once we find child or adult who has been contagious, we need to identify who around them had close exposure," Anderson said. "We do that through phone interviews with school administration, parents and teachers. Sometimes we talk to the child to see where they have been and what they have been up to. This is done to generate a list of those who were exposed to someone who tested positive or who may have tested positive for COVID."
Anderson said those who have been exposed to someone who tests positive for COVID-19 will be asked to quarantine for 14 days since the virus can live in the body and incubate for up to 14 days.
"After exposure, the person may develop symptoms on any day up to day 14," she said. "So the 14-day period is critical in stopping the spread of the virus. They cannot test out of COVID because even if they test negative for COVID on day one, may test positive later."
Anderson said a person who tests positive for COVID-19 will be asked to quarantine for 10 days of being asymptomatic.
"People will say that does not make sense," Anderson said. "But we know now that once a person is contagious and develops COVID, they are contagious for a 10 day period. So they need to make it to 10 days without symptoms."
Anderson said CDHD has gotten a number of questions about whether a child gets seriously ill with COVID-19. She said that while this is "somewhat true" compared to adults, there are some children who get "very seriously ill" from the coronavirus and that children who test positive can spread it to adults.
"We are learning as a nation of how children react to COVID, how quickly they get sick and how quickly they get well," Anderson said. "What we do know about the situation is kids who have COVID can spread it very easily."
Anderson said the CDHD does not want to go back to where it was in April and May with a high number of COVID-19 cases, but emphasized it will happen if people do not abide by the health recommendations of wearing a mask, maintaining proper social distancing and washing their hands frequently.
"If we do not keep our guard up, COVID will win," she said. "We can beat it together as a community just as we brought the level down from May to June. Eventually, we will have a vaccine, but we need to continue to practice all measures in place, even in Phase 4. The last thing want to do is to backtrack and go back to Phase 2. We hope everyone will pledge to join us in our efforts to keep community safe and our COVID level low."
Be the first to know
Get local news delivered to your inbox!