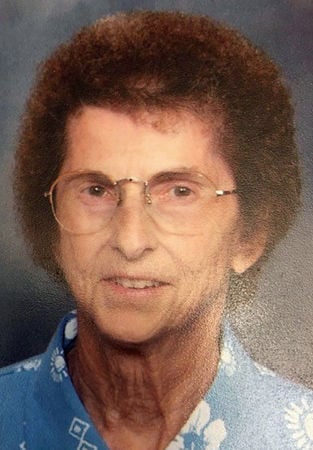 PALMER — Anna "Annie" L. Forbes, 87, of rural Palmer passed away on Tuesday, Oct. 1, 2019, at Brookefield Park in St. Paul.
Memorial services will be held at 2 p.m. on Friday, Oct 4, at the United Methodist Church in Palmer with the Revs. Mike Anderson and Sheryl Anderson officiating.
Visitation was Thursday, Oct. 3, at the United Methodist Church in Palmer. Memorials are suggested to the family to be designated at a later date.
Greenway-Dietz Funeral Home in Palmer is in charge of arrangements. Condolences may be directed to Anna's family at www.greenwayfh.com.
Anna was born on Sept. 18, 1932, in rural Palmer to John and Minnie (Petzeldt) Burkhardt. She attended first through sixth grade in rural Palmer. She graduated from Palmer High School. On Feb. 25, 1951, she was united in marriage to James Forbes at the Lutheran Parsonage in Palmer.
Her hobbies included cooking, playing cards, reading and traveling all over the United States, especially Hawaii. She also attended a great number of cattle sales with Jim. However, her greatest joy came from taking care of her husband and children.
Those left to cherish her memory include her husband, James "Jim" Forbes of Palmer; daughters and sons-in-law, Susan and Donn Smith of Fullerton and Patty and Junior Anderson of Cushing; daughter-in-law, Kathy Forbes of Grand Island; sister, Margaret Meyer of Grand Island; nieces, Janell Wetzel of Grand Island and Ann Keeler of Texas; several grandchildren; and numerous great-grandchildren.
Anna was preceded in death by her parents; their son, James "Jimmy" Forbes, Jr.; and their daughters, Kathy and Mary; and a brother-in-law, Herbert Meyer.