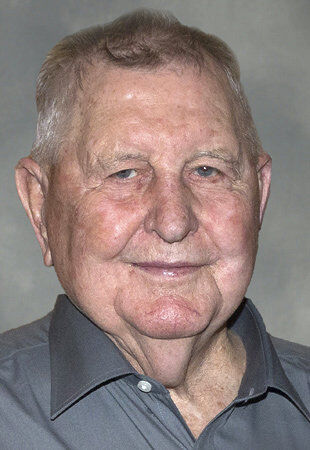 LOUP CITY — Harold J. Obermiller, 94 of Loup City, passed away peacefully into the arms of his Lord and Savior on Sunday, Sept. 13, 2020, at the Kearney Regional Medical Center in Kearney.
Graveside funeral services will be 1 p.m. Friday, Sept. 18, at the Evergreen Cemetery in Loup City with the Rev. Douglas DeNeui officiating. Military honors will be provided by Loup City American Legion Post #48.
A celebration of life service will be scheduled at a later date.
Visitation will be from 5 to 7 p.m. Thursday, Sept. 17, at Higgins Funeral Home in Loup City. The graveside service will be live streamed on the Higgins Funeral Home Facebook page.
Memorials are suggested to the Whispering Cedar's Bible Camp, Loup City Fire, Loup City Rescue or donor's choice.
All CDC and social distancing guidelines will be followed and face mask or face coverings are recommended. Higgins Funeral Home in Loup City is in charge of arrangements. Condolences for the Obermiller family can be left at higginsfuneralhomelc.com.
Harold John Obermiller was born Nov. 26, 1925, in Loup City to Otto and Alice Obermiller. He spent his childhood days in the Loup City-Kearney area. Because Harold was a young patriotic American, he volunteered to serve in the U.S. Army during World War II. He may have or may not have been quite 18 when he enlisted!
Upon his return to the Kearney area he met and married Bethene Rae Wever. As a young married couple, they lived in the Hastings-Kearney area where Harold worked a variety of jobs to provide for his family. In 1952, the young couple moved to Loup City area.
One of Harold's favorite work stories was about helping to build the Sherman County Dam. His children remember getting tours of the dam before it held water.
In the fall of 1969, the family moved into the town of Loup City, and Harold had taken a job with the Eaton Corporation in Kearney. He retired in December 1987. Harold was not used to having time on his hands, so he continued to pursue his lifelong passion of farming and raising cattle. Harold and Bethene were married for 52 years until Bethene departed this life July 24, 2002.
On Jan. 5, 2008, Harold married Eleanor Schroer of Kearney. They liked to tell the story about belonging to a group of friends who ran around together in their youth. After the death of their spouses they became friends and eventually wed.
Harold received the Lord Christ as his savior in the spring of 1967, and was an active member of the Baptist Church. It was important to Harold that his family also knew the Lord Christ as their savior.
Harold spent many years involved with coaching youth boxing and was involved with the Silver and Golden Gloves Boxing Program. To this day people have recognized and honored him for his years as a boxing coach.
Family was important to Harold and his love of family was clearly evident in how he chose to live his life. During his retirement years he continued to attend the activities of his grandchildren and great-grandchildren. Even when he could not physically attend an event he always called for an update! He loved watching Nebraska Volleyball, Football and Baseball.
Elenor and Harold were extremely honored to be chosen to travel to Washington, D.C., with the Hero Flights. Harold didn't talk much about his World War II experiences until later in life. The family learned Harold was one of the last units to cross the Remagen Bridge over the Rhine River. His last days at war were spent being the driver for a high-ranking military official. When Harold left Germany, he brought Lizzie, a dog he had befriended, home with him. Harold was honorably discharged in May of 1946.
Harold is survived by his wife, Elenor of Loup City; daughters, Janet (Mac) Campbell of Ravenna, and Carol (Clayton) Alfaro of Redding, Calif.; sons, Gary (Deb) Obermiller of Arapahoe, and H. John (Donna) Obermiller of Loup City; grandchildren, Rhonda Campbell of Elkhorn, Brad (Lindsay) Campbell of Ravenna, Brenda (Greg) Yturralde of Austin, Texas, Sara (Timothy) McGuire of Vancouver, Wash., Crystal Roberts of Alabama, Jeremy (Billie) Obermiller of Aurora, Colo., Chad (Nikki) Obermiller of Hastings, Shayla (Cody) Hill of Arapahoe, Megan (Brian) Telecky of Pleasanton, David (Liz) Obermiller of Hastings; great-grandchildren, Reeslynn Telecky, Tyler Artz, Rafe and Briggs Hill, Tristen, Jaxon, and Gracie Obermiller, Connor and Hannah Obermiller, Bethene and Brain Dowell, Scarlett McGuire, Kyle and Emma Roberts, Brooke Yturralde; brother, Raymond Obermiller; a brother-in-law, Leonard Wever; and numerous nieces and nephews.
Harold was preceded in death by his wife, Bethene; his parents, Otto and Alice Obermiller; his stepmother, Maude Obermiller; two sisters, Opal Steele and Mary Bailey; two brothers, Earl Obermiller and Frank Obermiller; two brothers-in-law, Clyde Steele, Stuart Bailey; two sisters-in-law, Lola Obermiller and Eleanor Wever; and a son-in-law, Jack Everest.
Obituaries Newsletter
Sign up to get the most recent local obituaries delivered to your inbox.