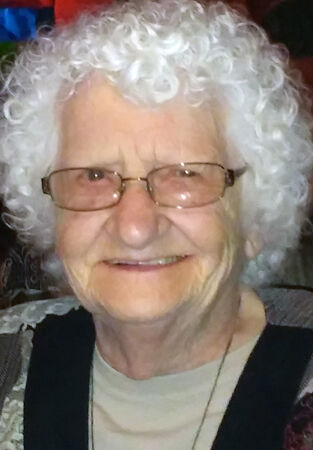 Helen Dorothy (Jensen) Armour, 89, of Grand Island died Monday, Oct. 12, 2020, at Good Samaritan Society–Grand Island Village following a battle with cancer.
A celebration of life service will be held at 3 p.m. on Saturday, Oct. 17, at All Faiths Funeral Home. Dan Naranjo will officiate.
Family will greet friends for one hour prior to the service. All CDC recommendations will be followed and face coverings are required. Livestreaming of the service will be available on the All Faiths Funeral Home Facebook page. Memorials are designated to the American Cancer Society.
Born on Jan. 3, 1931, Helen was the youngest of 14 children of Jens Anton Jensen and Christina (Larsen) Jensen. She was raised in Dannebrog and received her education in the Dannebrog school system, graduating in 1948. She was a telephone operator from 1948 to 1956. Helen also kept books for her father-in-law's company, Armour Construction, on and off for years. She began working at Dreisbach's in 1962 and became known for her coleslaw. Helen retired in 2001, after working at Dreisbach's for almost 40 years.
Helen and Eugene Armour were married on July 25, 1957. They raised eight children together and lived in the same home in Grand Island beginning in 1960. Many memories were made, games were played and a lot of laughs were shared. Helen was the matriarch with a great sense of humor and she was able to get along with everyone.
Eugene died in 1995. In addition, Helen was preceded in death by her parents; 12 siblings; daughter, Cherial Foxall; stepson, Mike Armour; and grandsons, Christopher Peterson and Aaron Green.
Helen is survived by a brother, George Jensen, of Minden; brother-in-law, Elgie Armour, of Huntington Beach, Calif.; children, Mitch Armour of Grand Island, Ken (Rayna) Armour of Hilo, Hawaii, Tom (Sue) Armour of Las Vegas, Nev., Carol Ward of Evans, Colo., Karen (Lou Schmitt) Neppl of Grand Island, John (Denise) Armour of Greeley, Colo., and Mary Armour of Grand Island. She is also survived by two stepdaughters, Cindy Spencer and Christine Hamlett, both of Minnesota; 17 grandchildren; five stepgrandchildren; 37 great-grandchildren; five stepgreat-grandchildren; and one stepgreat-great-granddaughter.
Obituaries Newsletter
Sign up to get the most recent local obituaries delivered to your inbox.