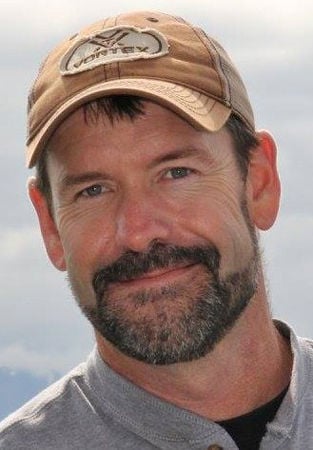 PHILLIPS — James Dean "Jim" Gowlovech, 45, of Phillips went to Heaven to be with his Lord and Savior on Wednesday, April 10, 2019, with his loving family by his side holding his hands.
Following a two-year courageous battle with kidney cancer, his last words were, "I am ready, God, take me home. I am ready." He passed into the Lord's arms 29 hours later. While it was a trying time, his loving family celebrated the moment with joy in the knowledge of his return to health and his much anticipated meeting with Jesus.
A celebration of his life will be at 10 a.m. Monday at Third City Christian Church in Grand Island, with his minister, Scott Jones, officiating. A fellowship luncheon will be at the church after the services. A burial memorial will be at 2 p.m. in the Phillips Cemetery, following the luncheon.
Visitation will be from 4 to 6 p.m. Sunday at Livingston-Sondermann Funeral Home Chapel. Casual dress is requested for the celebration and visitation.
Jim was born on July 26, 1973, to Richard and Beverly (Kroeger) Gowlovech in Grand Island. He grew up in Grand Island and in 1984 he moved with his family to Republican City. He grew up enjoying the Harlan Reservoir in his backyard. He graduated from Alma High School in 1991, and met his love and wife of 25 years, Jacy "Tibbetts" Gowlovech, in October of that year. They married on Oct. 3, 1993, in Palmer. They had two beautiful daughters: Saigen and Ashley. Jim loved his girls deeply — he may have spoiled them a little, but also taught them right from wrong and considered it his honor and job to protect them to the day he went to Heaven.
Jim's first job was at Little Mexico in Republican City at the age of 14; he would ride his three-wheeler to work. At 16, he started working for Don and Linda Lewton at The Island.
His first electrician job was working as an apprentice with Dennis Hall in Republican City. After graduating from high school he moved to Grand Island. He then worked for Kayton Electric/IES for many years. He started his own electrical contracting company, Precision Electric, with a partner and did commercial electrical work for many years until selling the company to his partner due to his declining health in 2018. He received his journeyman license at age 22 and his electrical contractor license at age 24.
Jim had many passions and activities he enjoyed. He was an avid outdoorsman and loved to spend time in the mountains hunting and hiking. He enjoyed three-gun competitions, long-range shooting, reloading his ammo and teaching his girls to shoot and learn how to protect themselves.
Jim volunteered for the Heartland Public Shooting Park, running the long-range rifle range for many years. He was certified by the NRA as a Range Safety Officer. He volunteered his time and materials as an electrician on many park projects for the last 12 years. He enjoyed being a squad leader for the three-gun shoots at the park and the friendships he developed as a result. He became certified as a Hunters Education Instructor. He was a member of the security team at church and loved being a part of his Men's Fraternity Bible Study Group.
His declining health was a frustration to him, especially as it limited his ability to continue doing the things he loved and felt a responsibility for. He volunteered for several years as an EMT in Palmer.
Jim was baptized, along with his wife and daughter, in a joyous acceptance of Jesus as his savior. He was a member of Third City Christian Church since that time. He took it as a responsibility to live as an example and shared his love of the Lord with others. The last two years of his life, he focused on making sure his girls would be "OK" without him. He had a lot of help from his family and friends in meeting this goal.
Jim is survived by his loving wife, Jacy Jo; daughters, Ashley Jo and Saigen Faith; his "boys," Gunner and Diesel; "therapy" kittys, Lenny and Poo; brothers, John Gowlovech of Glendale, Ariz., and Mike (Nancy) Gowlovech of Douglas, Kan.; sister, Cindy Davis of Alma; many nieces, nephews and a very large extended family of friends, all of whom he loved and touched deeply.
He was preceded in death by his parents, Richard and Beverly Gowlovech; grandparents, Ed and Laura Gowlovech and Alvin and Florence Kroeger; special pets, Simba, Tigger and Midget; and two children who went to Heaven before birth who he looked forward to meeting.
Please join us to celebrate his life. Remember to dress casual and bring your stories to share with his family during the fellowship. In lieu of flowers, memorials are suggested to the family to be designated at a later date.
Online condolences may be directed to www.livson.com. Livingston-Sondermann Funeral Home is entrusted with arrangements.