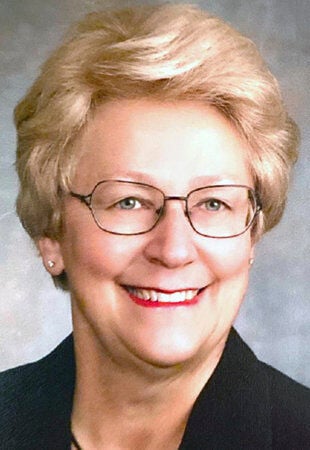 ESTES PARK, Colo. — Judy Anita Sandstrom, 69, of Estes Park, Colo., formerly of Grand Island, died unexpectedly Tuesday morning, July 14, 2020, at The Medical Center of the Rockies in Loveland, Colo., with her husband and her Lord by her side.
Celebration of life service will be at 3 p.m. Saturday, Sept. 19, in the Grand Island Heartland Events Center.
Family will be greeting friends an hour before service time. CDC guidelines will be followed with face masks required to help protect one another. Livestreaming will be available on All Faiths Funeral Home Facebook page.
All Faiths Funeral Home is entrusted with the arrangements. Memorials are suggested to Crossroads Ministries of Estes Park or Shepherd of The Mountains Lutheran Church Endowment Fund in Estes Park.
Judy was the fourth daughter born to Marvin E. and Norma (Denker) Beekman on March 8, 1951. She started school in Axtell and graduated from Kearney Senior High. On July 19, 1969, she married her best friend and the love of her life, Barry Sandstrom. To their marriage they were blessed with two wonderful children: a son, Kurt, and his wife, Heather Brennan Sandstrom, of Bedford, N.H., and a daughter, Lori, and her husband, Steve Klein, of Pleasanton. Judy and Barry were also blessed with six grandchildren, Trevor, Alex and Lauren Sandstrom, and Brady, Carter and Cade Klein.
Judy was a very bold but compassionate woman. Early in her married life she worked for Plant Island Green House and Williamson Furniture. She then branched out and worked for the March of Dimes, the School Community Intervention Program with Region Three Behavioral Health Services and owned her own business (Community Plus Inc.) before becoming the Employee Assistance Program coordinator for Family Resources of Greater Nebraska. All throughout her working life, she helped people however she could.
As a volunteer in the Grand Island community, Judy served on the St. Francis Medical Center Foundation Board and the College Park Board. At the time of her death, she was an active board member for Crossroads Ministries of Estes Park. She enjoyed thoroughbred horse racing, playing golf with her husband and friends, playing cribbage with anyone and watching her six grandchildren grow and learn each day. They were her pride and joy.
Judy is survived by her husband, Barry (they would have celebrated their 51st wedding anniversary on July 19); her son and daughter and their families; one sister and brother-in-law, Joan and Jerry Bendfeldt of Axtell; and two brothers- and sisters-in-law, Allen and Darlene Samuelson of Bertrand, and Dean and Sandy Hanson of Juniata, along with many cousins, nieces and nephews.
She was preceded in death by her parents, Marvin and Norma Beekman; and two sisters, Marlene Samuelson and Mary Hanson.
Even in death Judy continued to help people as she participated in The Donor Alliance Organ & Tissue Donation program. She was loved and she will be missed!
Obituaries Newsletter
Sign up to get the most recent local obituaries delivered to your inbox.