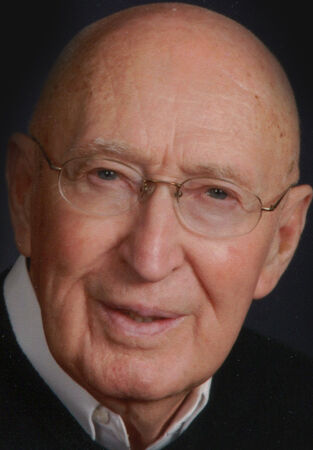 Larry K. Nansel, 87, of Grand Island, formerly of Kearney, died Thursday, Aug. 13, 2020, at CHI Health St. Francis.
A celebration of life will be held at 10:30 a.m. Monday, Aug. 17, at First United Methodist Church in Kearney, with the Rev. Alan Davis officiating. Burial will follow the service in the Kearney Cemetery, with military rites provided by Kearney American Legion Post No. 52, Kearney VFW Post No. 759 and the Nebraska National Guard Funeral Honors Team.
Visitation will be from 2 to 4 p.m. Sunday, Aug. 16, at Horner Lieske McBride & Kuhl Funeral and Cremation Services in Kearney and one hour prior to the service at the church. All CDC guidelines will be followed regarding social distancing and face masks are required for the service and visitation.
Larry was born to Charles G. and Mildred "Kitty" (Mason) Nansel on Nov. 23, 1932, in rural Arnold. He attended country school until moving to Callaway in the eighth grade where he graduated with the Callaway High Class of 1950.
After graduation, Larry farmed and ran their dairy with his parents.
Larry and Roberta (Hoffman) were united in marriage on Aug. 3, 1952. They were happy to reach 68 years of marriage earlier this month.
Larry was drafted into the U.S. Army in May 1953. He served during the Korean conflict from 1953 to 1955, stationed in Boston. Larry and Roberta enjoyed their time in Boston. Following the Boston Celtics, Boston Red Sox and the history of the area were the highlights of this time. They enjoyed trips back to Massachusetts over their marriage.
After being discharged from the Army, they returned to Callaway, where he continued in the farm and dairy business. In July 1958, Larry bid and was awarded the Star Route contract from the U.S. Postal Service. He and Roberta moved to Kearney and he began a 41-year career delivering the mail between Kearney and Callaway, retiring in June 1999.
Larry and Roberta were happy to be able to travel to 47 of 50 states and overseas to Norway, Finland and England in 1979. Some of their favorite trips were an Alaskan cruise, New England fall foliage trip, railroading through the Canadian Rockies, following grandson Seth playing baseball, a trip to the Black Hills with Kevin's family, and two charter bus tour baseball trips — one Midwest tour with Roberta and an East Coast tour with Kevin, Melanie, Terry, Kelsey and Callie. Larry loved playing bridge, cribbage and at family get-togethers playing five point pitch. But his time with Roberta, his children, his grandchildren and family reunions were the times he cherished the most.
Over the years Larry was always very involved in his church and his community. Some of his memberships were Star Route Carriers Association, past president and member of Methodist Memorial Homes in Holdrege, past president and member of Kearney Cosmopolitan Club, past president and member of Buffalo County Historical Society, past member of Kearney Elks Lodge 984, more than 60-year member of the United Methodist Church (58 years at Faith UMC in Kearney and current member of First UMC in Kearney), holding many offices at Faith UMC and was also financial secretary for many years. He was a member of Kearney American Legion Post 52. He has been a Legion member since 1955.
He is survived by his wife, Roberta of Grand Island; children and spouses, Kevin and Pat Nansel of Grand Island, Christine and Terry Garrison of Dallas, Melanie and Terry Sheen of Grand Island; grandchildren and spouses, Jason Peterson of Omaha, Kara and Sebastian Nastase of Omaha, Seth and Lauren Garrison of Royse City, Texas, Kelsey and Mark Johnson, and Callie and Luke Friesen, all of Grand Island; great-grandchildren, Aryanna, Vincent, and Elliott Nastase, all of Omaha, Abigail, Andrew, and Ashton Garrison, all of Royse City, Texas, and Will and Cora Johnson of Grand Island; siblings and spouse, Lane and Barb Nansel of Kearney, Linda Lawrence of Callaway, and Lee Ann Young of Lexington; sisters-in-law and brothers-in-law, Jerry Jorgenson of Kearney, Gaylene and Bill Rudy of Aurora, Bernita and Craig Meads of Overton, and Ron and Em Jorgenson of Callaway; numerous cousins, nieces, nephews and many friends.
He was preceded in death by his in-laws, Hugh and Faye Hoffman, grandson, Corey Sheen; and sisters-in-law and brothers-in-law, Karen Nansel, Kelly Young, Larry Lawrence, Jim and Dee Olson.
Obituaries Newsletter
Sign up to get the most recent local obituaries delivered to your inbox.