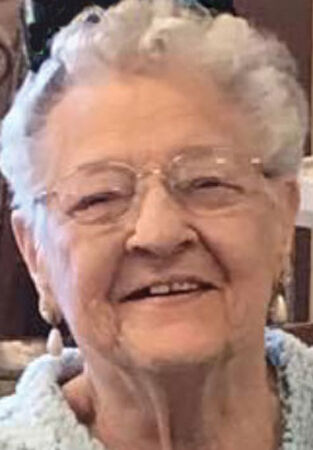 Nita June (Bolles) Ruzicka, 87, of St. Paul, passed away Monday, August 10, 2020, at Brookfield Park in St. Paul.
Nita was born June 9, 1933, in Cairo, Nebraska, to parents Francis and Alice (Ooley) Bolles. Nita and her sister were one of three sets of twins among ten children. Nita attended school in Wood River, graduating in 1951.
On March 15, 1953, Nita married Gordon Ruzicka. Three sons were born into the family. Nita was employed throughout her life as a cook at numerous locations in St. Paul, Grand Island, McCook and Wood River.
She was a member of The Order of Eastern Star and also enjoyed reading Danielle Steel books and was an avid bowler for 50+ years.
Nita was preceded in death by her parents; her husband, Gordon Ruzicka; two brothers, Douglas and Louis Bolles; twin sister, Nina Woodruff; brother-in-law, Robert Woodruff; sister-in-laws, Norma, Ruth, Sandy and Deanna Bolles.
Nita is survived by her three sons and daughters-in-law, Jerry and Kalyn of McCook, Mike and Juna of Cairo, and Cliff and Lora of Grand Island; sister and her spouse, Linda and Kenny Lauritson of Dannebrog; brothers and their spouses, Robert and Barabara Bolles of Kansas City, Mo., Willard Bolles of Carson City, Nev., Garry and Pauline Bolles, Larry Bolles and Janie, and Dwight Bolles, all of Grand Island; sister-in-law, Norma Bolles, of Grand Island; five grandchildren and their spouses, Jay and Erica Ruzicka of McCook, Jerron Ruzicka of McCook, Gordon and Samantha Ruzicka of Lincoln, Kyle and Alyssa Lopez Ruzicka of Arvada, Colo., and Kristen Ruzicka and Joe Gourneau of LaVista; three great grandchildren, Aiden Ruzicka, Owen Gourneau and Deveraux Ruzicka; as well as many nieces, nephews and friends.
Memorial can be made to the family or to Alzheimer's Association Nebraska Chapter.
A family graveside service will be held at a later date.
Obituaries Newsletter
Sign up to get the most recent local obituaries delivered to your inbox.