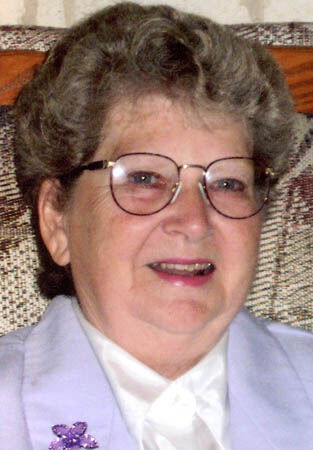 ST. PAUL — Patricia D. Wampler, 87, of rural St. Paul died Wednesday, Oct. 14, 2020, at home.
Graveside services will be at 2 p.m. Wednesday, Oct. 21, at the Riverton Cemetery in Riverton, Iowa. The Rev. Carl Phillips will officiate.
Memorials are suggested to the family for later designation. Peters Funeral Home in St. Paul is assisting the family.
Patricia was born Aug. 25, 1933, at Hamburg, Iowa, the daughter of Arthur and Vera (Kellison) Smith. She grew up on a farm and attended country schools in the Hamburg area. The family later moved to Burlington Junction, Mo., where she graduated from high school and later returned to Hamburg.
She was united in marriage to Owen Wampler on July 16, 1955, at Rockport, Mo. The couple lived in Riverton, Iowa, Nebraska City, Nehawka and Stockham.
In the fall of 1970, they moved their family to a farm near Cushing, where she lived the rest of her life. Patricia was a homemaker and worked for Ore-Ida in Grand Island for 25 years before retiring.
She enjoyed baking, sewing, children and quilting, having made many quilts for family and friends. She was an avid collector of bells, salt and pepper shakers and dolls. She and Owen would take annual vacations with their grandchildren and she would then make each of them a photo album of the vacation.
She is survived by her husband, Owen Wampler of St. Paul; sons and daughter-in-law, Kenneth and Jonica Wampler of Palmer and Carl Wampler of Aurora, Colo.; daughters and sons-in-law, Patricia Ann and Troy Gregg of Arcadia, Barbara Wampler of Grand Island, Lynnette and Randy Kent of Grand Island and Dorothy and Raymond Gregg of Scotia; nine grandchildren and spouses, Eve and Jeremy Essary, Jon and Macy Wampler, Tara Gregg, Megan Gregg, Arthur Wentz, Brian and Stacy Wentz, Travis and Brittany Gregg, Trevor Gregg and Mikayla Wetzel, and Trenton Gregg; and 17 great-grandchildren.
She is also survived by a brother and sister-in-law, Art and Judy Smith of Sidney, Iowa; a sister, Betty Gray of Springfield, Mo.; sisters-in-law, Betty (Darold) Kuhlmann of Horseshoe Bend, Idaho, and Mary Wampler and Darlene Wampler, both of Nebraska City; and numerous nieces and nephews.
She was preceded in death by her parents; daughter, Caren Wampler, on Aug. 11, 2013; brother, William Smith; sister and brother-in-law, Virginia and Theodore Thompson; brother-in-law, Donald Wampler; and sister-in-law, Evelyn (Jerry) McMann.
Obituaries Newsletter
Sign up to get the most recent local obituaries delivered to your inbox.