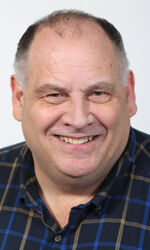 Let's look at some of the many good things about Grand Island.
First of all, it's a hard-working town. Just look at the way people keep their lawns cut and their sidewalks clear of snow. Obituaries routinely point out that the decedent had a great work ethic. This week, an obituary noted that, "He was so proud of his children and grandchildren, teaching them all to work hard and to enjoy the benefits of a job well done."
Nobody cares more about veterans than Grand Island. People join together to honor veterans and keep the Nebraska Veterans Memorial Cemetery looking good.
Grand Island has good corporate citizens.
Companies such as Hornady Manufacturing, Case IH, Aurora Cooperative and Orscheln's made important contributions to this year's State Fair.
People aren't afraid to pitch in. The city had a community cleanup before the Nebraska State Fair arrived.
Grand Island thinks of itself as the City of Kindness. Act of Kindness Week was just last week.
This area is home to numerous groups that promote wildlife conservation, such as the Loup Platte Chapter of Pheasants Forever and chapters of Ducks Unlimited.
We still have good events for young people, such as the Hall County 4-H Fashion Show.
You can enjoy sauerbraten at the Liederkranz.
It's good to know I can always pick up fine cigars at Smoker Friendly.
Grand Island is home to fine people, such as Hall County Judge Alfred Corey, who is always gracious with defendants in his courtroom.
Another one is Anthony Espinoza, the dedicated store manager at Express Pawn.
Others who do good work include Lt. Liza Ayala, Deny Cacy and Sue Meier at the Salvation Army.
What else is admirable about Grand Island?
— All of the good people who help with the weekly food distribution at Messiah Lutheran Church.
— The Air Force Junior ROTC cadets from Grand Island Senior High. When there's work to be done at nonprofit events, it's amazing how often those students are there to do it.
— The American Red Cross volunteers who help victims of house fires.
— Horse races at Fonner and activities at the Heartland Events Center. As the sign says, "Fonner Park makes Grand Island a better place."
— The many groups that produce quilts for people who appreciate them.
— The neighborhood fireworks show every July 4, in the area of Sun Valley Drive, South Street and Pleasant View Drive.
Grand Island has a great airport, good parks and a good library.
We also have fun events. How could anyone not enjoy Imagination Bacon?
Speaking of Heartland United Way, where would the State Fair be without Scoops ice cream parlor?
Today's column is meant to be positive. So instead of mentioning a problem, we'll instead focus on the silver lining.
Thank goodness for North Road, which is even handier than usual when Old Potash and Faidley are under construction and a reporter has to find his way to Shoemaker Elementary.
Catch the latest in Opinion
Get opinion pieces, letters and editorials sent directly to your inbox weekly!