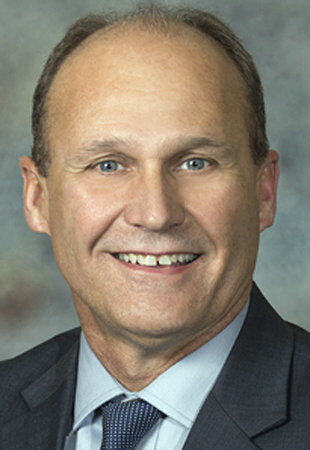 I want to thank my community for allowing me the experience of a lifetime to serve as your state senator for District 35. I am proud of the legislation we passed and the work we did to help constituents over the last four years.
I have enjoyed my time as your state senator and will never forget the people I met and worked with along the way. Listening and learning from my constituents was something I never took for granted, because it was necessary in order to better represent you.
Each person I met gave me ideas on how to make Grand Island a better and more welcoming place where people want to live and work. Whether it was community leaders or ordinary citizens at their doorsteps, coffee shops or events across the city, every person I met told me what they wanted or needed from me, and I worked hard to address their issues. I especially loved talking to student groups and the fourth-graders who would come to the Capitol. I loved telling them my story, and about how you can get far when you work hard, are honest and care about people.
I'm proud of the work I've done for our community, and I'm proud of how hard I fought to get things done. I introduced many bills that were brought to me directly by constituents — and more importantly, I passed those bills. We were able to raise the age of purchase for e-cigarette products in order to protect kids from these harmful devices. This issue was brought to my attention by our school leaders and a constituent.
We were able to pass a bill providing more accountability and consequences for teachers and those in positions of power who groom and sexually assault students. This idea was brought to me by a constituent whose family had endured this terrible ordeal and wanted to keep other families safe.
We were able to pass a bill that will allow Grand Island to create or join a land bank, which will help to address vacant and abandoned properties all across our state. This was wanted by leaders in our community, and I fought through filibusters and made many compromises to make it happen.
When leaders in our veterans community wanted to see the former veterans home cemetery become a State Veterans' Cemetery, I met with countless officials to determine what our first steps should be. Now we are on track to have a state cemetery that will meet federal standards and honor our veterans to the fullest extent.
It wasn't always about legislation, though. I worked to resolve issues for constituents through providing them resources, contacting an agency on their behalf and working with them through the ombudsman's office. I took great pride in working on issues involving child welfare, juvenile justice and behavioral health. Serving on the LR296 State-Licensed Care Facilities Committee, we spent a lot of time looking into mental health facilities across the state and what services are actually available for people with mental health issues. We learned that our state doesn't have enough mental health providers or facilities to help people in crisis, and our provider rates are too low to provide those in need with the necessary services to get back to a normal life. We can and we must do better as a state.
In the area of juvenile justice, I worked with judges, probation and nonprofits to support better outcomes for children who have behavioral health issues. Investing in our children should be a priority — not only to meet education needs, but to address poverty and behavioral health issues. If we can better address issues such as poverty, food insecurity, housing and cases of abuse and neglect, we can help create environments for our children to thrive in.
I would not have been able to pursue these changes for our community without the commitment, expertise and hard work of my staff. My legislative aide, Sarah Wagelie, spent time getting to know Grand Island and attending many in-person meetings. I would not have been as successful without her hard work and care for our community. I was also lucky to have Conner Kozisek and Katie Esters as administrative assistants throughout my term. They both prioritized communicating with my constituents through newsletters and emails, working to keep everyone informed. Because of their efforts I was better able to represent and serve you. I am thankful to them.
I would also like to thank my family for their sacrifice in allowing me to serve you. I wouldn't have been able to represent my constituents the way I have without their support.
While I will not be returning to the Legislature in January, I will never stop caring about our community and all those who live here. We are strong and resilient; I know we are experiencing tough times, and we have tough times ahead, but I believe in us and in our ability to come together. It is with humility and gratitude that I say thank you. It was an honor to serve as your state senator.
Sen. Dan Quick of Grand Island has represented District 35 in the Nebraska Legislature.