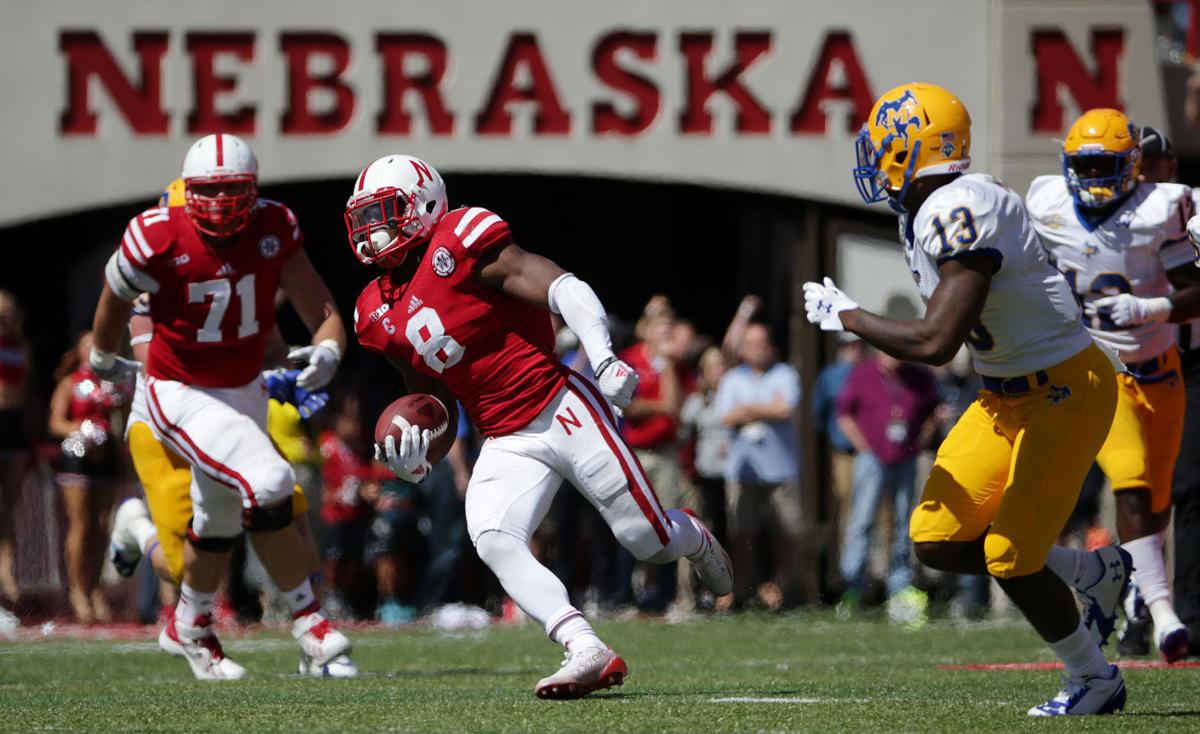 LINCOLN – McNeese State bottled up Ameer Abdullah for only 54 yards rushing Saturday.
But Abdullah proved he can greatly impact a game in more ways than just by taking handoffs.
He rescued No. 19-rated Nebraska by turning a 2-yard catch into a 58-yard touchdown with 20 seconds left. That allowed the Huskers to escape from Memorial Stadium with a 31-24 victory over Football Championship Series member McNeese State.
"There's a reason why he's one of the best players in the nation," Nebraska cornerback Josh Mitchell said. "It's just Ameer being Ameer."
That was a teammate's simplification of a play on which Abdullah seemed to elude nearly every Cowboy on the field.
On the third-and-6 play from NU's 42-yard line, Tommy Armstrong checked down to Abdullah on a short 2-yard pass.
He turned upfield and quickly cut to avoid both linebacker Bo Brown and safety Dominique Hill.
Three more defenders missed Abdullah at midfield, who found open space in front of him after he bounced off safety Aaron Sam at the 50-yard line.
It was a footrace that Abdullah wasn't going to lose.
"There was a lot of man-to-man," he said. "It was third-and-long, and I saw the opportunity to go isolation with the linebacker so I wanted to make the most of it. I caught the ball, cut back and scored."
After Abdullah caught the ball, Armstrong realized that the Huskers (2-0) had the chance to get a lot more than just a first down on the play.
"Once he made his spin move, I saw he had two blockers in front of him," he said. "You have to take into consideration he's a playmaker. He's 1-on-1 with the mike (linebacker), so I knew he had the possibility of getting a first down.
"That was our focus, to get a first down. He was able to turn a 4- or 5-yard gain into a touchdown."
But that wasn't the only impact Abdullah had to set up the final drive.
After McNeese State freshman kicker Alex Kjellsten connected on a 24-yard field goal to tie the game with 4:21 left, Abdullah took his only kick return of the day 34 yards.
"At times we'll use him (as a kick returner), at times we won't," NU coach Bo Pelini said. "I wish I could put the ball in his hands every down, but we can't."
Although that drive stalled, Sam Foltz unleashed a 50-yard punt to back McNeese State up at its own 10-yard line with 2:40 left.
The defense forced a three-and-out, and NU took over at its 38 with 1:14 to go. Two plays after Mike Moudy recovered a fumble by Armstrong while he was being sacked, Abdullah came through with the game-winner.
"Ameer put the team on his back and won the game," Pelini said. "With the kickoff return, too. Thank God for Ameer today. He showed why he is who he is.
"First thing he did was address the team in the locker room. He knows. He's been around long enough and he gets it. That's why he's a tremendous leader. Not just a tremendous player, but a tremendous leader."
Abdullah didn't realize how many defenders he avoided on his highlight-reel touchdown.
"I was just trying to get to the end zone," he said. "It's kind of a blur now. (I) didn't realize I broke five tackles, but I'm glad I did. Glad I got the score because it was icing on the cake, and I really put the game out of reach.
"The football gods were definitely on our side today. We got very lucky. But starting tomorrow, we are going to bring a different attitude."
The disappointment in the voices of coaches and players after the game almost made it seem like Nebraska had lost.
Abdullah said there are always positives, but the negatives easily outweighed them after being taken to the final seconds by an FCS program that came to Lincoln for more than a tidy payday.
"Football is a game that I love, that I have a lot of respect for, but the respect as a whole from the team needs to go up," Abdullah said. "Respect of the opponent, respect of our game plan, taking it seriously and just executing – that all goes into respecting the game.
"I feel like our level of respect for the game this week was not good enough. It definitely showed. That's on me as a captain. I have to assist that as the week goes on, but I was reluctant to say anything, and I promise that it is the last time that will happen."
Mistakes piled up in the eyes of Pelini.
"We were lucky to win that one, I can tell you that right now," he said. "We were our own worst enemy today. I'm not taking anything away from McNeese. They played hard. They did a lot of good things.
"But we shot ourselves in the foot time after time after time. Sometimes it didn't hurt us. It should have hurt us in a couple other instances. At the end of the day, we got outcoached, we got outplayed. We were lucky to win the football game."
The game will give the Huskers plenty to think about, Pelini said.
"This football team needs to take a good long look in the mirror, starting with me," he said. "We'll get back to work. I look forward to moving forward with this football team. Nothing's changed as far as what the potential of this football team is, trust me."
Armstrong said the Huskers expect a much better performance out of themselves.
"We've got to look at this game like what if it's Michigan State? What if it's Wisconsin?" he said. "We can't play this way. It's McNeese State, but we survived. If we go into Wisconsin playing like that, it's not going to be pretty."
McNeese State (0-1) gave quick indications that it came to play. Abdullah, who averaged a mere 3.2 yards per carry, was dropped for a 5-yard loss on fourth-and-1 from the McNeese State 48-yard line on the first possession of the game.
"We were sputtering out all game," Abdullah said. "We couldn't run the ball. They did a heck of a job against our running game. I only have (54) yards rushing and we had (195) rushing, a majority from the quarterback, and that's just how it's going to be.
"I expect teams to key in on me. We need Tommy to be efficient all year. But we need to be better on both sides of the ball up front."
The Cowboys did convert on their own fourth-and-1 on their first possession and went on to score on a 9-yard Derrick Milton run.
Armstrong, who passed for 242 yards and rushed for 131, found Jordan Westerkamp open down the middle for a 40-yard score to tie the game at 7 with 6:44 left in the first quarter.
Abdullah gave the Huskers their first lead of the game with a 2-yard touchdown with 3:00 remaining in the opening period.
And Nebraska appeared ready to grab control of the game after driving from its own 20-yard line to the McNeese State 9.
But Armstrong fired a pass before Westerkamp had turned around to look for the ball. Instead Sam was camped out waiting for it, and he turned the play into a 98-yard pick-six to tie it up 14-14.
"We're a couple missed reads from putting that football game away in the first half," Pelini said. "That's the way this game is. I've been around it long enough to know. I've seen crazy things happen and you let a team hang around, eventually they're going to make some plays.
"If you have a chance to put someone away, you better put them away. You have to step on their throat. We didn't do that. We let them back into it."
The Huskers took a 21-14 halftime lead after Armstrong got into the end zone on fourth-and-1 with 5:47 remaining in the first half.
Then the offense disappeared for NU in the second half until Abdullah rode to the rescue in the final minute.
Nebraska's first six drives after halftime resulted in a total of 48 yards. The only time the Huskers didn't go three-and-out they received a 31-yard Drew Brown field goal, which extended the lead to 24-14 with 3:51 on the clock in the third quarter.
"I've said it before: 'You can't drink the Kook-Aid,' which means you can't get up and think you can take your foot off the gas pedal," Abdullah said. "You've got to get up and keep getting better. And we are not there."