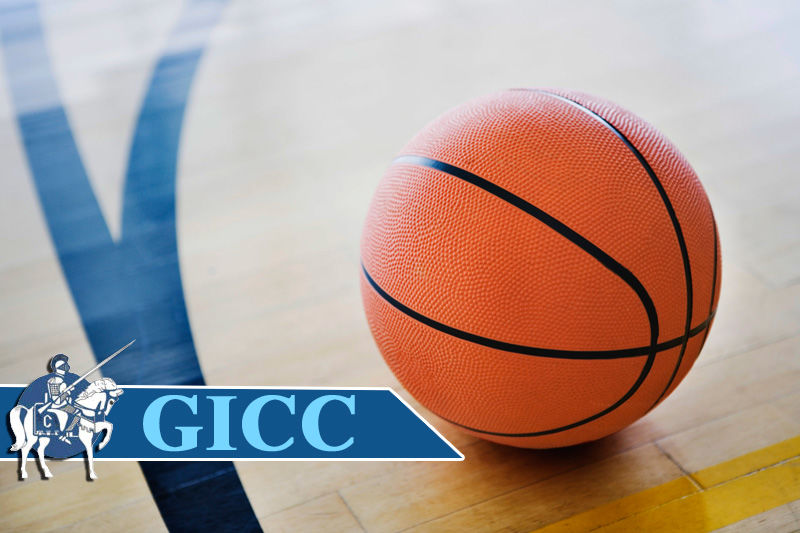 Renewed focus helped Grand Island Central Catholic get back on track Saturday night with a 60-36 home-court victory over Doniphan-Trumbull.
Playing for the second consecutive night without their starting center in 6-foot-9 senior Dei Jengmer, the Class C-2 No. 1-rated (Omaha World-Herald) Crusaders stepped up to stop the slide against the No. 5-rated Cardinals. The win came on the heels of Friday night's 56-35 loss at Kearney Catholic — the first setback of the season for Central Catholic (11-1).
"We had a good practice and good film session this morning and got their attention," GICC coach Tino Martinez said. "You can kind of take the situation two ways and we wanted to take the approach that we were going to learn from it because there was definitely a lot of learning to do.
"I thought that's what we did and the kids responded well."
Gil Jengmer scored 12 points and Marcus Lowry had 10 points, nine rebounds and four assists to lead the Crusaders, who shot 47.1% (24 of 51) from the floor. Five GICC players scored eight or more points as Martinez's team recorded assists on 11 of its 24 field goals.
"Honestly, you can tell how well we play most of the time by comparing our assist numbers to the amount of field goals we had," Martinez said. "Today, we shared the ball well. Our crispness and sharpness on offense was so much better — we zipped passes and we were more crisp on our cuts.
"When you do that, your offense works so much better and I thought that was the biggest difference between tonight and Friday."
The Crusaders were locked in defensively, too, limiting Doniphan-Trumbull (6-3) to 35% shooting (14 of 40) from the field. GICC outrebounded the Cardinals 33-24, including grabbing 12 offensive boards.
"Doniphan-Trumbull scared me because we have struggled with their type of dribble drive and kick action," Martinez said. "We missed a few close-outs where we created some plays for them, but for the most part, we played pretty well against it and didn't give up too many easy looks. They earned everything they got, which is a credit to them."
The Crusaders led 14-6 after the first quarter as Doniphan-Trumbull missed seven of its first nine shots.
"I thought the first quarter maybe moved a little bit too fast for our players and maybe the moment was a little bit too big, but it's still early in the season and we're going to take this and learn," Cardinals coach Kelan Buhr said. "We knew that GICC was a very, very good opponent and we wanted to play well. Sometimes, you put too much emphasis on one game and I think we did that tonight."
Doniphan-Trumbull made 5 of 6 field-goal attempts in the second quarter, including a pair of 3-pointers, but still trailed 31-19 at halftime. Andrew Stock paced the Cardinals with 10 points and seven rebounds.
"When we settled down, we were able to do some of the things that we wanted to get done," Buhr said. "We just did some things that were a little uncharacteristic of us that we haven't seen much of, but they're kids and they're going to learn. I made more mistakes than anyone and I'm going to learn and we'll be ready to move past this."
With the possibility of an undefeated season now removed, Martinez said the Crusaders were also ready to turn the page.
"We never really talked about (going undefeated) because we have so many opportunities on our schedule where somebody can beat us," Martinez said. "Obviously, we want to win every night out — regardless of the team or the season — but we never talked about it internally.
"We have goals for the end of the year and all those goals are still in front of us. That's the good thing."
GICC 61, Doniphan-Trumbull 20
Grand Island Central Catholic's Rylie Rice set one school record and made a serious run at another Saturday night in a 61-20 win against Doniphan-Trumbull.
Rice scored a career-high 42 points, falling just shy of KC Cowgill's single-game school record of 44 points. However, the 5-9 junior guard now stands alone as the GICC record-holder for 3-pointers in a game with nine after previously tying Cowgill's record for single-game 3s with eight on Dec. 31 against Fullerton.
With the Class C-1 No. 2-rated Crusaders (12-0) already leading 40-15 after three quarters, Rice scored 17 fourth-quarter points to get within striking distance of Cowgill's single-game scoring mark. Rice, who finished 13 of 32 shooting from the floor (9 of 26 from 3-point range) had her chances at the record, but missed her final four 3-point attempts.
"I have kind of held Rylie back and haven't let her try to do those things, especially as a freshman and a sophomore," GICC coach Stacia Rice said of letting Rylie Rice take aim at the school's single-game scoring record. "Unfortunately, we don't know what's going to happen tomorrow or the next day and if we're going to have more games after this, so we just wanted to try and take advantage of it.
"She puts in a lot of hard work and a lot of time and I wanted to reward her for that."
The girls state record for 3-pointers in a game is 11. That mark is shared by KC Hilgenkamp of Arlington (1998), Leona Saul of Santee (2007) and Maggie Nelson of Holdrege (2013).
GICC took control by stifling Doniphan-Trumbull (1-7) with its defense. The Cardinals finished 4 of 34 (11.8%) shooting from the floor and were outrebounded 39-25.
Several of those rebounds led to fast-break baskets for the Crusaders.
"Transition points were one of the key components for us tonight," Stacia Rice said. "We also did a nice job of going inside-outside and that freed up some shots for our shooters, and luckily we connected on a couple of them."