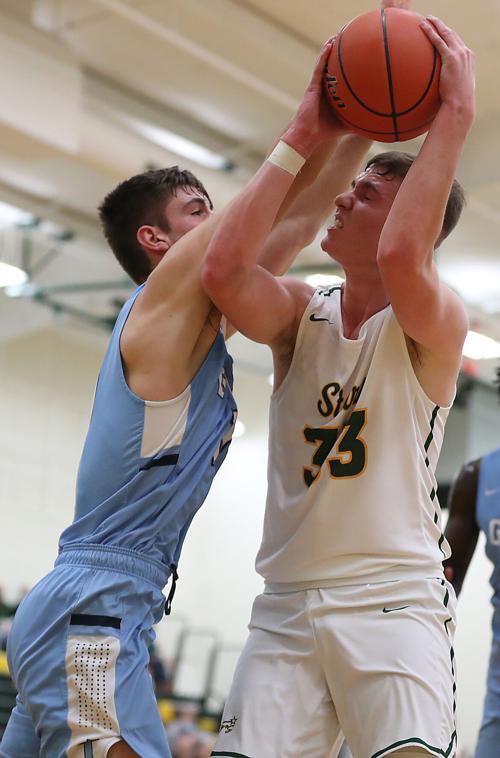 KEARNEY — For 13 minutes, Kearney Catholic did the unbelievable: shut out unbeaten and Class C2 No. 1-ranked Grand Island Central Catholic.
And on the other end, the Stars put up 28 points to run away for a 56-35 victory Friday night at a semi-packed Cope Coliseum.
Cheered on by their fans for the first time since directed health protocols were relaxed, the Stars turned in a near flawless performance, making 11 of 19 shots in the first half and dominating the rebounding.
"We got out and pressured them a little bit more than we did against Beatrice and some other teams and I think it kind of surprised them a little bit," Kearney Catholic coach Bob Langan said.
Brett Mahony sparked the first-quarter eruption, netting three two-pointers and a 3-pointer. He also grabbed four rebounds.
"We were locking in defensively and looking to be attackers on offense," Langan said. "The way they usually play their defense we had to have a lot more action compared to maybe our drive-in-space stuff and our kids bought into it this week and it's something we need to stick to."
Kegan Bosshamer picked up his offensive game in the second quarter, scoring eight of his 11 points as the Stars pulled away to lead 30-7 at halftime.
"They got hot and we couldn't get a stop and it snowballed on us and we aren't a team that's built to play from behind in that kind of margin," GICC coach Tino Martinez said. "We knew it was going to be a dogfight coming over here and they definitely played as hard as we expected them to play."
The Crusaders (10-1) played without 6-foot-9 senior Dei Jengmer, who was out with an injury. He would have made a difference, Martinez said, but not enough to change the outcome.
"It probably affected us offensively more than anything when you lose a post presence like that," he said. "We need to learn to play without him. Our shot selection was so poor and we didn't have rebounders in place. ... We didn't have a post presence and that's why we resorted to chuckin' shots."
Langan said he hoped Friday night's win would be a signature event the Stars can build on.
"It gives us some confidence. We realize that we have to lock in like this every night and sustain it. The kids set the bar high and now we have to take it and look for that next signature win," he said.
Mahony finished with 14 points while Bosshamer had 11 and Garret Schmaderer added 10.
Russ Martinez and Koby Bales led the Crusaders with nine points each.
GICC hosts Doniphan-Trumbull today and York on Tuesday.