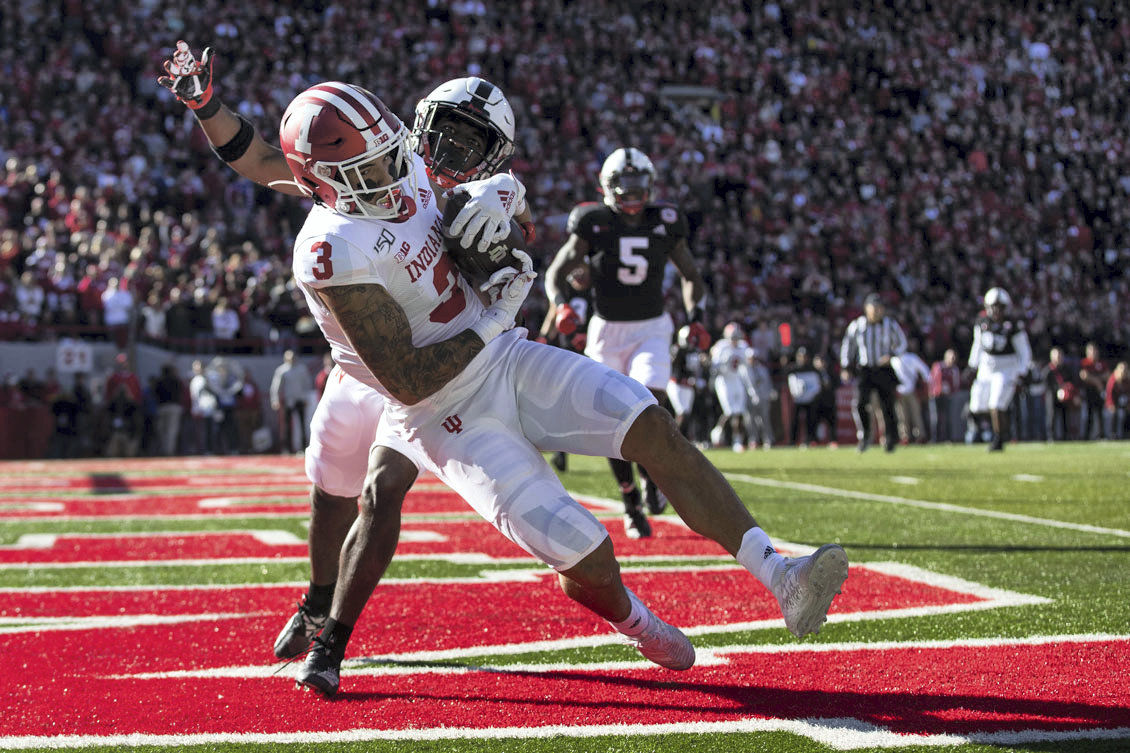 LINCOLN — On a day when Nebraska wore alternate jerseys to honor the program's famed Blackshirts defense, it's safe to say things didn't turn out as well as the Cornhuskers would've liked.
Indiana racked up 455 yards of total offense, including 351 yards through the air, while posting a 38-31 Big Ten Conference victory over Nebraska Saturday at Memorial Stadium. The Hoosiers (6-2, 3-2 Big Ten) scored on half of their 12 possessions — two drives were ended as time expired in the second and fourth quarters — and the Huskers (4-4, 2-3) failed to force Indiana to go three-and-out even once.
Nebraska native Garrett Nelson, a freshman from Scottsbluff who is well-versed in the Blackshirts' tradition, perhaps said it best.
"A lot of former Blackshirts are probably putting some holes through some walls, but I don't blame them," Nelson said. "I'm kind of on the same level with them right now. Disrespectful to them, disrespectful for any former Blackshirt to put on that performance.
"It's frustrating to wear those jerseys and have that outcome, obviously."
While unhappy with his defense's performance, Nebraska head coach Scott Frost said a lack of effort wasn't the problem.
"Defensively, I thought they did well enough against the run, but we gave up a ton of passing yards and that's on a lot of guys," Frost said. "I thought the uniforms looked great. I think it's great for the University of Nebraska to have that identity of the Blackshirts.
"We've got to represent them better the next time we wear them."
One of the biggest sources of frustration for Nebraska's defense was Indiana's ability to convert on third and fourth down. The Hoosiers were a combined 9 of 16 on "money" downs, including going 7 of 14 on third-down conversions.
"Every down, it was something different, but I would say it's just the details," said Nebraska senior linebacker Mohamed Barry, who tied for the team lead with six total tackles. "On third-down or fourth-down situations, you've got to be so precise that it's crazy. That's one of those downs where that you can't expect something lucky to happen.
"You have to be precise because those quarterbacks and those offensive coordinators, that's what they live on. That's where they make their money and that's where they put their best plays."
Precise aptly described the play of Indiana quarterback Peyton Ramsey for most of the afternoon. The 6-foot-2, 216-pound junior from Cincinnati was 27 of 40 passing for 351 yards, including touchdown passes of 8 yards to Ty Fryfogle and 2 yards to Matt Bjorson.
Wide receiver Whop Philyor was Ramsey's go-to guy, catching 14 passes for 178 yards.
Ramsey also showed the ability to scramble for first downs, rushing for 42 yards and a TD on nine attempts.
"That's frustrating when you've got them backed up and it's third and forever and they convert it," Nelson said. "As a defense and as a unit, we just need to find a way to get that stopped and get off the field."
Frost and his players agreed that much of Nebraska's problem on defense was the inability to get a consistent pass rush. Defensive ends Khalil Davis and Ben Stille each recorded a sack for the Huskers, but for the most part, Ramsey had more than enough time to throw.
"We just needed to generate a pass rush and get them off the spot and that just didn't happen in the game," Nelson said. "We kind of got picked apart — didn't help the DBs out at all. They played their (butts) off and we didn't help them out at all."
Frost said the Huskers have to be able to generate a pass rush with just their front four defensive linemen.
"We've got guys playing their butts off. I think we've got a lot of really good players — I think we've got a lot of really good young players, but we can't count on having to blitz all the time to generate pressure," Frost said. "We have to be able to generate a pass rush, otherwise, we're on islands back there."
The one area Nebraska's defense performed fairly well in was stopping the run. The Hoosiers, who entered the contest averaging 142.6 yards per game on the ground, rushed 31 times for 104 yards (3.4 yards per attempt).
"We thought they would be a heavy run team, which they were, and we were able to knock out the run for the most part," Barry said. "I think how they attacked our cover-threes or some of our zone coverages was smart by them and maybe the key to how they won this game.
"We were in perfect position, at times, to make plays and we didn't. That's the story of this game."
Nebraska led 14-3 in the first quarter, but couldn't find a way to halt Indiana much after that.
"We've got a chance to put the game away if we get a couple of stops," Frost said. "And we didn't."
Barry said he's taking it upon himself and Nebraska's senior leaders to turn things around, defensively.
"The leaders have got to lead better," Barry said. "I said before the season that everything we don't accomplish is because of the leaders. I'm going to hold myself to that and I'm going to hold all the leaders and seniors to that."