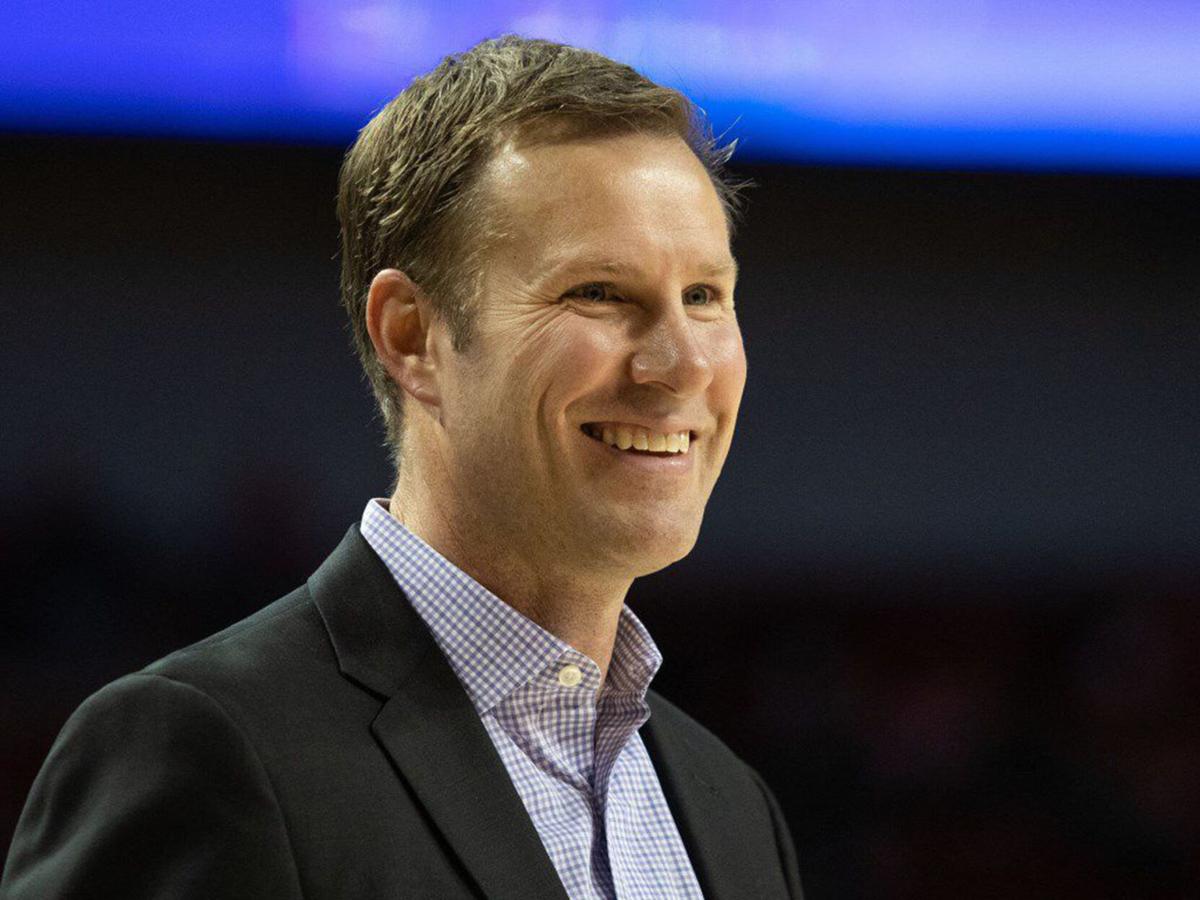 Nebraska men's basketball coach Fred Hoiberg expressed optimism about the 2021-22 team based upon what he's seen during early offseason workouts during a Big Red Blitz stop Wednesday at the Bosselman Conference Center.
The Huskers have been focusing on the basics over the first two weeks, but even that has fueled excitement as Hoiberg enters his third season in Lincoln.
"I really like our group," Hoiberg said. "We didn't really have this opportunity last year to have an offseason, so to be able to work with our guys, this is a lot of fundamental skillwork, which is pretty much going to be the whole month of June. Once July hits we'll start to do more team workouts and some team activities.
"But right now, everything is based on footwork, passing, a lot of shooting — a lot of the issues we had last year, trying to hopefully get a head start on what was a big problem for us last year, the turnovers. ... I love the mentality of our guys. Every one of them to a man is coming in and getting extra work in in the evenings (and) afternoons with our (graduate assistants) and managers. It's been a fun group to be around."
Hoiberg said the veterans returning provide a strong nucleus to be surrounded by a highly-rated recruiting class.
"We feel really good about the returning group we do have," he said. "About 80% of our minutes, 80% of our scoring is back from a year ago and had some success within the system, especially late in the year. That can give us momentum heading into this offseason. Then (they are) helping some of our new guys along.
"You look at a couple of our transfers, C.J. (Wilcher) and Keon (Edwards), who are still freshmen technically because last year didn't count...to have a group that can help them along in the system, I've been very impressed with both those guys, their skill level and skill set. Now, ask the returning players to help them along in the process and get acclimated as quickly as possible, so we don't skip a beat."
Hoiberg hopes the excitement around Nebraska men's basketball spreads, not only to the fanbase but also to those players who could help play a part in the program's success in the future.
"Having a top 15 recruiting class and with Bryce (McGowens) being the first five-star (recruit) in the history of the program, I feel that our program is on the rise," Hoiberg said. "We do have an opportunity in front of us to hopefully do something that's never been done at Nebraska, and hopefully young kids see that, especially in-state kids who want to help propel the program to where it never has been before (and) to play with a group of guys that I think will fit really well together."
Among those in-state players drawing the interest of the Huskers is Grand Island Senior High senior Isaac Traudt, who took his official visit to Lincoln earlier this month. Hoiberg had to deflect a question from a fan about Traudt due to NCAA recruiting rules, but he said in general he likes what he is seeing with the in-state talent level.
He is glad to be able to get potential recruits back on campus after the COVID-related in-person recruiting hiatus.
"We've gotten really good feedback from the players we've been fortunate enough to get on campus, including some really good in-state kids," he said. "I think the future's very bright for the state of Nebraska. I can't mention by name by rule, but we feel really good about where things are in our state right now with some high-profile players."
The return to some normalcy in the recruiting process has led to a hectic month for the coaching staff.
"I think we're all trying to play catch-up," Hoiberg said. "We're trying to get as many kids in that we weren't able to get on our campus pretty much the last 18 months. We just had a great opportunity to have good, high-quality kids in so far the first couple weekends. We have another big weekend ahead. ... It's been a grind of a month, for sure, with all the visits we have had."
On top of that schedule, add in the workouts that have led to Hoiberg's optimism.
"We're throwing a lot of information at our guys, and once we start the team workouts, that's really when we'll start seeing what exactly we have," he said. "But from a work ethic standpoint, we're in a great spot. We've got a group that loves to be in the gym, and you definitely have an advantage when you have a group like that."
Hoiberg is already seeing a better outlook in some areas that led to last season's 7-20 mark — and he's looking for even more.
"I think one area we really improved was our shooting. ... A guy like Bryce McGowens who didn't get a lot of catch-and-shoot 3s last year because of the attention he drew with other teams' defenses, we're really working on proper footwork and making sure he finishes, sticks his follow-through," he said.
% Hoiberg said he is in daily contact with point guard Delano Banton, who declared for the NBA draft following his sophomore season but maintained his college eligibility.
"For him, it's a great opportunity to go out there and get a feel for what the pre-draft process is like," Hoiberg said. "I'm going to try to help him navigate through it and be as honest as I can. I've had guys at Iowa State that it was time for them as underclassmen to go and for others it wasn't time. We continue to have those conversations pretty much every day."
% The outlook appears to be good for freshman forward Wilhelm Breidenbach, who suffered a torn meniscus last month during his high school season.
"He's in the rehab stage right now," Hoiberg said. "He's made great progress. He had really general soreness (Tuesday) just from all the things that we're trying to do to strengthen his body, but he felt great this morning. I was able to see him before I got on the bus to come out here. He shoots the heck out of the ball."