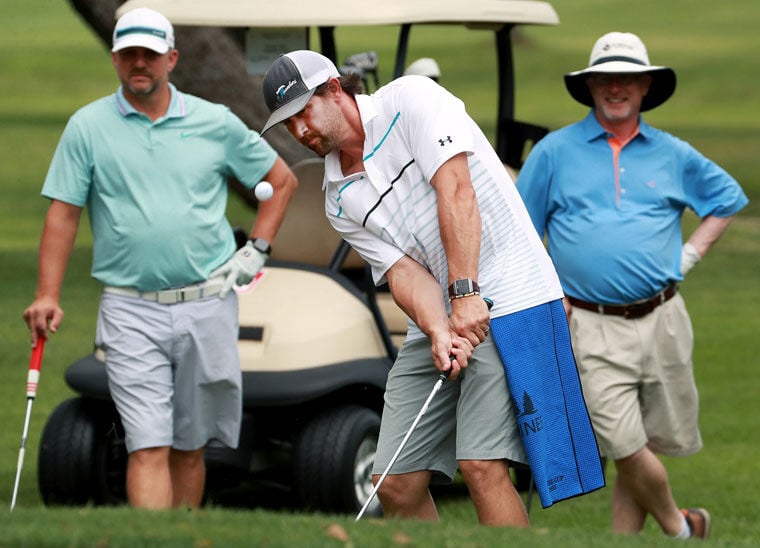 Former Nebraska quarterback Eric Crouch wants to see football this fall.
Like so many in the state, he's looking forward to watching Nebraska coach Scott Frost and his team take the field for the 2020 season.
Of course, no one knows for sure if that's going to happen. With the coronavirus pandemic still going strong, the season is up in the air.
But Crouch is optimistic.
"I still think that a football season will happen," Crouch, the 2001 Heisman Trophy winner, said. "It might present some challenges. I think there's got to be some good protocols put in place for when somebody happens to test positive and how they're going to quarantine from their team or whatnot. There is a lot of uncertainty.
"I'm not a scientist or doctor. I don't put the rules together. I just hope football happens. I know that I love watching football."
Crouch was in Grand Island Friday for the Tom Dinsdale Nebraska Greats Foundation Golf Classic at Riverside Golf Course.
Crouch has extra incentive to want to see a football season. His son Carsen is a junior at Elkhorn South where he is a receiver and a kicker.
"He's really having a good time playing high school football, and he's also got a lot of growing to do and a lot of learning to do," Crouch said. "He was going to run track and track got canceled.
"I'm hopeful that this kind of blows over here soon and we can kind of get back to life again."
That goes for the other levels of football, including the Huskers and the NFL.
"I have a lot of friends and teammates who have played," Crouch said. "We want to promote the game. We don't want to see the game disappear for a year. I think that will just hurt a lot of interest in football."
The pandemic already wiped out spring practices for the Huskers. They got in just two practices before the plug was pulled in mid March.
Crouch said that definitely hampers the development of an offense.
"I think it's gonna hurt obviously," Crouch said. "You miss quality time with your offense. Being in pads and playing the game definitely helps. So to what degree? I don't know. I mean, maybe they can catch up by doing some off the field work and with their timing and actually spend more time in the film room."
Crouch doesn't think it will be that an insurmountable issue. That's because good leaders and good coaches will find a way to win.
"I think the teams that stay positive about it and find good ways to say, 'Here's our plan and here's how we're going to attack it' are going to be successful," he said. "The teams that let off the gas and hit the brakes a little bit and have reasons to blame things for what's happening are probably going to be those that suffer the most."
Crouch is hoping the Husker quarterback room doesn't suffer too much from the time off. The Huskers have added depth this season with redshirt freshman Luke McCaffrey possibly pushing two-year starter Adrian Martinez for a starting spot.
Martinez was hampered by injuries last year but was still the Huskers' second-leading rusher with 626 yards and seven touchdowns. He completed 59% of his passes for 1,956 yards and 10 touchdowns.
McCaffrey showed glimpses of what he can do last season when he rushed for 166 yards on 24 carries with a touchdown. He also completed 9-of-12 passes for 142 yards and two touchdowns and caught one pass for 12 yards.
The coaching staff also seems high on Logan Smothers, a true freshman quarterback from Muscle Shoals, Alabama.
"I've talked with (quarterbacks) coach (Mario) Verduzco and he's excited as can be about that quarterback room," Crouch said. "He really speaks highly of all those guys. For me, I want to see the talk go to execution on game day. We have to start winning football games."
It's not an easy position to be in, but Crouch said he has confidence in Frost and the rest of the coaching staff.
"It's a tough spot Nebraska's in right now," Crouch said. "I feel for every one of those guys down there, but I'll support them 100% with anything I can do or say.
"I hate to put pressure on kids and coaches, but I understand it. I've been through it. I know it's no fun to lose, and it's no fun to be on the bottom. And I know the culture has got to change but I got a lot of faith in Scott Frost and the program."
Be the first to know
Get local news delivered to your inbox!