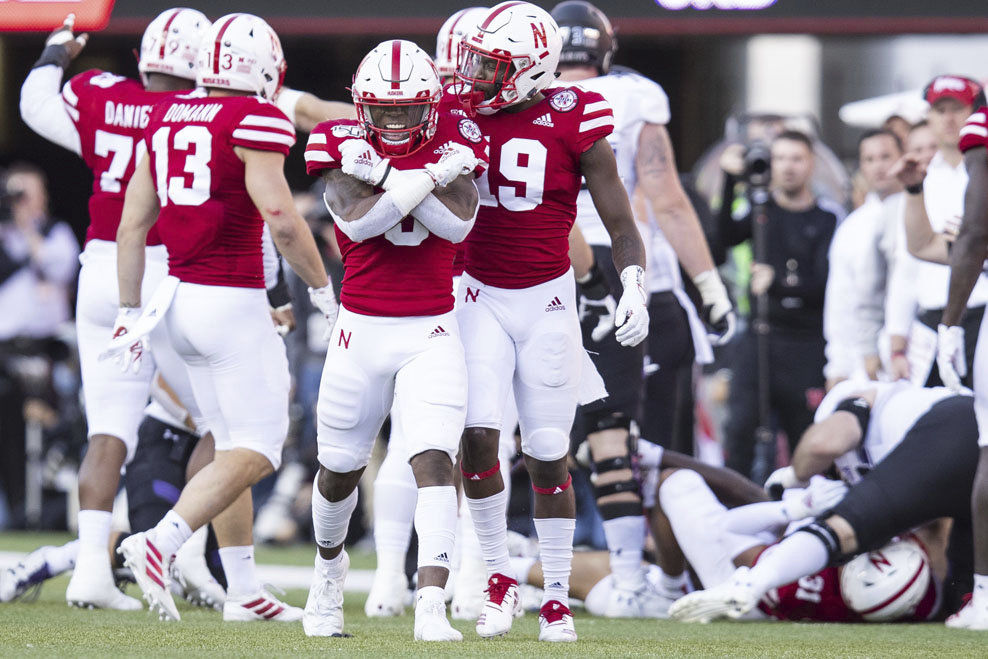 LINCOLN — You want to see progress? This was progress.
It wasn't pretty progress, but it was progress nonetheless.
Nebraska's 13-10 win over Northwestern on a Lane McCallum field goal on the last play of the game was only the second walk-off field goal win for the Huskers at Memorial Stadium in program history.
And, from a Husker standpoint, it sure beats losing in overtime like they have to Northwestern the last two seasons.
"It was a big game for us," safety Cam Taylor-Britt said. "We beat them exactly the way they beat us last year, and it felt really great."
That's progress, any way you slice it.
Sure, it was ugly. Nebraska managed just 319 total yards against a stingy Northwestern defense. So what? That's what Northwestern does to you.
The Wildcats did that to a very good Wisconsin team last week, but the Badgers scored two defensive touchdowns in a 24-15 win despite gaining just 243 total yards.
When things got tough with quarterback Adrian Martinez and receiver JD Spielman both out with injuries in the fourth quarter, the Husker defense did its thing.
Really, the Blackshirts did just what they should do against a Wildcat team that has been somewhat offensively challenged this season. Northwestern came into the game averaging 292 yards per contest. The Wildcats had 293 against the Huskers.
Many Husker fans were down a week ago after a 48-7 thrashing at the hands of a really good, maybe even exceptional, Ohio State team. Some said that was a measuring stick for the program in Scott Frost's second year as head coach.
Northwestern is a better measuring stick, and cornerback Dicaprio Bootle liked what he saw.
"I think we are doing a better job of responding to things that don't go our way," Bootle said. "If things don't go our way, that's OK. There's still more football to be played. That shows growth of the program.
"Coaches say, 'Just keep playing.' Players tell other players, 'Just keep going. Put your best effort out on this play.'"
Just put one foot in front of the other. That's what it takes.
It seemed for a while like maybe a last-second score wouldn't be needed. When McCallum's first ever field goal in college sailed through the uprights from 35 yards out with 8:24 left in the first half for a 10-0 lead, it almost felt like the game was over.
The Husker offense wasn't really tearing it up, but the Northwestern offense really hadn't gotten anything going against the Blackshirts. You just didn't know if the Wildcats could score 10 points.
But Riley Lees returned the kickoff 50 yards to the Nebraska 45, and that gave the Wildcats a little life. They turned that possession into a 40-yard field goal to cut the Nebraska lead to 10-3, and we had a ball game.
The Wildcats got their best drive of the game going in their first possession of the second half. They went 58 yards in six plays with quarterback Aidan Smith scoring from 2 yards out to knot the game at 10.
McCallum missed a field goal in the third quarter on a kick that grazed the outside of the left upright, and Northwestern's Charlie Kuhbander returned the favor in the fourth quarter when his kick sailed wide right.
So we headed down the stretch with the game still tied. Northwestern, a program that won three straight overtime games in 2017 — including one against Nebraska — and beat the Huskers in overtime a year ago, probably would have been happy to get it to OT.
Nebraska, on the other hand, has lost five straight overtime games and hasn't won in OT since 2014.
"It's kind of crazy when you think about it," Taylor-Britt said. "We didn't go to overtime. We didn't want to go to overtime. We wanted to go out and win, get that done. We didn't want it to be overtime. We'd just play a little bit longer for no reason."
So this is progress. Maybe it's not the polished game many would like to see, but it's progress.
It's in the win column, so the Huskers are 4-2 with six games left.
You could say they're on pace to win eight, but of course there is no pace in a football game. There are just six games left, and you can't expect any of them to be easy.
That certainly goes for Saturday's game against 5-0 Minnesota.
But just throw the 24-hour rule in if you can. For the next day, enjoy this win for what it was — a step in the right direction.
"A win like this is big," Bootle said. "It keeps all our dreams in front of us. We want to win the Big Ten West, we want to go to the Big Ten championship. A win like this gives us momentum to push forward, even if it wasn't the prettiest win."
Bob Hamar is sports editor for The Independent.
Be the first to know
Get local news delivered to your inbox!