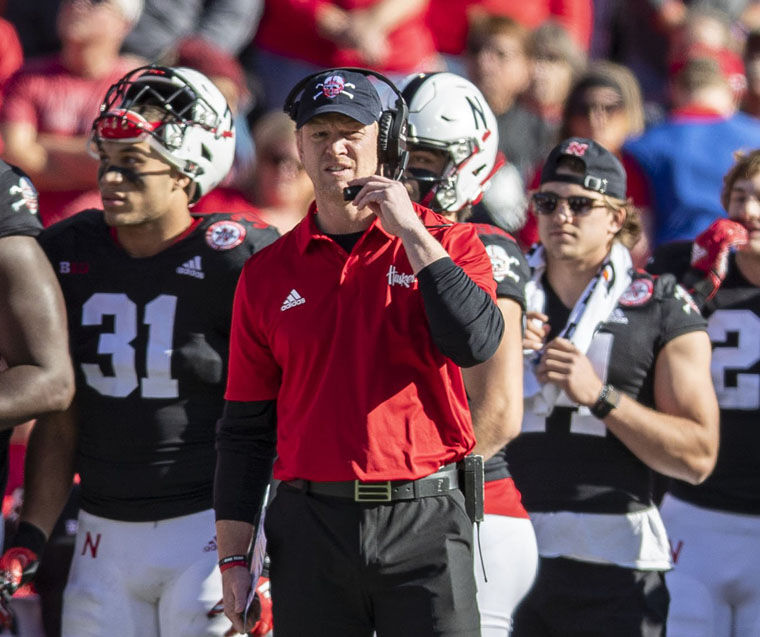 LINCOLN — When Nebraska football players began working out on campus Monday, they were the first out of the gate in the Big Ten.
As of late last week, only four of 14 Big Ten football programs had announced specific dates for when players can train in campus facilities — voluntarily and not directed by coaches. The others are Illinois (Wednesday), Iowa (June 8) and Ohio State (June 8).
If Nebraska has a competitive advantage over league opponents, that edge is secondary in Husker head coach Scott Frost's mind behind the importance of keeping his team and community safe during the ongoing coronavirus pandemic, which essentially shut down college athletics in mid-March.
"Right from the beginning of this, as the leader of the football program, I came to the realization that one of two things was going to happen: Either this is going to get really bad and we're not going to have football and nobody's going to care because our nation's health and our kids' health is far more important than football," Frost told the Journal Star and one other media outlet. "And scenario two was this blows over, this passes, this isn't as bad as people think, and we have football.
"As the leader of the program, I had to think that if that (second scenario) was the case, what can I do to put our players in the best position possible to be successful?"
Frost said that line of thinking actually "went into overdrive" March 12, which was the day the Big Ten shut down team activities across the conference. At that point, Nebraska had completed two of 15 scheduled spring practices. It also should be noted that the state of Nebraska had no known cases of coronavirus at the time.
"Not that we know everything here, but that day we kind of disagreed with the M.O. of what was going on (both in the Big Ten and nationally)," Frost said. "If you think about it, shutting down schools probably was necessary.
"I'm not going to argue with that. But once you did that, the consequence was a mass migration of young people all across the country. We just thought, through the lens of our tiny, little football team, that having all these guys get on planes and fly to different parts of the country. … If any of our kids had (the coronavirus) before they left, they're spreading it to everybody on the plane and everybody back in their community.
"So, as we were thinking about that, we naturally thought that when these kids come back (to Lincoln), the same thing's going to happen in reverse.
"That's when we really started thinking about where our kids are the safest — not as a whole, but individually. How do we help facilitate that safety? That's why our focus was on the kids first and just as importantly, on our community to make sure that as these kids were returning to campus that Lincoln was safe."
Frost said Nebraska officials from the get-go formulated an elaborate plan to ensure safety for all concerned. The coach specifically credited his chief of staff, Gerrod Lambrecht, as well as NU associate director of football operations Andrew Sims for executing plans and protocols.
As it stands, if a Husker student-athlete tests positive for COVID-19, that person must remain in isolation either at their residence or in a private room. Food and supplies are brought to their door daily to help ensure zero contact with the community, and their health is monitored daily. One NU football player has previously tested positive and gone through the established protocol.
Establishing and following all the protocols and guidelines makes for a challenging situation for campuses nationwide. For instance: As of Friday, Nebraska officials were unsure at what level trainers and/or strength coaches will be allowed to help athletes Monday beyond ensuring safety standards.
"Everybody's figuring things out as we go along, even the people dictating the rules," Frost said.
It's a unique time, to say the least. But when the NCAA's Division I Council on May 22 opened the door for student-athletes to begin voluntary on-campus workouts, it was a step toward a restoration of normalcy.
For Nebraska, getting its football players back on campus could mean preseason camp proceeding as scheduled with an early August start, Frost said. As of Friday, he said, 98% of his "key players" were on campus ready to train.
"We had probably 30 kids who never left town," the coach said. "Then we started wondering where every one of our kids was. When we started making those phone calls, we identified immediately at least a dozen to 20 kids that had plans to come back to Lincoln. That's when we had to go into overdrive to make sure we had protocols in place, as they were coming back, to receive them and keep them safe and the community safe.
"It's been a slow trickle of kids (coming back) ever since then."
It should be noted that player-led workouts have been occurring away from campus since March. In that regard, Frost said, he's pleased to see "our leaders stepping up to the front through all this." The challenging times seem to bringing the team together, he said.
He said throughout the process, Nebraska coaches have never told a player to return to campus, although the coach stresses that his players operate in a campus environment where safety is paramount — and that an even greater amount of diligence will be needed as student-athletes arrive on campus in larger numbers. Such a high level of safety wouldn't be the case for many of the players if they were in their hometowns working out and eating on their own.
To help matters, the Husker athletics' nutrition team has operated an elaborate food service plan for the past 72 days or so.
"If parents or the player felt like the kids are safer in Lincoln, then we had a process to make sure that was handled the right way," the coach said. "If players and parents felt like they didn't want to come back, then they stayed (home). Even (on Monday), we're going to have a few who've decided not to be back, and that's fine."
Have those players decided to stay away because of concerns about catching COVID-19 in an athletic training environment?
"I don't even know if we have any of those — maybe a couple," Frost said. "What's interesting is our kids for the most part just want to train and play football. If there's been any hesitation, it's usually been the parents. Naturally, I don't think this (coronavirus) appears to be affecting young people as much. And when you're 20 years old and big and strong, you kind of think you're bulletproof anyway.
"These guys just want to get to work."