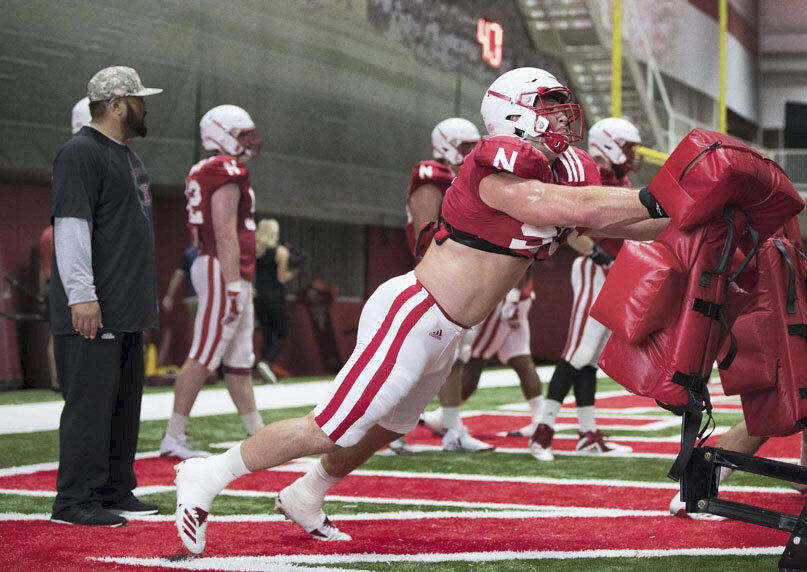 LINCOLN — Here come the mini-camps.
Though the college football season remains in doubt because of the coronavirus, the ramp-up to the season continues Friday with coaches allowed to spend 20 hours per week with their players, including unpadded, no-helmet walk-through practices.
The plan, approved by the NCAA in mid-June, allows for six hours of walk-throughs, six hours of team meetings and eight hours of strength and conditioning work and/or film review through Aug. 6. At that point, schools can begin their usual training camp regimen.
The mini-camp framework is a new addition to the 2020 calendar, which has been changed drastically by COVID-19. Nebraska has instituted rigorous testing protocols designed to test for the coronavirus and isolate those who are positive.
Nebraska coach Scott Frost has previously said he could see the mini-camp idea catching on for future years if it goes well. NU missed out on 13 of its 15 spring practices when the nation shut down due to the coronavirus.
"Missing the amount of spring practice that we did just sets you back as far as knowing X's and O's and being able to operate as a team," Frost said. "Having a little extra time before camp starts with walk-throughs and getting some of that done, will definitely, I think, benefit everybody that missed spring ball."
Frost suggested the mini-camp practices could be spent more on strategy and implementing the offensive and defensive schemes. That "install" typically happens in the first two weeks of training camp, when players drink through a proverbial fire hose, learning their assignments on the fly while also acclimating to physical practices.
The pads probably won't come out for another three weeks, so much of what happens in mini-camp will be mental work.
"If we can get some work done during that time as far as the X's and O's go, we are actually going to be able to be a little easier on them in camp," Frost said.
The challenges to thwart the spread of COVID-19 may ramp up, as well. Michigan State announced Wednesday it would postpone the start of its mini-camp after a staff member tested positive for the virus. In some states, it's possible health guidelines set forth by local or state governments will make gathering more than 100 student-athletes for a practice difficult.
Coaches in other sports — such as volleyball and soccer — aren't allowed to be around their athletes at all yet. NU women's soccer coach John Walker and his assistants can't start working with players until Aug. 4. In the past, he'd have 21 practices over 15 days with his team before the start of the regular season. It made player development and conditioning regimens harder to manage, since the season began so quickly.
Walker actually expects to get more time — perhaps much more — before the start of this season, which if it happens will consist of just Big Ten opponents. NU didn't start conference play last year until mid-September.
"We're going to start the season later this year, pretty obviously," Walker said.
He didn't know how many league games Nebraska might play or which teams. He did not anticipate a geographic pod system that would have the Huskers playing opponents only from the western half of the league.
Nebraska had all four of its spring soccer matches canceled and most of its spring practices. A young team, with just two seniors, didn't get key development time in the spring.
So Walker and his coaches, specifically volunteer assistant Brandon Roarty, beefed up the program's online offerings. They put skill drills on an app that players can access for their own work. The Huskers have more robust offerings than they would have without the pandemic hitting, Walker said.
And while he can't be there to see it, the team is working together on a voluntary basis at Hibner Stadium. The two seniors, Theresa Pujado and Grace Brown, and junior Kenzie Coons are natural leaders, Walker said.
"They're diving in, working out and keeping together," Walker said.
Be the first to know
Get local news delivered to your inbox!