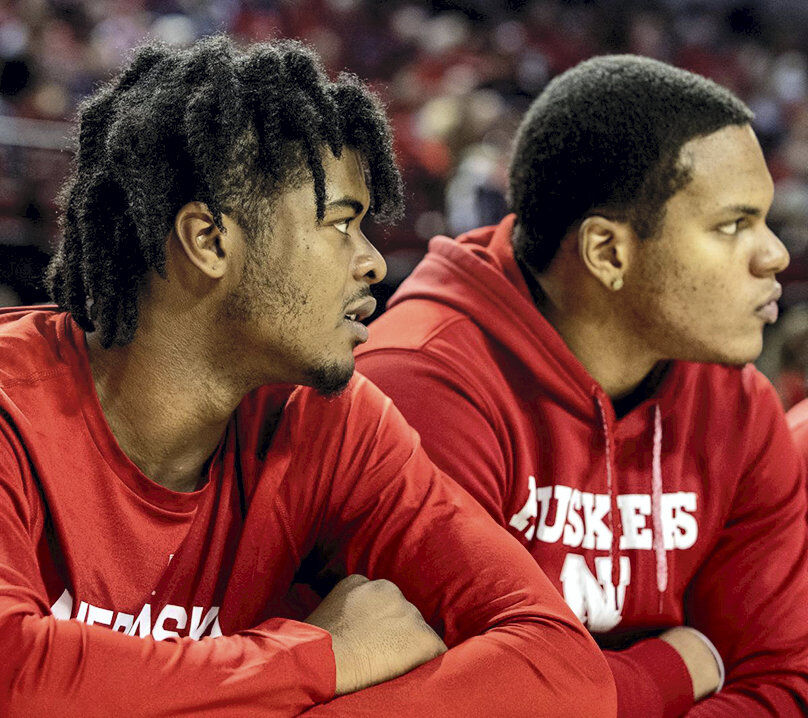 Nebraska men's basketball fans have seen Derrick Walker on the Husker bench. That's all they've seen of him to this point, in fact.
So, many people already have noticed that he's energetic — an excellent teammate, according to his coaches.
Tuesday night against Purdue, Nebraska fans will get a better idea of what the 6-foot-8, 235-pound Walker has to offer on the court.
His philosophy as a player?
"A coach once told me, 'Keep it simple, stupid,'" Walker told reporters Monday. "My philosophy is literally to just keep it simple. If you see someone wide open, give them the ball. If you have a layup, take the layup. If you have a shot, take the shot. It's only when you start to overcomplicate things in this game, is when you start to look bad and make your team look bad.
"So for me, I just want to keep it simple, do my job, play my role."
It's too early to say how many minutes Walker can contribute right away. After all, he hasn't played in a game since the end of the 2018-19 season at Tennessee, where in two seasons he averaged 1.4 points for a team that made back-to-back NCAA Tournament appearances. In part because of those experiences, his Nebraska teammates have listened to what he has to say since he arrived on campus before last season.
A native of Kansas City, Missouri, Walker was originally suspended for 16 games this season by the NCAA for a violation of team and NCAA rules while he was playing for UT. The suspension twice has been reduced, and Nebraska, at 4-7 overall and 0-4 in the Big Ten, now hopes Walker's availability beginning with its game against Purdue (7-5, 2-3) could be the impetus to improved overall play and, yes, some victories.
"This team is an amazing team," Walker said. "I feel like we're right there. I'm not saying I'm the guy, but hopefully I can be the guy to help us get a little more energy, help us get a little more confidence, maybe help us come together a little more. We're a good team. We're not going to hang our heads. We're going to keep fighting."
He said he "made a mistake" at Tennessee that led to his suspension, and the long wait to get to this point.
"There was nothing I could do personally about it," he said of the wait. "I've just been in the gym, focusing on my teammates and just doing what I can to be a leader."
Nebraska coach Fred Hoiberg said Walker, rated as a three-star recruit in high school by both Rivals and 247Sports, will demand ample attention from defenses as he rolls into the paint off picks.
"Because of his ability to finish at the rim, it'll hopefully open up some things on the perimeter," the coach said. "We have not finished, obviously, very well at the rim really with all of our players, but particularly with (6-9, 245-pound) Yvan (Ouedraogo). He's gotten a lot better over the last few games. But I think teams will have to suck in there a little bit more now depending on their pick-and-roll coverage."
Hoiberg said Nebraska will be patient with Walker as he works his way into game shape and gets his timing right. After all, Walker didn't get the benefit of preparation against lesser opponents. As a result, the coach said, the Husker staff will monitor Walker closely and go from there.
"A lot of it is going to be by feel," Hoiberg said.
Purdue offers a stern first test for Walker as the Boilermakers feature 6-10, 265-pound forward Trevion Williams, averaging 14.1 points and 9.6 rebounds. Meanwhile, Matt Painter's crew has gotten a lift from 7-4, 285-pound freshman Zach Edey, averaging 9.1 points and 4.1 rebounds while shooting 62.5% from the field.
On one hand, Purdue comes off back-to-back road losses to nationally ranked opponents in Rutgers (81-76) and Illinois (66-58). On the other hand, among Purdue's victories is a 67-60 decision against Ohio State, which rattled Nebraska 90-54 last week in Columbus, Ohio. The Huskers were only 5-for-33 (15.3%) from three-point territory as their season-long shooting issues hit a low point.
Nebraska, though, was 9-for-19 (47.4%) from three-point land in Saturday night's 84-77 home loss to Michigan State. Hoiberg said his team can derive confidence from shooting 53.3% from the field in the second half of that contest, which led to 44 points against a tough Spartan defense.
"We had an offensive game we can build on with those numbers," he said.
What's more, Hoiberg obviously likes the idea of getting Walker into the fold.
"We're all excited to have Derrick back," he said. "It's been a long time coming. He's been extremely patient throughout this process — a lot of highs and lows, ups and downs. I talked to him last year when he was with (fellow transfers) Dalano (Banton) and Shamiel (Stevenson) about how far off it seems, but how quickly it's going to go."
Walker's time has come. He plans to help immediately, without overthinking it.