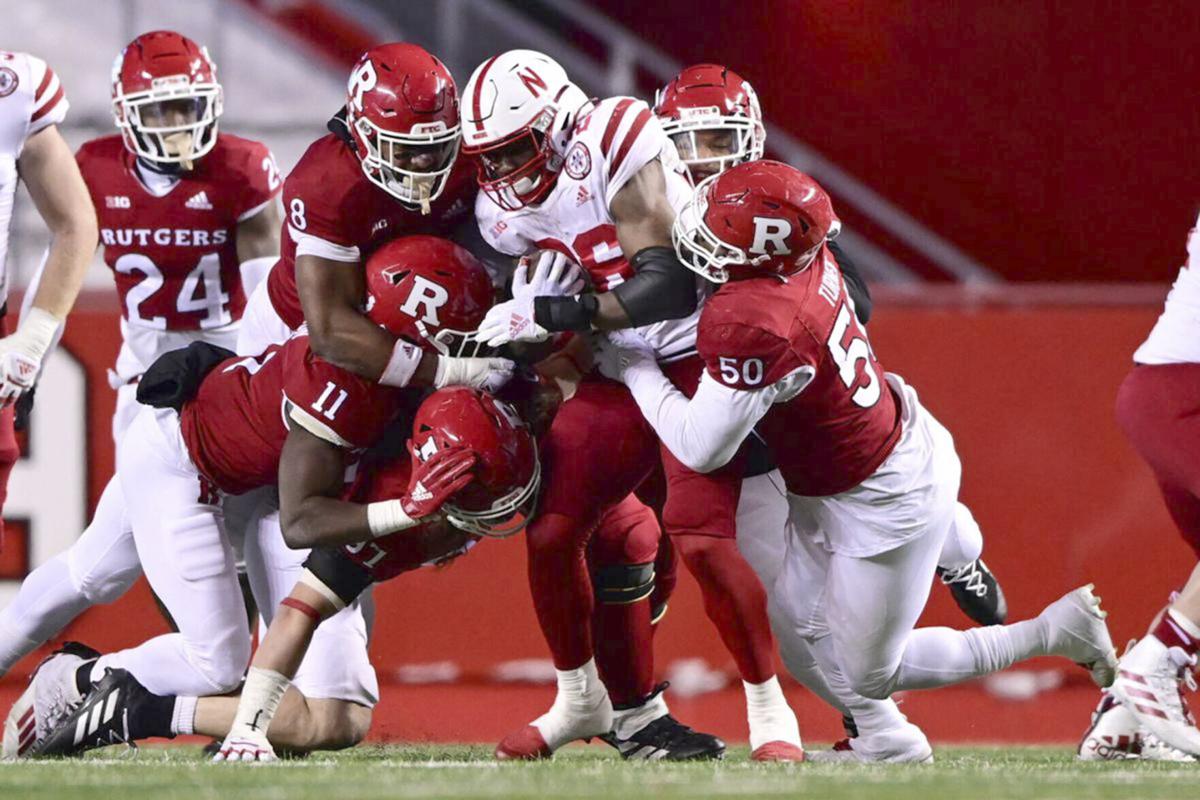 PISCATAWAY, N.J. — Four turnovers. A flurry of penalties. Numerous blunders on special teams.
Nebraska mistakes piled up like snow along the New Jersey coast. And yet, the offense captured some second-half magic against a staggered Rutgers unit to end the regular season with an adrenaline shot in a 28-21 victory Friday night.
Running back Dedrick Mills (191 rushing yards) and quarterback Adrian Martinez (157 rushing yards) became the first Huskers duo to rush for 100-plus yards in two years and the offense reached a season-high in total yardage by the third quarter. Three touchdown drives of 90 yards or more flipped a 14-7 halftime deficit as NU leaned on an offensive line with four underclassman starters against gassed opposition.
Four Martinez turnovers kept the game in doubt until Nebraska essentially was able to run out the clock in the fourth quarter. Fumbles on the first and third possessions of the game helped set up an early 6-0 Rutgers lead. A forced throw into the end zone — picked off by Rutgers safety Christian Izien — was giveaway No. 3 for Big Red in the first half, and Martinez overthrew an open Wan'Dale Robinson into the hands of Izien early in the third quarter.
The Blackshirts hung tough against a Rutgers squad without starting quarterback Noah Vedral, a former Husker backup. They allowed just 59 yards on 18 plays in a second half that would have been a shutout if not for a 98-yard kickoff return by return specialist Aron Cruickshank in the third quarter.
The first half was full of mistakes for the Nebraska offense at Rutgers, and one big mistake by the Husker defense sent NU to the locker room with a 14-7 deficit.
Martinez's lost fumbles and pick offset 255 total yards. Rutgers turned those three turnovers into 10 points, including a costly touchdown on fourth-and-1 when it appeared Nebraska thought RU was going to attempt the same kind of quarterback pooch punt Martinez did in the first half.
Rutgers did not, and running back Isaih Pacheco poked through the Husker defense for a 33-yard score in large part because safety Deontai Williams, who seemed to be waiting for a punt 20 yards behind the play, drifted away from the run and was too late to account for Pacheco zooming to the end zone.
The Scarlet Knights then turned that into an eight-point possession when they quickly ran a two-point conversion before NU's defense could get set. Nebraska's sideline, denied a timeout, was flagged for a personal foul.
It capped a frustrating half for the Huskers, where they often were the more aggressive, explosive team, save the crucial errors.
Nebraska's opening drive appeared promising until Martinez, attempting to dive for a first down in Rutgers territory, lost the ball as he flipped over. The Scarlet Knights recovered and, on their first offensive play, launched a 50-yard pass to Bo Melton, the team's best receiver, who caught the ball over Husker outside linebacker JoJo Domann. RU converted that into a Valentino Ambrosio 36-yard field goal for a 3-0 lead.
The Huskers' second drive resulted in the rare quarterback punt from Martinez, who on fourth-and-4 pinned the Scarlet Knights at their own 2.
Martinez coughed it up on the Huskers' third drive and Rutgers recovered. Two offensive line penalties — including a false start on Ethan Piper that got him pulled from the game — thwarted the following drive, which stalled at NU's own 11. Rutgers turned the subsequent short field into another Ambrosio field goal.
The Huskers got their juices flowing after that. Martinez hit consecutive passes to Levi Falck and Jack Stoll for 15 and 11 yards, respectively, before Mills busted a 43-yard run through a gashed Rutgers defense. That set up Nebraska at the RU 2, where it took four downs before the Huskers punched in a touchdown with a Robinson speed option. Nebraska led 7-6.
Robinson was back in action on NU's next drive, catching a 31-yard pass on third-and-20 to set up the Huskers at the RU 13. Nebraska was flagged for an illegal formation shortly thereafter. Then, on second-and-15 from the Rutgers 18, Martinez rolled right and threw into coverage, where Izien picked off the pass with one hand.
Rutgers then went 80 yards in seven plays, including the Pacheco run. RU's previous drives had gone for 48 yards.
Nebraska survived multiple gut punches in a wild third quarter to forge a 21-21 tie. After a Rutgers three-and-out, the Huskers went 90 yards in eight plays capped by a 41-yard Martinez run to square the game 14-14.
But Cruickshank — who was named the Big Ten return specialist of this year this week — immediately followed with a deflating 98-yard kickoff return for a touchdown after accomplishing the same feat with Wisconsin last year. Then Martinez missed a wide-open Robinson for his second interception.=
Nebraska didn't fold. The Blackshirts quickly forced a Rutgers punt, and the offense took the ball 96 yards on 11 plays highlighted by a weaving 32-yard Martinez run and ending on a laser pass on a slant to Robinson for an 11-yard tying score.
With Vedral watching on the sidelines, Rutgers again stalled on offense. And the Big Red offense again took advantage of a long field and a gassed Scarlet Knights defense, going 92 yards this time — Mills broke loose for a 50-yard gallop — and Martinez eventually finished with a second-effort sneak from a yard out for a 28-21 lead.
The momentum snowballed from there, with Cam Taylor-Britt high-pointing a deep third-down pass for Nebraska's first takeaway. Nebraska later ran out the clock, helping it close the season with a 3-5 record.