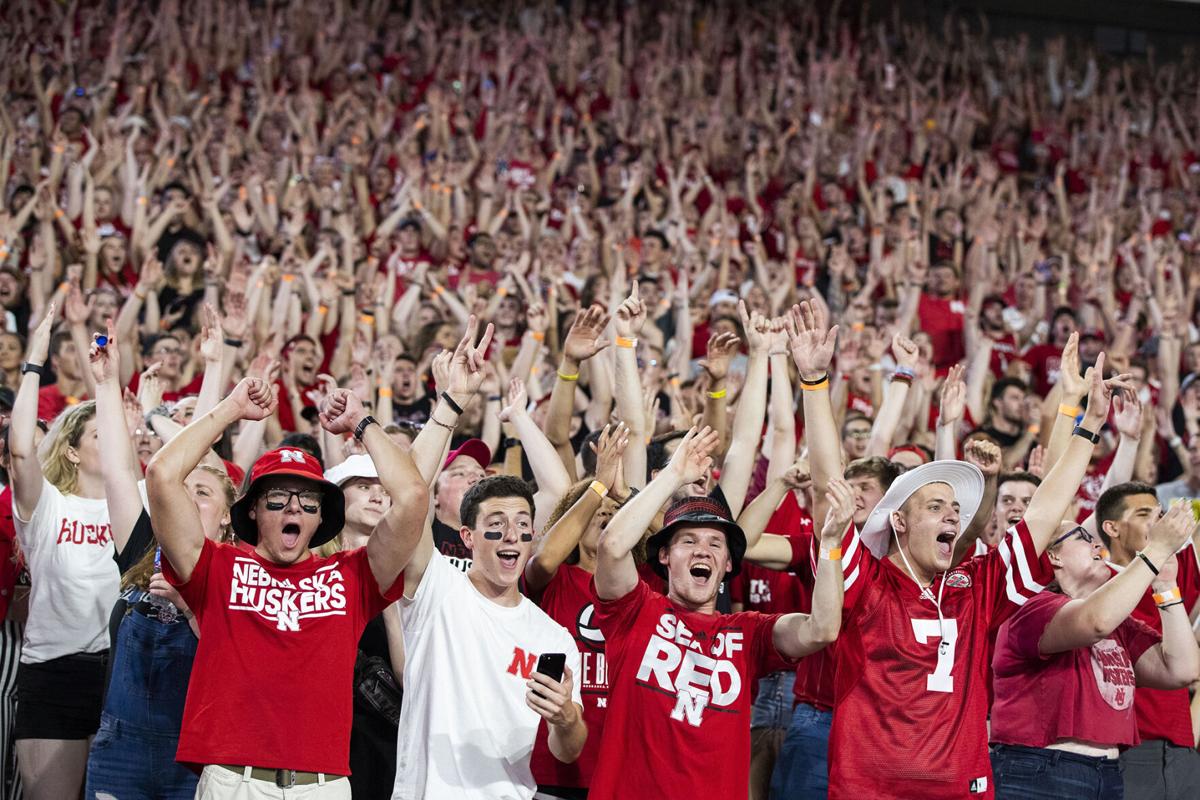 LINCOLN — Thousands of red-clad fans will be piling into Husker sports venues this week after the Big Ten announced Wednesday morning that crowds will be allowed to return to spring sports competitions as soon as this weekend.
The long-awaited move signals another step toward normalcy after the year-old pandemic left Nebraska sporting venues mostly empty and supplies a jolt of positivity to an athletic program that prides itself on having some of the most enthusiastic, dedicated fans.
"We have a new little skip to our step as far as preparing all aspects of having our great fans back in our venues," Nebraska Athletic Director Bill Moos said Wednesday night on his monthly radio show.
Moos announced that, in conjunction with the Lincoln Lancaster County Health Department, NU will allow 2,700 fans for baseball games, 2,400 for the final two home volleyball matches, 675 for softball games and 675 for women's soccer matches. The May 1 spring game will, right now, allow 50% capacity in Memorial Stadium — roughly 45,000 fans — but Moos said the capacity could go up to 75% by the time the game is played. Moos said the attendance limits on the other sports may go up, too, as the seasons progress.
That means attendance beyond just family and friends for multiple NU events starting Friday for most. The baseball team plays its first game at Haymarket Park this season Friday at 2 p.m. to open a four-game series with Minnesota. Softball begins its own four-game set at adjacent Bowlin Stadium at 5:30 p.m. that day against Penn State. The soccer team plays at home Thursday, but no fans will be allowed at that game. Its first game with fans will be Sunday. The fifth-ranked NU volleyball team hosts the No. 11 Nittany Lions at the Devaney Center on April 1 and 2.
The decision means Nebraska will welcome football fans to Memorial Stadium for the first time since November 2019.
Moos said fans would be clustered in groups of six to eight and be placed six to eight feet apart. In volleyball, Moos said, the lower bowl will be left empty. At Memorial Stadium, NU is likely to seat fans in every other row.
The Big Ten was the lone major-conference holdout on fan attendance this spring and the only one that mandated a league-only schedule for most sports. It is now letting local health authorities dictate capacity restrictions as it transitions out of a conference-wide approach. League athletic directors and its Council of Presidents/Chancellors made the decision in consultation with university medical expects and the Big Ten office.
The conference's announcement marks a significant shift from its one-size-fits-all policy that was used for all of football season and the entire regular season for men's and women's basketball. Only family and friends were allowed to attend those events, which left cavernous football stadiums feeling empty.
At Nebraska, the Huskers attempted to compensate with cardboard cutouts that could be purchased and set up in Memorial Stadium. By season's end, they flapped in the snow and wind during a loss to Minnesota. During the regular season in basketball, the scene at Pinnacle Bank Arena was eerily quiet, as a distinct home court advantage was whittled down to nothing by the absence of fans.
Throughout those months, Nebraska believed it could stage events safely with fans through coordination with the local health department. The Big Ten COP/C stuck with its original decision through the fall and most of the winter, though Moos believed a change in approach was coming.
"I think the Big Ten will let local health officials decide it," Moos told The World-Herald in late February. "The presidents were so concerned about the pandemic and the health of students, and rightfully so.
"But now they are going to have athletic departments going broke. They know what that means to the big picture of the universities themselves."
The Big Ten voted to allow limited attendance at the basketball tournaments, and later all championship events, including those on campuses like the men's gymnastics and men's tennis championships coming to Lincoln in April.
Wednesday, the COP/C extended it to all regular-season events, which allows NU and other schools to recoup some of the ticket revenue they lost when COVID shut down spring sports last year. The Husker baseball team, for example, played just six home games in 2020 before the pandemic struck.
"I applaud the decision to allow fans to return to conference venues for the remainder of the 2020-21 athletic season," Moos said in a statement. "This is another positive step as we move closer to normal operations in the Big Ten and across college athletics. Our staff has worked closely with local health officials to finalize details and provide a safe environment in our facilities. I know Nebraska fans are eager to get back to cheering on their Huskers in person, and we look forward to welcoming them back."
All Husker ticket sales will be on a single-game basis and season ticket holders will receive first priority. Face coverings will be required at all events.
According to the latest Lincoln/Lancaster County Health Department guidelines, attendance is limited to no more than 75% of rated occupancy indoors and in confined outdoor spaces with no prohibition on the total number of individuals. Events of more than 500 people may resume after event approval is received from the LLCHD.
Nebraska baseball coach Will Bolt held a previously scheduled press conference moments after the decision went public Wednesday. He said he was happiest for his players, who had most of their 2020 season stolen by COVID and played in largely empty venues for the first three weekends this season.
"We all know one of the main reasons we're all here is because we love the atmosphere created by Husker Nation and the support that gets poured out across the entire state," Bolt said. "No matter where we are, there's Husker fans everywhere. That's what makes this place so special, so just having the opportunity to play in front of those great fans and having a chance to have an atmosphere where you can kind of sense the big moment a little bit."
Junior shortstop Spencer Schwellenbach called the news "super exciting" since he considers Big Red crowds helpful in the team rising to challenges at home and on the road. Many current players, including senior graduate transfer Chance Hroch, have said fan support was a top reason they came to Lincoln.
Husker baseball has ranked in the top 15 nationally in attendance over the last decade. The last time they had a home crowd, 3,909 watched them beat Northern Colorado on a Wednesday afternoon on March 11, 2020. An NU spokesperson told The World-Herald that future home dates after this weekend may adjust to later start times with the return of crowds.
"Most of us here, we came to Nebraska because of the atmosphere that Haymarket Park brings us," Schwellenbach said. "Husker Nation is awesome. … It's really helpful."
Other reaction from Nebraska players and coaches spread across social media. Softball outfielder Tristen Edwards and volleyball outside hitter Lexi Sun were among those expressing excitement to fans. Volleyball coach John Cook said in-person support will make a late-season run even more meaningful for his team.
"We are excited we'll be able to welcome some of our awesome fans back to the Devaney Center ...," Cook said. "We look forward to the day when we can have the whole place packed in a Sea of Red again and return to the greatest atmosphere in college volleyball."
After a year-long wait, the first glimpse of that is finally on the way back.