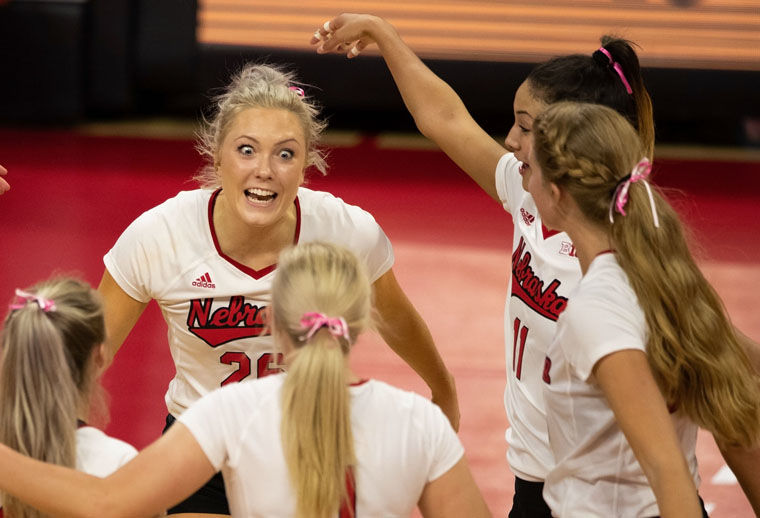 No doubt Wisconsin is sitting in the driver's seat in the Big Ten Conference.
The No. 5 Badgers lead the standings at 17-1 with two matches left. No. 7 Penn State is second at 16-2 with Nebraska and Minnesota tied for third at 15-3.
But a lot can happen in the last weekend of play. Penn State hosts both Wisconsin on Friday and No. 8 Minnesota Saturday in two big matches.
No. 6 Nebraska (23-4, 15-3) finishes the regular season against Maryland (13-17, 5-13) Friday and Ohio State (14-16, 7-11) Saturday. The Buckeyes are the only team to defeat Wisconsin in Big Ten play this season.
The Huskers set the stage for the final weekend by winning a five-setter at Minnesota on Friday before being swept by Wisconsin Sunday in Madison.
Nebraska coach John Cook said both matches could have taught the Huskers something. The Minnesota match once again reinforced that the Huskers can win the close ones. They are now 5-1 in five-set matches this season.
Cook saw junior middle blocker Lauren Stivrins step up and lead between the fourth and fifth sets. Stivrins did almost all of the talking for most of the time between sets.
Cook has said former Husker Kelly Hunter was possibly the best leader he's ever had. He has seen similarities between Hunter and Stivrins.
"Well, not her freshman year. I was hoping she wouldn't get kicked off the team," Cook said. "Kelly was the same way.
"It just takes them a while to adjust and grow up. I don't want the leaders that are the goody two shoes and straight A students. I mean you got to relate to everybody., I've seen that in Lauren. That's why we chose her to develop as a leader and a captain.
Cook said he didn't know if Stivrins' leadership inspired the Huskers.
"I just know we played great in the fifth, and it wasn't anything I said," Cook said. "While she was doing all that, I was trying to figure out where we would start in our rotation. And I think I may have gotten that right because we matched up well and did a good job. So that was a great match for us to show resilience and hang in there and take their best shot."
The Huskers didn't handle Wisconsin's best shot. There were times they did, but they were unable to sustain their level of play.
"We had chances, but every time we punched, Wisconsin punched right back and you know they deserve a lot of credit," Cook said. "That's probably why they're going to be the Big Ten champions. That really frustrates you.
"The most frustrating part was that the level they were playing at, we didn't stay with our fundamentals like we needed to. When things aren't going perfect, you tend to start trying to do too much."
Whatever happens Friday and Saturday, the NCAA Tournament field will be announced on Sunday. Wisconsin, Penn State, Nebraska, Minnesota and No. 22 Michigan are almost assured of being in the tournament. No. 24 Illinois at 11-8 in the conference and 16-12 overall has a shot as well.
"There's a whole group of teams that I don't think anybody is going to want to play, or they're going to be dreading having them in their draw," Cook said.