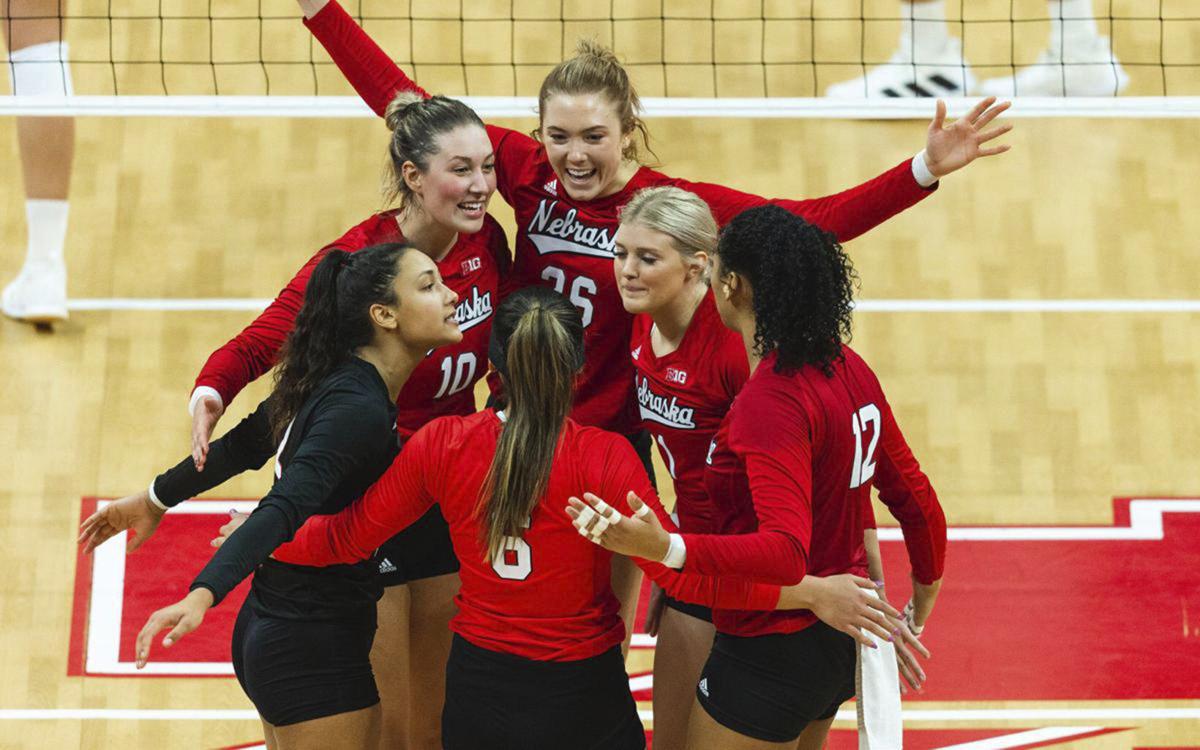 Nebraska volleyball coach John Cook is ready for the longest college volleyball offseason ever to be over.
It's been 12½ months since the Huskers last played a match, against Wisconsin in the NCAA Tournament Elite Eight. Cook doesn't like the start-and-stop routine the Huskers have had for the practice calendar the past 4½ months.
The normal fall season was postponed until the second semester for most conferences, and the season can resume on Jan. 22. The NCAA Tournament will be in April, with the Final Four scheduled for April 22-24 in Omaha.
Cook doesn't have the season schedule from the Big Ten office, but is planning as if Nebraska's first match will be Jan. 22.
And while Nebraska was able to continue practicing after its season was postponed in August, that hasn't been as beneficial as it may sound.
Cook doesn't feel as though they've been practicing that much. The Huskers took a two-week break for Thanksgiving, and then when they came back, not everyone was able to practice.
"Taking breaks is not good," Cook said. "They had breaks all summer, and in September. Bottom line is we need to get in a routine. Starting Jan. 1 it will feel like, 'OK, now you can kind of see the light at the end of the tunnel.'"
After the Huskers held a scrimmage Nov. 12 that was broadcast online, the team took a break for finals and Thanksgiving. The team returned to Lincoln for a three-week training block that ended Dec. 18, and then the players were then able to go home for Christmas.
The players will return to Lincoln early this coming week, and then quarantine and have COVID-19 testing with hopes of resuming practice on Jan. 1.
"We have three weeks to get ready to start playing on Jan. 22," Cook said. "We'll treat it just like a preseason in August."
The volleyball team will now have COVID-19 testing daily because it's in-season.
In the past Cook said that one of the reasons he'd like to see a permanent move to the spring for women's volleyball is so that teams could train in the fall, and then freshmen would be better prepared to play at a high level.
But Cook isn't sure that practicing this fall will be a huge benefit to any specific players. And the team was playing catch-up in strength and conditioning from not being together in the spring.
"We're just starting to get back to where we should be physically," Cook said. "Now, has it allowed us to work on some things? Yes. So we've been able to work on some things that we normally wouldn't have time to work on. But we have no way to evaluate it because we haven't played anybody. We've worked on some new things — creative things — so we'll have to see how that transfers. But I don't think the breaks helped anybody. Everybody has been in and out, so it's not been good. I'm hoping we get a nice three-week training block and keep everybody healthy and at practice. Then I think we can really make some progress."
Since August, Cook estimated that all 15 players have been at practice on the same day only about 20% of the time due to COVID-19 reasons, small injuries or other illnesses that are watched more closely now.
Cook says it's hard to get a read on the team due to all of the challenges and practice absences.
"They're working hard, which tells me they think this is important," he said.
Nebraska should be one of the most experienced teams in the country, with all of its starters back from last season, when the Huskers were ranked No. 5 in the final poll, led by All-Americans Lauren Stivrins and Lexi Sun. And Madi Kubik and Kenzie Knuckles got a lot of good experience starting as freshmen.
"I think we should be a year older and wiser," Cook said. "But this COVID deal, I don't know, it messes with people. It messes with teams. It doesn't feel normal, I can tell you that, but we're a year older and wiser, so I'm hopeful that's going to be a different-maker for us."
Teams in the ACC, Big 12, SEC and Sun Belt conferences did play some matches in the fall, with plans to split the season and play in both the fall and spring. Texas played 14 matches. Louisville, coached by former Husker Dani Busboom Kelly, had a 5-2 record with one postponed match. Ole Miss, led by former Husker Kayla Banwarth, went 0-6 with two postponed matches.
In his conversations with coaches who played in the fall, Cook said it's all over the map as to what it's like playing during a pandemic.
"You never know who is going to be there," Cook said. "You have no control over things. Then games get canceled. The main message is you just take it one day at a time."
Cook is cautiously optimistic.
"I'm really excited to get a season in, you just can't look too far ahead," he said. "You got to plan one day at a time. If somebody has to contact trace, it could take out a whole condo of players that live together."
Nebraska does have three recruits — outside hitter Ally Batenhorst, libero Lexi Rodriguez and setter Kennedi Orr — who graduated from high school early and will join the team on Jan. 2. They can train with the team but won't be eligible to play in matches this spring.
"We'll probably train them separately for a while, and when they look like they're ready to go with the big girls we'll start putting them with the group," Cook said.
The next volleyball offseason will be much shorter, and then it will be interesting to see if any of the four seniors — Jazz Sweet, Hayley Densberger, Stivrins and Sun — decide to take advantage of the extra year of eligibility given to athletes due to the pandemic and return for the fall 2021 season.
Cook says he doesn't know if any of seniors will come back.
"What I've prepared them for is we may have a very limited spring season," he said. "So I want them to have the option if they want to play a real senior season and that can happen in the fall, that they have that option. This spring could be a letdown with no crowd, and getting matches canceled, or if we have to play a makeshift lineup. It could just be a really weird season."