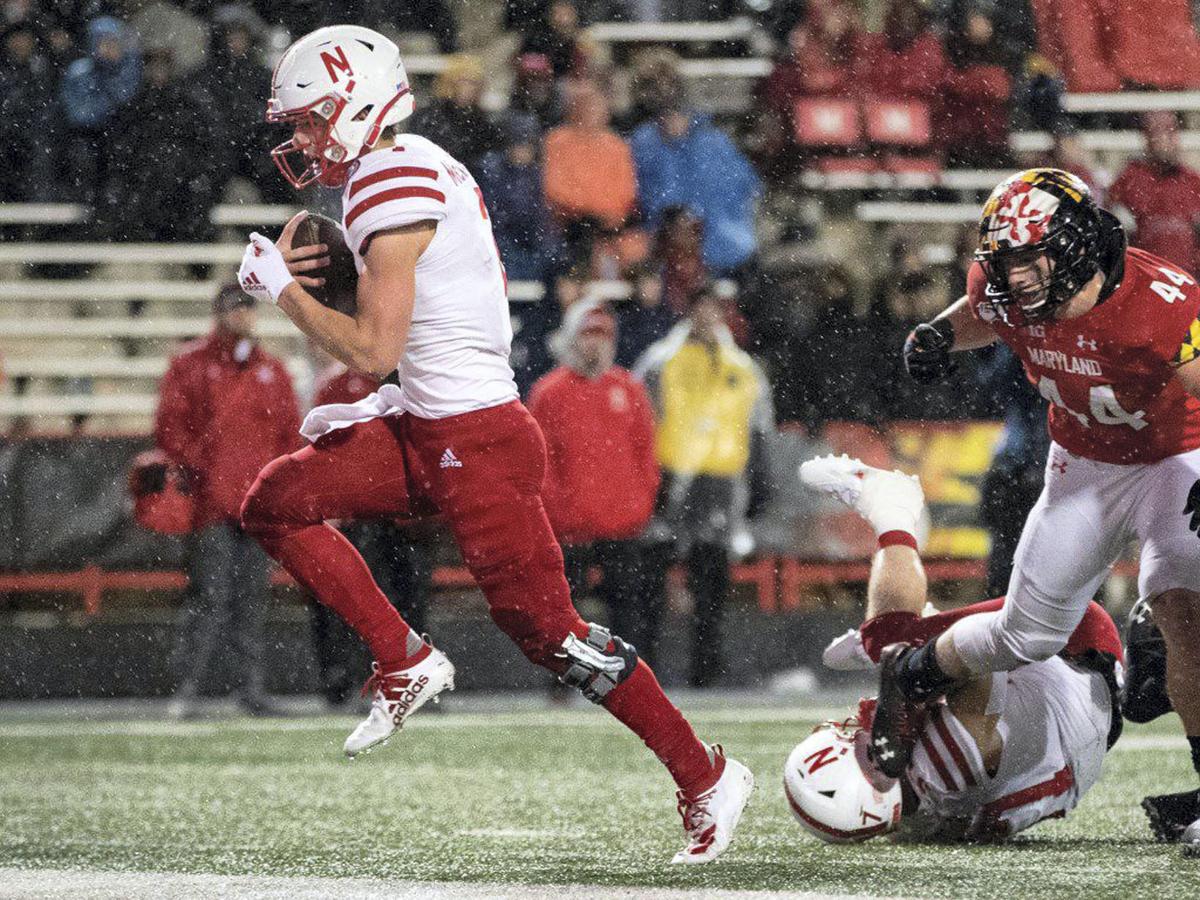 Nebraska unveiled a new offensive look in Saturday's 54-7 win over Maryland when the Huskers threw freshman Luke McCaffrey in at wide receiver.
McCaffrey, a quarterback by trade, made the most of his opportunity, hitting JD Spielman for a 28-yard gain on a reverse pass. He also caught a pass for 12 yards as well.
After the Huskers had put the game away, McCaffrey took over at quarterback. He ended the day 3-for-5 passing for 32 yards. He also had 10 carries for 83 yards on the ground.
"I'm sure we're giving some people some things to think about and look at with him out on the field," Nebraska coach Scott Frost said. "There's a lot of options for us with him out on the field. Again, that was kind of a part decision, part reaction to where we were at skill positions."
The Huskers were without receiver Kanawai Noa, who suffered a season-ending injury, and Frost didn't know if JD Spielman was going to be able to play because of illness. So the coaches made sure McCaffrey was ready to go at receiver to provide some depth at that position.
"He's a really good football player," Frost said of McCaffrey. "He can run, he can throw, he can catch, he loves it, so he's going to be a really good player for us around here for a long time and we thought it was smart to get a guy like that on the field."
Frost wanted to make it clear that McCaffrey's future is at quarterback, but he can provide some help at receiver going into Friday's game against Iowa.
Frost said quarterbacks coach Mario Verduzco makes sure all his quarterbacks know the assignments of all the offensive players on every play. That makes it possible for a player like McCaffrey to slide into another position.
"Luke is an extremely versatile guy," Frost said. "You can just see the raw athleticism that he's got. He's going to be a hell of a ball player for us in the future. I just look forward to however we use him, whether that is how we did last week or if that's at quarterback, wherever he's needed. But he's a hell of a ball player and I can't wait to see him in the future."
There might not be a better coach in the nation than Frost to teach the option. That was the bread and butter offense for the Huskers back in the 1990s when Frost was the quarterback.
"It just comes down to running with speed," starting quarterback Adrian Martinez said. "I think that is the key. The key thing is making that defender make a choice and reacting accordingly and doing it fast and decisive."
Frost said there is a learning curve with the option for any quarterback.
"We have spent quite a lot of time on that," Frost said. "There is an art to that. I had to learn it, everybody that runs it has to learn it. There is just a feeling and art to it. I am not sure that he was experiencing that when he first got here, but he is getting better and better."
Martinez said he also believes he's gotten better at the perimeter option in the past year.
"It's something that Coach Verduzco and Coach Frost have put an emphasis on in practice," Martinez said. "I've learned my way through the course of the year and experience."
Martinez has seemed more comfortable running the ball the last couple of games. He looked tentative through part of the loss to Purdue, but was decisive in the fourth quarter.
Martinez ran well against Wisconsin, and then he led the Huskers in rushing with 10 carries for 94 yards against Maryland.
"I think he is running more decisively than he was," Frost said. "I have said this a ton, the fingers get pointed at the quarterback and the coaching staff. I think Adrian just had to get used to that a little bit.
"Above anything else, he has been beat up all year and I don't talk about that stuff, but he is getting healthy again. I think that has helped him get more confident again."
The Huskers preach next man up. There are always going to be injuries, so when they happen there needs to be someone else ready to step in and do the job.
That was evident against Wisconsin when defensive linemen Carlos Davis and Darrion Daniels along with receiver/running back Wan'Dale Robinson were all out of action.
And against Maryland the Huskers were without Robinson and Noa. Plus both running back Dedrick Mills and Spielman were slowed by illness throughout the week leading up to the game.
"We always preach next man up," tight end Jack Stoll said. "Obviously those are pieces you don't want to lose. They are great ball players, but we've got guys that are two-deep that when they step in we have faith that they are going to make the same plays, and I think that is what really ended up happening."
Iowa is 'just another game'
Frost said he wants to treat the Iowa game as just another game, even though it is Senior Day and a win would make the Huskers eligible for a bowl game.
Stoll apparently has been listening to his coach.
"For us, it's another game," Stoll said. "We are going to prepare like we do every single week. We are going to pay a lot of attention to the game plan (and) grind it out through practice.
"We are going to pay just as much attention to Iowa as we did Maryland last week. We are just going to be focused on doing everything we can and just getting prepared for the game."
Bob Hamar is sports editor for The Independent.
Be the first to know
Get local news delivered to your inbox!