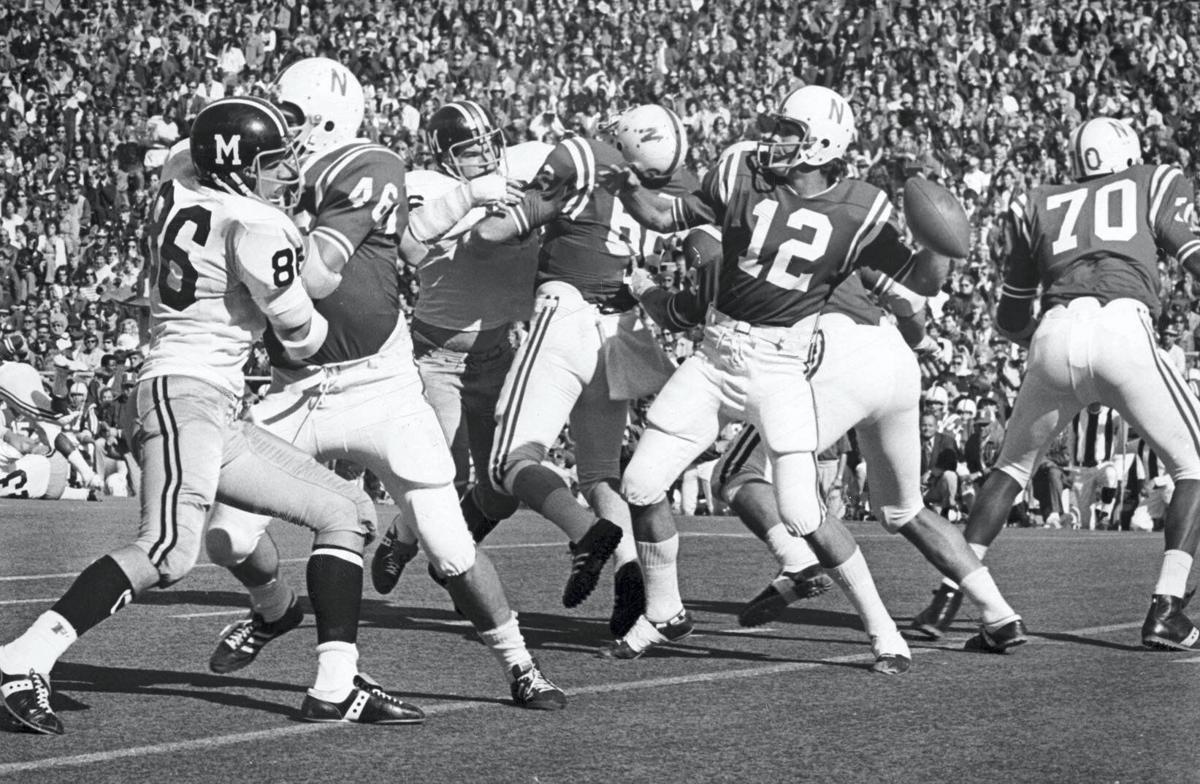 At 5-foot-11 and 225 pounds, Mike Beran would seem small for an offensive lineman in major college football.
But Beran played in a different era. He was one of the guys protecting quarterbacks like Jerry Tagge and David Humm for Nebraska back in the early 1970s.
Beran, an Ord native who everyone calls Red, was in Grand Island Friday for the Tom Dinsdale Nebraska Greats Golf Classic at Riverside Golf Club.
"My hair used to be red and I used to have some," Beran said with a chuckle. "So we're raising funds for the Nebraska Greats Foundation, and this is a really great event to raise awareness of it and to raise some fundraising dollars to help with those needs."
Beran was a backup on the 1970 and 1971 national championship teams. Players like Johnny Rodgers, Jeff Kinney, Jerry Tagge and Rich Glover were the headliners, but players like Beran made it all work.
"It was a good time to be there," Beran said. "I was lucky enough to do it. And we've been on most of the greatest teams of all time polls that I've seen. I've seen the 1971 Nebraska team No. 1 and I totally concur with their opinion. We had a great team."
Beran of course can name the starters up front on that 1971 team. There was Daryl White at left tackle. Bob Wolf was the left guard. Doug Dumler was the center. Beran was right guard and Marvin Crenshaw was at right tackle.
There were so many good things that happened, but ask Beran about his most vivid memories and his mind goes a different direction.
Like that 20-17 loss at UCLA to open the 1972 season.
"We got beat by UCLA by a field goal in the first game of the '72 season out there," he said. "We should have murdered them but we couldn't hold onto the ball. We had six turnovers. They had a good game, but they only turned the ball over once so that ended up being the difference."
And then there was a 23-23 tie at Iowa State on Nov. 11.
"I would say by Iowa State standards Iowa State had a good game, but also it had rained over there in Ames and it was an away game," Beran said. "On Friday before the game it had rained but they had the irrigation on so they were watering the field even more. So that slowed us down.
"And we set a record for turnovers."
The Huskers also dropped a 17-14 game to Oklahoma to wind up the regular season. So they had those three close games. None of the others were close at all.
That includes shutouts over Minnesota (49-0), Missouri (62-0), Kansas (55-0) and Oklahoma State (34-0).
Nebraska closed out the season with a 40-6 win over Notre Dame. Rodgers — who won the Heisman Trophy that year — ran for a touchdown, caught two touchdown passes and even threw a 52-yard TD pass to Frosty Anderson.
"We played Notre Dame in the Orange Bowl and ran them off the field 40-6, and they won the national championship next year with basically a lot of the guys from that team," Beran said. "So that shows the potential we had to be great."
Tom Ruud, who was also at the Nebraska Greats Foundation Classic Friday, played linebacker at Nebraska from 1971 to 1974, so he was on the 1972 team along with Beran.
"I think Nebraska at that time, we expected to win every game and we won most of them," Ruud said. "Practice a majority of time was harder than the games. We were that deep. Second team, third team, there were some great players. You always had to play hard to stay on the field."
The Nebraska Greats Foundation was formed by Jerry Murtaugh, who also played linebacker for the Huskers in the early 1970s. The organization raises money for former athletes from 16 colleges in the state who are in need of help.
Luckily the foundation didn't miss any events because of the coronavirus pandemic.
"We haven't missed any for Nebraska Greats," foundation board member Brett Wetton said. "I know other events have been canceled or postponed. I think we were very responsible in putting this one together, making sure people understand social distancing and all the other stuff that comes with it.
"But we had a great turnout. All the foursomes were filled."
Be the first to know
Get local news delivered to your inbox!