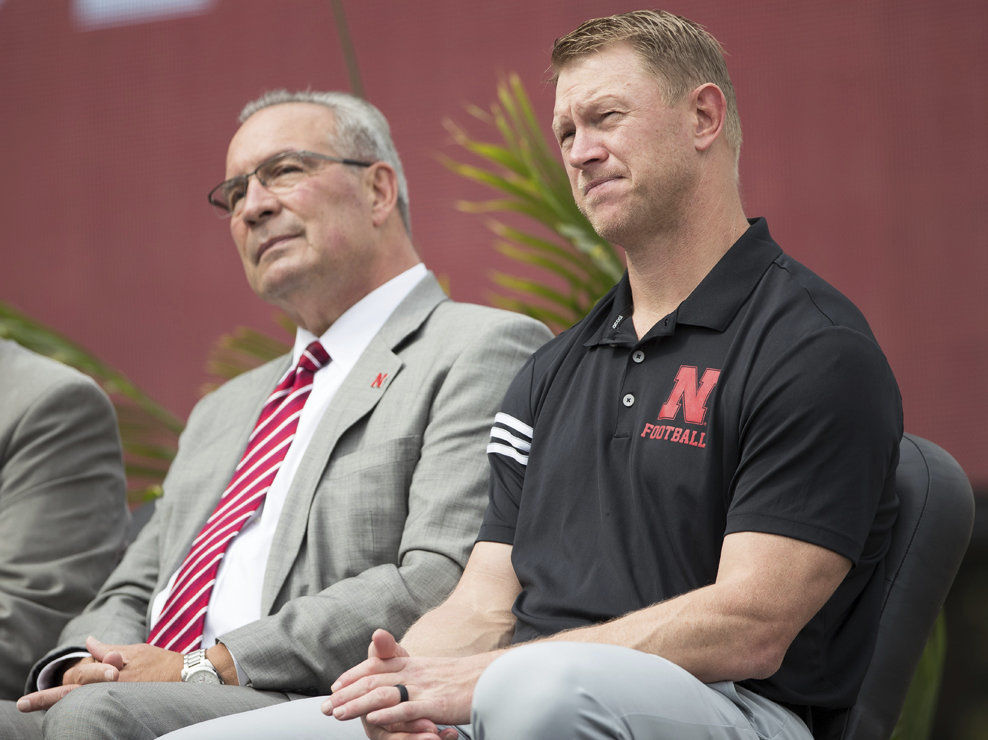 LINCOLN — Well, it's a start. The NCAA's decision allowing football and basketball players to begin organized team workouts on June 1 is "the first hurdle," according to one Husker coach.
But a lot of work remains, NU women's basketball coach Amy Williams said Thursday, including a decision from the Big Ten on whether to follow that same time frame or wait a little longer. The conference previously suspended organized team activities through the end of May.
A decision Friday from the SEC on its return date may point the way. Ohio State and Louisville have already announced their facilities will reopen June 8.
"The Big Ten wants to be equitable and fair, but they also have very motivated intentions to try to get the athletes back to working out and back on campuses if it's safe to do so," Williams said.
And Williams said NU Athletic Director Bill Moos has been clear over the last two months that student-athletes are welcome to stick around the area, and they're safer if they do.
"We're going to put the safety and welfare of our student-athletes first," Williams said. "Having them here has been his message all along."
NU has formed a "working group" focused on the logistics surrounding health and safety as athletes begin to return over the coming weeks, Williams said. The initial wave of players will be from the football and men's and women's basketball teams. A future NCAA vote may approve more to return at a later date.
Nebraska's working group communicates with senior staff, which relays information to coaches. For Williams, her senior staff contact has been deputy athletic director Pat Logsdon, a longtime senior administrator for women's sports.
"Pat and I are on speed-dial right now," Williams joked. "What an incredible resource she's been for me over the last several weeks."
The dynamics in every sport are a little different. NU men's basketball coach Fred Hoiberg wants all his players — only one, Akol Arop, is from Nebraska — back by June 6. The massive Husker football roster includes many players who have already returned to Lincoln and live in off-campus housing, according to coach Scott Frost. NU then keeps tabs from afar on other players, like members of the 2020 recruiting class who didn't enroll in the spring.
"There's a lot of work that goes into getting guys physically and mentally ready to play football," Frost said May 11. "As much as we can be doing right now, we're going to try and do, so we're more ready than other people. We've been doing a good job with that."
One newcomer is South Dakota transfer and walk-on receiver Levi Falck. He picked the Huskers over Iowa State and was accepted into graduate school Wednesday.
Falck said NU staffers have prepared newcomers in Zoom calls for the transition to workouts. They've been asked to check their symptoms, isolate if needed, arrive to NU alone and prepare for a potential short quarantine once they arrive in Lincoln. Nebraska believes it can procure tests if needed, Falck said.
"I've been really impressed with how much Nebraska cares about this," Falck said. NU was "a dream school" for him, and its preparation for the return of athletes has underlined why he liked the program.
Williams said one of her players — recent junior college signee Ashley Scoggin — is on campus and started classes Monday. The others will come from all over. Kate Cain, who contracted and recovered from the coronavirus this spring, will come from New York. Transfer Bella Cravens will arrive from Hawaii. Two players each will arrive from California and Australia.
That last journey might be interesting. One of the Australians, Issie Bourne, is a returning player and her visa to return has been approved, Williams said. The other visa for freshman Ruby Porter hasn't been approved yet. Williams said there may be a different timeline for her.
"She's been so antsy," Williams said. "She's been done with school since January — they're on a different calendar in Australia — so she's just been waiting patiently to try and come here. She's been eager, more than any kid, to start workouts, to get something going in the weight room, skill workouts, anything. It's probably been most frustrating for her. I'm sick for her. I know how much she wants to be here."
In Zoom calls — which are frequent and important for a team adding six new players — Williams senses a desire from her whole team to return soon.
"It would have been very difficult for our players — who had been going hard since the beginning of our season, and really since last summer — to not expect that they were going to want to go home and reconnect with their families at some point," Williams said. "But I'm sure many of them have had way extended time at home and are just champing at the bit to get going again."
Be the first to know
Get local news delivered to your inbox!