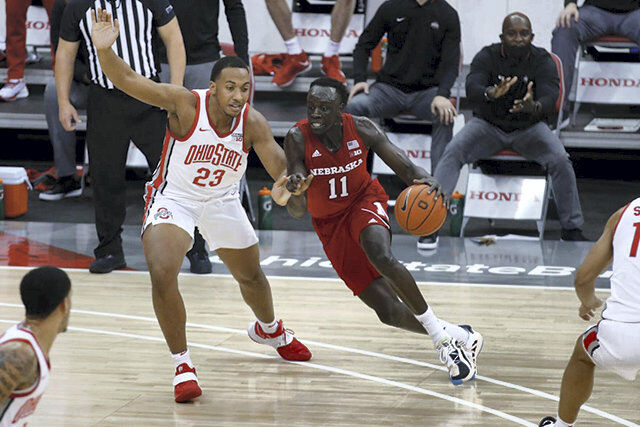 The story of Nebraska's 90-54 loss to Ohio State — the Huskers' 20th straight loss in the Big Ten — could be told through OSU's 15-0 run midway through the first half, or NU's 13 consecutive missed shots, or its 15 turnovers, some of them dribbles off legs or feet.
Perhaps a play is a good place to start.
That'd be the one where, with just over a minute left in the first half, Nebraska unselfishly passed the ball from Kobe Webster to Thor Thorbjarnarson to Dalano Banton back to Webster, who, despite being wide open right under the hoop, dished the ball, two feet away, to center Yvan Ouedraogo — who promptly had his shot blocked.
Things went poorly even when NU had the best intentions. Open shots didn't fall. Aggressive drives to the hoop didn't work. Nebraska's depth-challenged frontcourt couldn't slow down Ohio State's big men — three starting forwards hit 11 of 17 shots — and once NU's defense had to collapse on those guys, OSU's 3-pointers splashed through the hoop by the bushel.
Nebraska's 3-pointers did not. Coach Fred Hoiberg's offense is built on making them. In dropping to 4-6 overall and 0-3 in the league, the Huskers missed 28 of 33 from long range and 15 of 17 in the second half. NU finished the night with three assists.
"I've never seen a 3-to-15 assist-to-turnover ratio, as far as being in the seat that I'm in right now," Hoiberg said afterward on Zoom. Despite the 36-point margin being the biggest loss of his college coaching career — Nebraska or Iowa State — Hoiberg was not outwardly angry. He was instead pragmatic about where the game went wrong — and stayed there.
First came the early misses — which Hoiberg called good looks. Next, a stretch of desert that rivaled any of the sand dunes of the Doc Sadler or Tim Miles eras, in which, from the 13:15 mark of the first half until halftime, NU missed 17 of 18 shots and scored all of eight points and trailed 38-21 at halftime as a result.
"It's just unfortunate that we can't throw that thing in the ocean right now, but we can let that affect your overall approach to the little things that can keep you in a game like this," Hoiberg said.
NU started the second half with a 3-point play from Trey McGowens that cut the Buckeyes' lead to 14. That was the end of the evening's good news.
OSU (8-2 and 2-2) responded with a 16-2 run that took just five minutes of game clock. It scored at will against Nebraska's defense, hitting eight 3-pointers and shooting 54.8% from the floor in the second half alone. The Buckeyes weren't the biggest guys Nebraska had faced, Ouedraogo said afterward, but they played physically. One 6-foot-8 freshman reserve, Zed Key, made all five of his shots and finished with 14 points. Ouedraogo, NU's only experienced post, took just three shots in 21 minutes — he made just one — because he's generally instructed to pass out to the perimeter when he doesn't have a point-blank look.
The Buckeyes' lead ballooned quickly to 35 and later 41 points, at 70-29 with 9:44 left. At that moment, Nebraska had made just three shots in the entire half. Coupled with the one shot it made over the final 13:15 of the first half, NU played the equivalent of an entire half — and then some — scoring 16 points. Teddy Allen led the team with 13 points. Lat Mayen added seven. Dalano Banton had arguably his worst game as a Husker, finishing with six points, zero assists and two turnovers. He missed all four 3-pointers he took.
"Mentally, I think it's wearing on them more individually on what they can do to take the lid off that hoop," Hoiberg said. "They're putting in the time. I told a couple they're putting too much time in. They're coming in for a couple hours per night and getting up shots and try to do everything they can to get that feel where you go out in the game and you can knock some down."
Hoiberg spent multiple days, between the Christmas Day loss to Michigan and Wednesday night's loss, talking to players both as a group and individually about energy and their roles on the team while guarding against the "lip service" that can be paid to growth in practice that doesn't translate to games.
Though frustrating, it's apparently growth compared to last year's 7-25 squad that didn't have great practice habits, Ouedraogo said.
"People really care more about winning this year," he said. "People are working more and more in the gym. So I don't think it's the same thing as last year. I just feel like we need a win, to start winning, just to start believe in ourselves, to see that we can do it."
For the 20th straight time in conference play, Nebraska did not. Saturday night, the Huskers face a ranked Michigan State squad in every bit the deep funk as the Huskers. The Spartans, winless in the Big Ten, lost 81-56 at Minnesota on Monday. They'll be hungry for a win. Hoiberg expects the same from his team that lost as badly as possible just days after a team meeting designed to prevent it.
"My faith is high in this group, and it always will be, no matter how many games we win this year, because they work and they love to play and they love to compete and they love being in the gym," Hoiberg said. "And that's where it starts as a competitor. When you go in there and you take it personal and you do everything you can and you pull yourself out it."