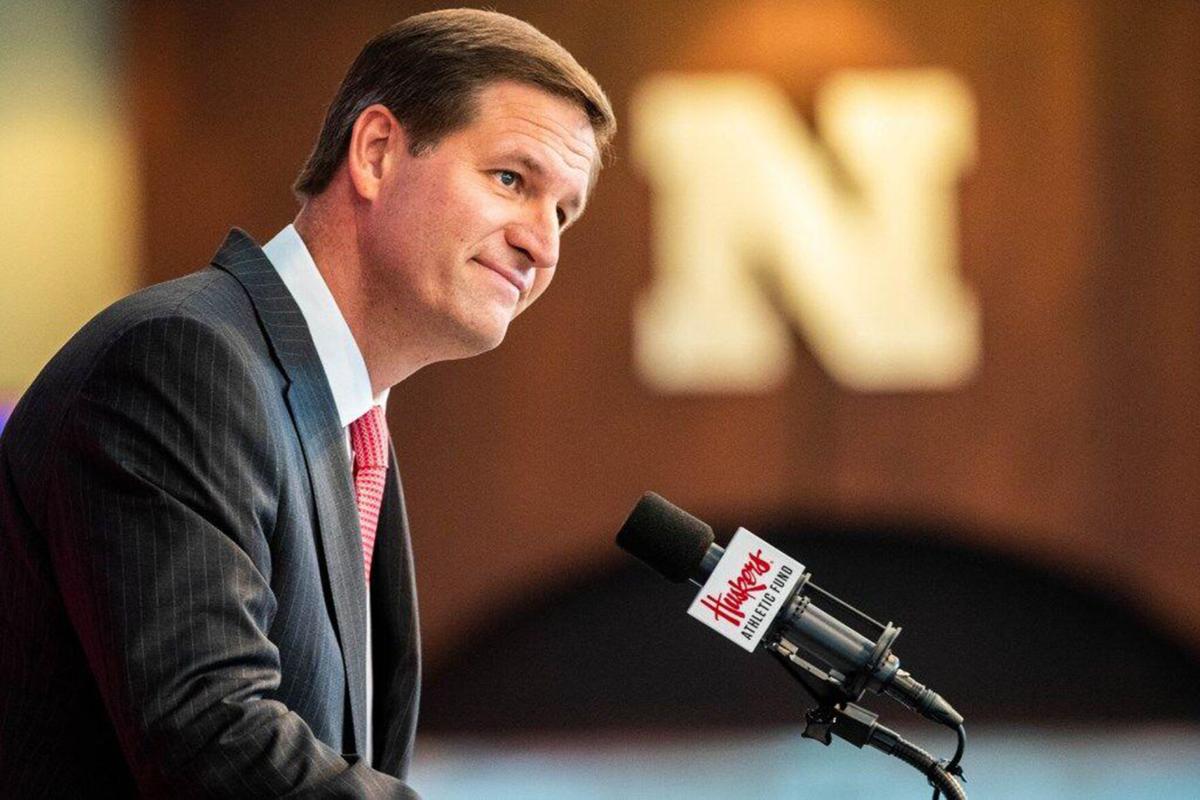 LINCOLN — New Nebraska Athletic Director Trev Alberts loves when a college kid — like he once was at NU nearly 30 years ago — walks by his open door, stops and asks: Can I talk to you for a minute?
"I always remind myself and everybody on the staff that nobody here would have a job if it wasn't for the student-athletes," Alberts said at a press conference Wednesday inside Memorial Stadium, where he once starred for the football team while winning the Butkus Award and academic All-America honors.
Nebraska retired his jersey decades ago and etched his name into the North Stadium façade with 24 other Husker greats. Starting July 19, he gets to work inside that stadium with a five-year contract at $800,000 per year.
"I love this place," he said.
Emotional at the podium — cheekbones moving quick as he stifled tears and apologized — Alberts pledged to build trust in the department, promote teamwork, reflect the culture of Nebraskans and apply more elbow grease than any other department in college sports.
"Nothing ever happens by happenstance, so we have to be the hardest working athletic department in the country," Alberts said.
NU was the only job, he said, for which he'd ever leave UNO, where he'd been athletic director 12 years while moving the program to Division I and controversially cutting football and wrestling.
Alberts said something else, too: Nebraska's A.D. job was "different" from the last time it was open in 2017, when Alberts took himself out of the running for a role that eventually went to Bill Moos.
What got Alberts — the 14th athletic director in school history but the fourth in less than a decade — to depart UNO? What made him leave his vacation spot in South Carolina — where his family goes around the Fourth of July holiday for an annual recharge — early for an interview that would change his life?
Start with the five words Trev said to his wife, Angela, after Moos' sudden retirement in late June. It was clear NU would move fast to replace Moos, and the usual runway for such transitions had been shortened to a length fit for a puddle jumper. Alberts, this time, wanted the job and heeded the call from others to pursue it.
"What he said was 'I can follow Ted Carter,' " Angela Alberts said. "That's a leader he can follow."
NU's President, in his 17th month in the role, impressed Alberts in every interaction they'd had.
Carter is a Top Gun pilot and former superintendent of the U.S Naval Academy; Alberts' son, Chase, just graduated from West Point. Carter wasn't the conductor of Alberts' hire — that role belonged to University of Nebraska-Lincoln Chancellor Ronnie Green — but he advised closely, as did a search advisory committee that included former and current athletes, coaches, boosters and regents. Carter said he wanted a leader. In Alberts, he thinks NU got one who can work through a new era in college athletics with name, image and likeness legislation while addressing diversity and inclusion initiatives in the department.
And — oh yeah — helping Husker football and men's basketball win more games would be good, too.
"Thirty-eight years wearing a uniform in the Navy, having flown at Top Gun with a lot of people in combat and seeing a lot of different things," Carter said, "I've seen some phenomenal leaders, I've seen some not so good leaders, but I feel like I know a great leader when I see one and we have a great leader here with us today."
Said Green: "Trev is dedicated to putting in the hard work to ensure that we are competitive five years, 10 years, 20 years from now in Husker athletics."
Nebraska picked Alberts from an initial group of 25 candidates that Green and the committee winnowed down to eight. Green and Carter said they formally interviewed only one person.
Alberts emerged as the lead candidate last weekend, when he left the vacation home for an interview while Angela and their youngest daughter, Breanna, stayed behind. By Tuesday, Angela said, they were heading back. Trev said he had a "meeting" Wednesday.
The job-sealing handshake between the parties didn't take place until Tuesday night, and contracts were signed Wednesday morning. NU leaders wanted no leaks before Alberts spoke to coaches and athletic department staff around 9:15 a.m. There weren't any, in contrast to Moos' sudden departure creating a Friday-afternoon scramble.
Alberts starts Monday and plans to be at Big Ten media days, where football coach Scott Frost will talk to the media for the first time since the spring football game. Frost didn't attend Wednesday's event — he was on vacation with his family — but released a statement in support of Alberts' hiring.
"Trev Alberts has a great track record of success in whatever he has done, dating back to his playing days through his time leading the UNO athletic department," Frost said. "Trev and I share a love of Nebraska, this football program, and this athletic department."
Befitting of his buttoned-up approach to discussing his coaches, Alberts kept his comments about Frost and football — four straight losing seasons in the flagship sport — general in nature. Alberts said Frost had reached out to him privately in support for his candidacy.
"I will be all-in to helping Scott and that staff be successful," Alberts said. "It's important to the university, it's important to the state of Nebraska."
He praised NU's title-winning volleyball program as the "North Star" of its sport and, after suggesting a reporter asked a "loaded question" about which programs he thinks meet his standard, noted Nebraska baseball, which recently won the Big Ten.
Nebraska's athletic department, Alberts said, is not entitled to success.
"It has to be earned," he said. "I think that perspective — we'll go to work. We've got great people. We can do this. But it isn't going to be overnight, and it isn't going to easy, but we're really going to focus on the fundamentals and mechanics of how we operate. Attention to detail. Work habits."
Ideas matter, too, Angela Alberts said.
One reason Trev was reluctant to leave UNO was because of all the "irons still in the fire" from a vision he started more than a decade ago — ideas that couldn't be executed at once.
"This is what he does: 'I've got some ideas. Who thinks this is a good idea?' And then, if we get a bunch of people in the room, does everybody think this is a good idea?' " said Angela, who noted her husband's zeal for talking to student-athletes. "He's like, 'I know I'm not going to get everything I ask for, but I know I'm going to get some things.' "
Alberts now has a $150 million budget, a platform as big as the state's borders and hundreds of department employees to help execute a vision. No person is too small, he said Wednesday, and while he loves football, he's just as excited at a shootout for women's soccer. He said he likes to win, and he wants for current NU student-athletes what he had as a football player in 1993.
"You can say all the right things — but do your actions match the words," Alberts said. "I may have the title of the athletic director, but I'm not necessarily the athletic director — I've got to earn that. I'm willing to follow Ted Carter. I have to earn the right for our coaches and staff to be willing to follow my leadership. That's not done — but I'm committed to doing it."