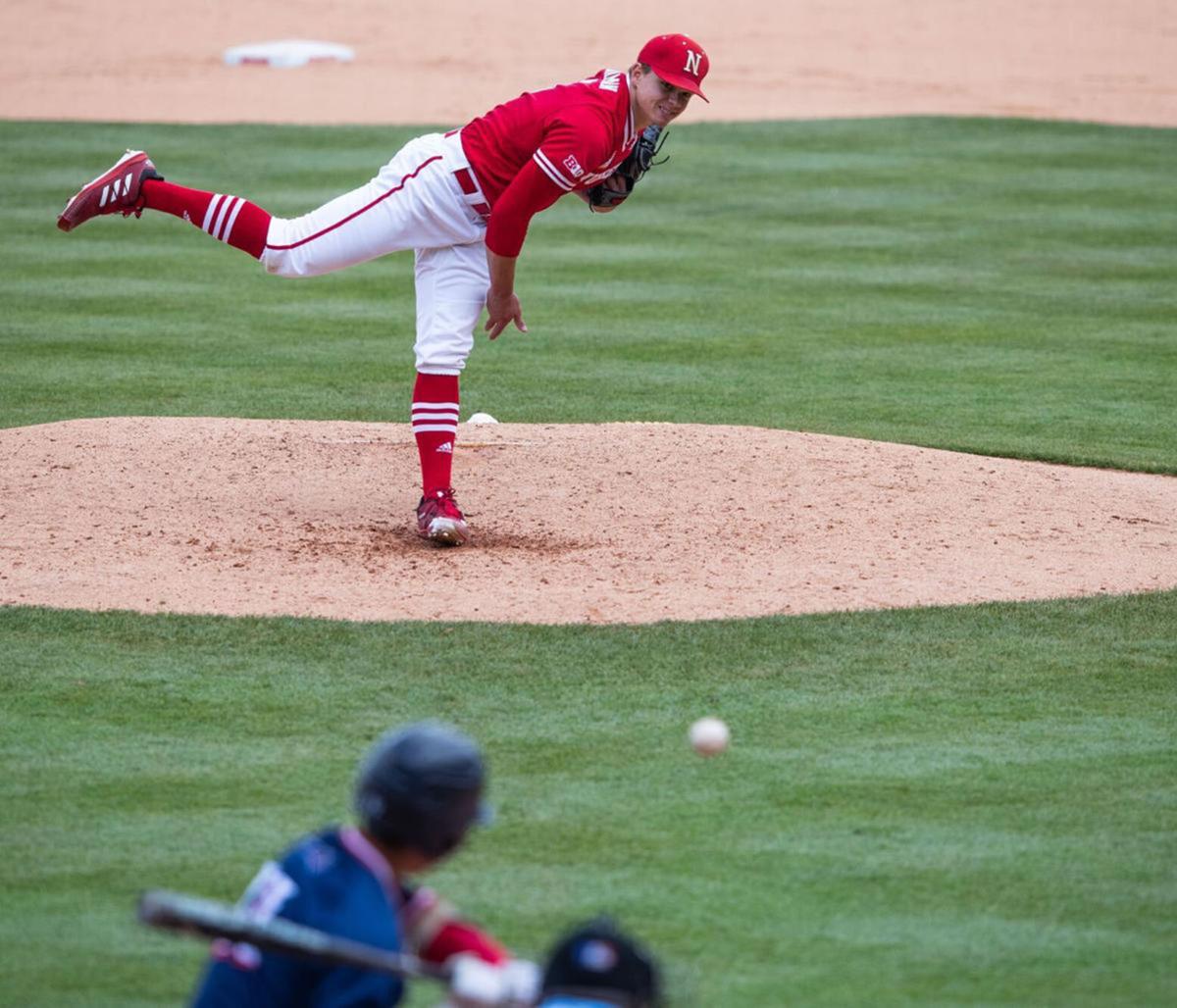 FAYETTEVILLE, Ark. — Nebraska didn't play a perfect game. But the groans inside a sold-out Baum-Walker Stadium gave away a finish that was more than good enough.
With their season on the brink, multiple Huskers rose up as they shocked No. 1 overall seed Arkansas in a 5-3 win late Sunday. Kyle Perry and Spencer Schwellenbach combined to shackle the powerful lineup of the SEC champion while the offense overcame a flurry of baserunning gaffes. Griffin Everitt's two-run single in the fifth inning broke a 3-3 tie for a lead that held up the rest of the way.
The outcome sets up a winner-take-all game Monday at 6 p.m. Nebraska (34-13) is seeking to advance to the super-regional round for the first time since 2005 while knocking out a No. 1 overall seed in its own regional for just the third time since the field expanded to 64 teams in 1999.
Perry — making his fourth start as he ramped up returning from Tommy John surgery last June — gave Nebraska all it could hope for across 4 1/3 innings and a season-high 73 pitches. Aside from a mistake-marred three-run Hogs third inning, the lefty from Millard South limited baserunners while striking out seven and walking three.
Schwellenbach went the rest of the way, battling with mid-90s fastballs and pinpoint-breaking stuff.
Jaxon Hallmark set the tone right away, clobbering a 2-2 changeup over the "400" sign in straightaway center. The senior drew boos as he touched home, holding up his hands in a bring-it-on gesture.
The slim edge held up until the Arkansas third. A one-out walk and single set up Cayden Wallace for an RBI single up the middle. Then with two outs, the Hogs scored on a wild pitch that sailed to the backstop and added another run when the throw from catcher Griffin Everitt leaked away from Perry.
But the Big Ten champs, in typical fashion, didn't dwell on the critical sequence. They responded with a run in the bottom half of the frame when a throwing error and Joe Acker double led to a Hallmark sac fly to right.
Multiple outs on the base paths again gave NU reason to melt under the spotlight. Acker was thrown out at home trying to score on a Schwellenbach grounder to first. Then Arkansas gunned down Schwellenbach trying to take third base on a Luke Roskam infield hit. And that came after a runner was doubled off second base on a lineout in the previous inning.
But Perry posted another zero in a 1-2-3 fourth. And after the Hogs worked a one-out walk and single to put men on the corners in the fifth, Nebraska called on Schwellenbach, its lights-out closer, who escaped the jam with a strikeout and flyout.
Schwellenbach wasn't done. After Acker singled to center and Hallmark beat out a dribbler to the pitcher by an eyelash, he slugged a 1-2 pitch to left-center for a game-tying double. After a strikeout, Everitt produced the big blow by grounding a 93 mph fastball to right field on a 2-1 count that hushed the partisan crowd and gave NU a 5-3 lead.
Shay Schanaman didn't consider Sunday afternoon among the best starts of his career. His breaking pitches weren't especially sharp, and his command was only so-so.
But with Nebraska's season on the line, its normal No. 3 starter did exactly what the Huskers needed to not only survive their first elimination game but save the bullpen for a few hours later in the program's first regional final appearance in 14 years.
Schanaman provided precious rest for NU relievers with seven innings of four-hit baseball, and his offense clobbered NJIT's depleted staff in an 18-4 victory at a steamy Baum-Walker Stadium. An eight-run fourth and six-run fifth left little drama inside Baum-Walker beyond watching storm clouds gather beyond right field.
"They weren't as quick with the trigger to get me out of there and get to the 'pen, so that was kind of nice," Schanaman said. "But I'm happy about how it turned out, and I'm glad I was able to do my job."
The Big Ten champs set up the rematch with Arkansas after setting season highs in runs (18) and hits (19) in front of a midweek-esque crowd of 2,004. Joe Acker came up a double shy of the cycle in his first career four-hit game and joined Jaxon Hallmark, Cam Chick and Brice Matthews in swatting a home run.
An Acker triple and Luke Roskam RBI groundout in the first put the Huskers ahead, and Acker added a towering solo shot into the left-field bullpen in the third. NJIT answered with a long ball from Matt Cocciadiferro in the fourth to cut the lead to 2-1.
NU broke into the Highlander bullpen in the bottom half, knocking out starting lefty Grant Vurpillat after a plunked batter and a walk. It was the start of sending 12 men to the plate, highlighted by RBI singles from Acker, Hallmark, Spencer Schwellenbach and Griffin Everitt along with a Chick three-run inside-the-park homer on a ball he smashed to left.
Four more Huskers collected run-scoring hits in the fifth, punctuated by a Matthews two-run bomb over the 400-foot sign in center field to balloon the lead to 16-1.
Both teams dipped into their benches the rest of the way. Caleb Feekin and Braxton Bragg tossed the final two innings for Nebraska after Schanaman allowed two runs (one earned) with three walks and five strikeouts over seven frames and 107 pitches. Hallmark homered in the eighth and was among nine Huskers to collect RBIs and 11 to get a hit.
The 18 runs tie the most the Huskers have scored in a postseason game in school history (18 against Eastern Michigan in 2003). NJIT used seven different pitchers, five of whom allowed runs.
"We missed too much in the middle of the plate, and they pretty much showed why they're a top-20 team and why they won the Big Ten," NJIT coach Robbie McClellan said. "So hats off to them — they kicked our butt today, and they deserve it."