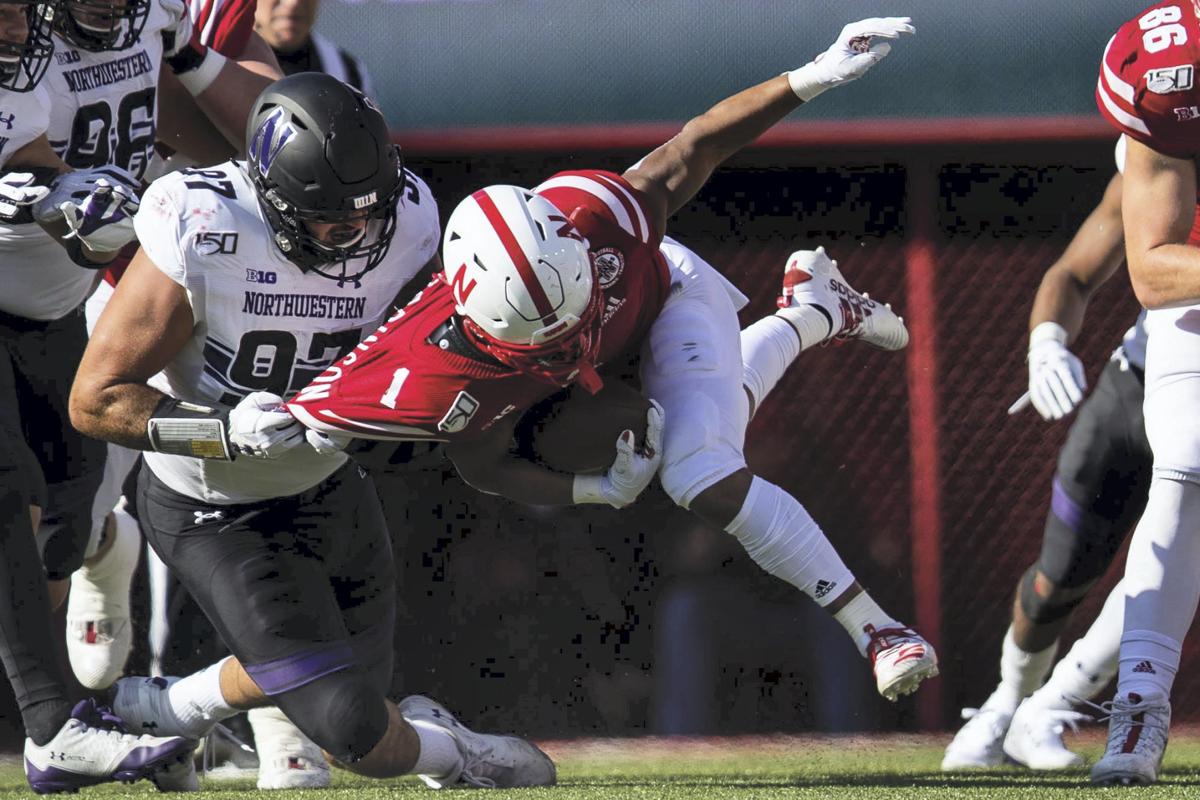 LINCOLN — Despite being just a true freshman, it's obvious that wide receiver Wan'Dale Robinson enjoys being Nebraska's go-to guy when the game is on the line.
Robinson had seven receptions for 123 yards Saturday to help Nebraska slip past Northwestern 13-10 on Lane McCallum's 24-yard field goal as time expired. Robinson was also the leading rusher for the Huskers with 44 yards on seven carries, including a 42-yard touchdown run that put his team ahead 7-0 with 4:25 remaining in the first quarter.
"These are the moments you live for as a college football player," Robinson said. "I came in wanting to make plays just like this and I came in wanting to have a big impact like this in a game like this. Just doing what I can to help our team win is all I want to do."
Previously, Robinson's best work came in Nebraska's 42-38 come-from-behind victory at Illinois on Sept. 21. The 5-foot-10, 190-pounder from Frankfort, Kentucky, rushed for 89 yards and a TD and caught eight passes for 79 yards and two more scores against the Fighting Illini.
"I thought Wan'Dale stepped up when we needed him to," Nebraska coach Scott Frost said. "He was a real weapon for us."
Perhaps Robinson's most important contribution was a 32-yard reception from backup quarterback Noah Vederal with less than a minute to play that helped set up Nebraska's game-winning kick.
"He's not afraid of much — he wants the ball in those situations," Frost said. "I said the same thing after the Illinois game: He's going to be a weapon around here for us for a long time.
"Wan'Dale had proven himself to be a guy we can rely on when we need him."
Robinson said his 32-yard catch on the final drive came on a "switch route."
"Me and whoever the outside receiver was just switched places," Robinson said. "The corner overlapped, so I was just hoping Noah could give me a shot to let me make a play. Obviously, he did."
Robinson said he definitely wanted the football in his hands with Nebraska needing a score to break a 10-10 tie.
"I mean, anytime there is a game on the line, like I said earlier, I want the ball," Robinson said. "I want to be able to make the play. I want to be able to give our team confidence. I want to be able to get our team going."
Robinson nearly scored a second TD midway through the third quarter. He hauled in a shovel pass from starting quarterback Adrian Martinez, broke into the secondary and raced 49 yards to the Wildcats' 17-yard line before being chased down by Northwestern defenders.
"I didn't think (Martinez) was going to shovel it because of how the mesh point was, so whenever he gave it to me I was like, 'I gotta go,'" Robinson said. "Then, that guy came down and I made him miss. I just got to work on my top-end speed a little bit."
Robinson's performance was particularly big for a Nebraska offense that was playing without two of its top players. Wide receiver JD Spielman sat out in the second half with an injury and Martinez left early in the fourth quarter after appearing to injure a knee.
"I always feel like I have to give some type of play," Robinson said. "I feel like that any play I make will give our team confidence and our fans, giving them something to cheer for.
"So really, anything I can do to help us. Having those two go down was a huge blow, but we had a tremendous confidence in Noah."
Vedral returned the endorsement, saying that he likes to refer to Robinson as "Charles" for a nickname.
"Charles is a really special kid," Vedral said. "He's going to have a really bright future. I think you can already see that, but he's nice to throw to. I'll promise you that."
Be the first to know
Get local news delivered to your inbox!