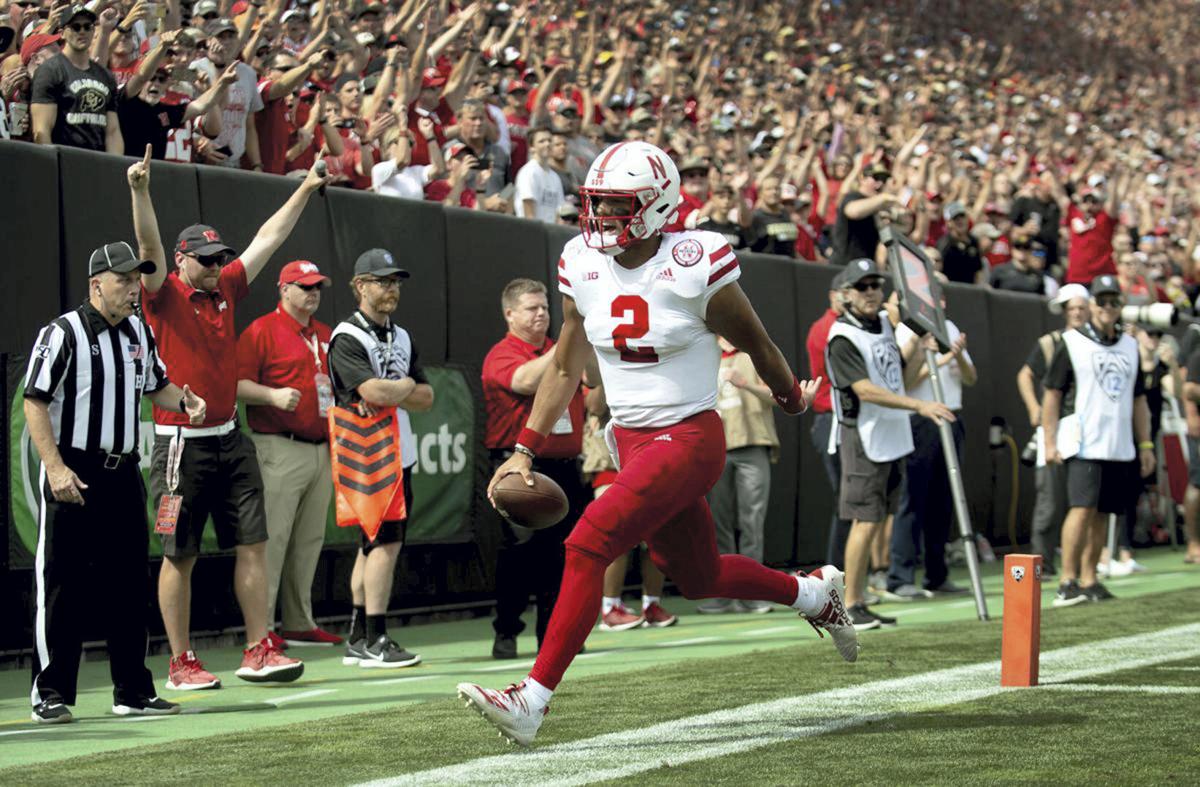 Adrian Martinez is once again Nebraska's starting quarterback.
Husker head coach Scott Frost confirmed that news Monday as his team dives fully into game week preparations for Ohio State on Saturday. He said NU has the luxury of "two first-string quarterbacks," in Martinez and redshirt freshman Luke McCaffrey, but that the junior will get the first crack at guiding the Husker offense.
"Adrian is going to be our quarterback," Frost said.
Martinez, a 21-game starter at Nebraska, on Saturday was named one of the team's five captains, the second straight year he's earned that designation. Just before Frost spoke with reporters Monday, Martinez said that he felt good about his place in the competition.
"It's not really my place to speak on (the decision about who is starting), but I'm feeling good about where I'm at, and I'm going to continue preparing that way," the Fresno, California native said.
Frost, though, continued to compliment McCaffrey extensively and even rebuffed a question about what ultimately separated Martinez in the race.
"I don't know how much separation there is," Frost said. "I think we have two first-string quarterbacks. That's the way we feel about them. I really believe that if Luke was the one that had been playing and we would have had the same camp, it might be Luke. They both had tremendous camps and we see ourselves as having the luxury of having two starters."
With Martinez getting the nod, one of the most interesting subplots early in the season will be what role McCaffrey has in the offense.
"If he's one of the best players to have on the field and he's not playing quarterback, we'll certainly look for opportunities to make sure our best players are out there," Frost said of the 6-1, 205-pound Colorado native last week.
The dead-even race also indicates that Frost and NU's coaches could have a shorter leash with Martinez if he shows signs of the same struggles that plagued him in 2019. Martinez, of course, has a strong freshman season and plenty of good tape last year to build from. Despite not playing his best for much of last year and missing two games due to injury, Martinez finished third in the Big Ten in total offense at 252.8 yards per game and is one of only six players in the country to enter his 2020 season with 4,000 passing yards and 1,000 rushing yards under his belt.
However, his 59.4% completion percentage must improve in 2020 if he is to hang onto the starting job, as must the percentage of potential big plays the Huskers convert on.
Senior right guard and fellow two-time captain Matt Farniok said Monday that he didn't think that would be a problem for Martinez this fall.
"I'm extremely happy for him," Farniok said. "As the days have gone on, he's got a lot better in just making the right reads and trusting the pocket. We as an O-line have kind of proven it to him to have faith in us and we're giving him a lot more time to make his job easier.
"He's been doing a great job with it."
Farniok joined the chorus, too, of players and coaches who have marveled at the strides McCaffrey has made this offseason.
"He's an extremely talented guy," the senior right guard said. "If he's behind us, there's really no drop off. He does a great job of pushing himself and Adrian. He's the ultimate competitor and he's a guy that loves this game of football. No question, if he is ever in the game and we need him, we have 100% confidence behind him and we know he's going to make the right calls. And I also know that he has confidence in himself to make the play."
Frost made it clear that experience played a factor in the decision and Martinez has some good history, in particular, at Ohio Stadium. In 2018, he led Nebraska on a game-opening touchdown drive and accounted for three total scores in the Horseshoe and Nebraska led OSU well into the second half before ultimately coming up short, 31-26.
"If you need any more excitement to play in that game, in that stadium, I don't think it matters if fans are there or not," Martinez said Monday. "Guys are going to be ready to play."
Be the first to know
Get local news delivered to your inbox!