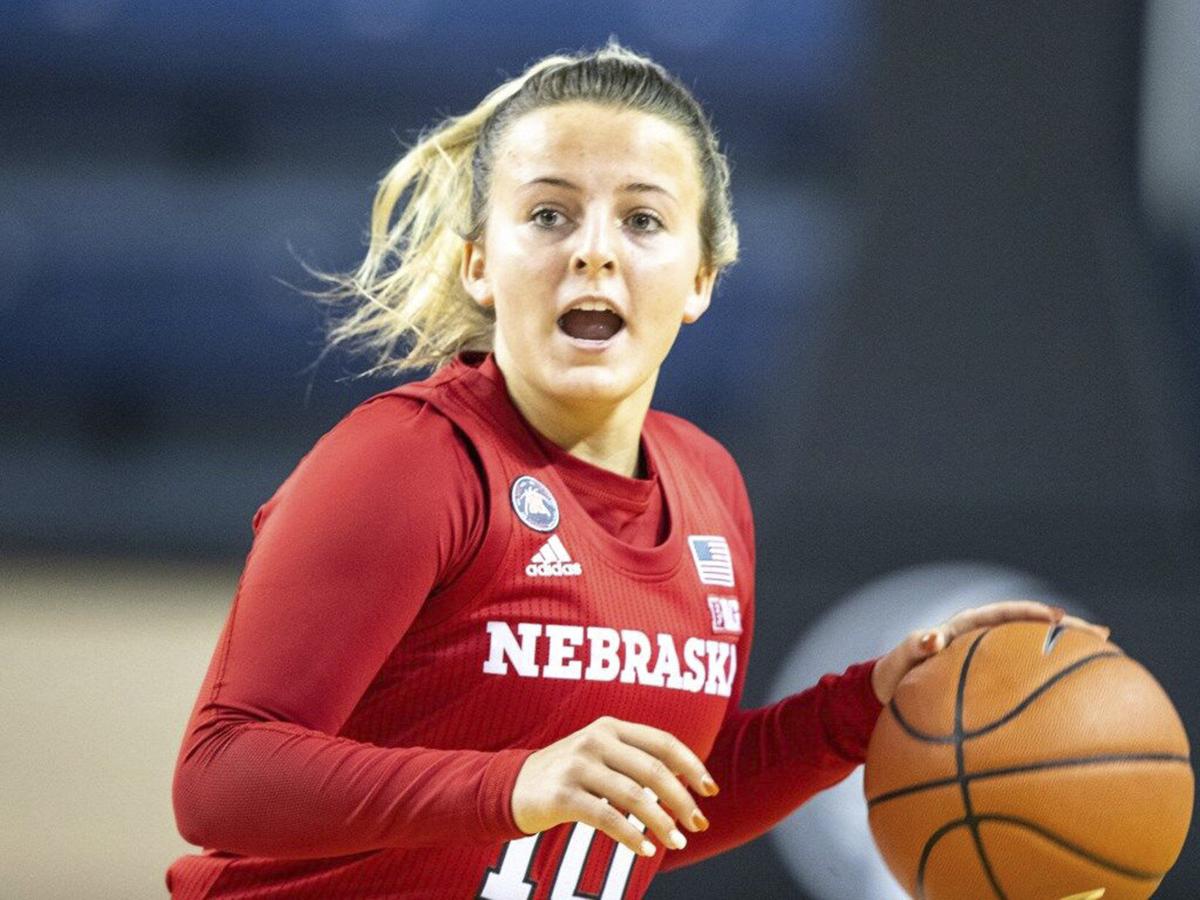 LINCOLN — Never in Whitney Brown's wildest dreams did she expect this.
She left her hometown of Grand Island after graduating from Northwest to walk on the Husker women's basketball team, and she played 28 minutes in NU's 63-55 upset over 15th-ranked Ohio State as a true freshman.
"I'm glad to be thrown into situations like that," Brown said Saturday. "I'm very happy with Coach (Amy Williams) being able to trust me like that."
She contributed a career-high 14 points, sinking four 3-pointers, against the Buckeyes (7-1, 3-1). The 5-foot-8 guard holds the team-high percentage for shooting behind the arc (39.1%) while averaging 17 minutes per game.
Nebraska (7-4, 5-3) has been struck by injury and usually only has seven or eight players. Williams has been forced to lean on her three freshmen, including Brown, guard Ruby Porter and forward Annika Stewart.
This group isn't shying away from the challenge.
"We may take a day off here or there and all of the sudden when I'm in my office, I'll hear shoes squeaking and balls bouncing," Williams said after Saturday's game. "I peak out there and our three freshmen are playing three-on-three with three of our scout guys and getting after it even on our day off.
"That's the type of work ethic that pays off and why they are continuing to progress and have the confidence to be able to step up and make plays for our team."
Porter is the Huskers' third-most accurate 3-point shooter, hitting 6 of 19 this season. The 5-10 guard sank three of four 3s in Nebraska's 68-64 win over then-No. 23 Michigan State. Against the Spartans, Porter closed MSU's lead to 56-54 with a huge 3-point shot in the fourth quarter.
Stewart averages 3.5 rebounds and 5.0 points per game. The 6-3 forward had a career-high 15 points in the Huskers' 64-51 victory over Idaho State on Dec. 6.
This season's short rotation has allowed Nebraska's freshmen to get more game experience than expected. This will pay dividends for the team in the future.
NU will ideally return guard Trinity Brady, who started the first two games of the season before injuring her ankle against Idaho State, along with guard MiCole Cayton later this season. Guard Nailah Dillard will return next season after hip surgery this season.
Having three experienced freshmen will add to the Huskers' depth next season and consequently, their talent.
Game experience allows Nebraska's staff to address issues that are more prominent to emerge on the court against opponents, fast-tracking the freshmen's learning curve.
Brown has been working one-on-one with junior guard Sam Haiby, a two-year starter and the Huskers' leading scorer, learning from her experiences and improving her shooting abilities.
"Today I had a lot more confidence. I could just see on the court," Brown said. "But that's all to Sam Haiby. In practice today, our shootaround, she was telling me, imagine her passing the ball to me in the game today. Catching it shot-ready is something I need to be better at.
"I love being on the court with Sam Haiby."
Nebraska will take on Minnesota (2-7, 1-6) on Tuesday at 3 p.m. at Pinnacle Bank Arena on BTN. The Golden Gophers average 68 points per game but give up 82 to their opponents.
NU's biggest defensive challenge will be containing guard Jasmine Powell, who averages 17.3 points, and battling 6-2 forward Kadi Sissoko in the paint. Sissoko, a former five-star recruit, had 10 rebounds and 16 points in Minnesota's sole Big Ten win, defeating Wisconsin 88-83 in overtime. Guard Gadiva Hubbard added a season-high 24 points.
The Huskers have an opportunity to expand on a great win against the Buckeyes.
"This performance tonight really was the picture of what we would like for our team," Williams said. "Just grit and toughness and playing every possession and getting contributions from everywhere and sharing the basketball."