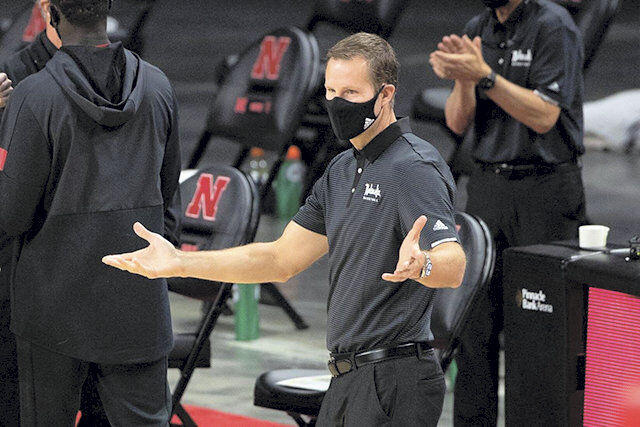 LINCOLN — Doane has popped onto the Nebraska men's basketball schedule this season. The NAIA Tigers don't have a player taller than 6-foot-7 on their roster and would typically be exhibition fodder for the Huskers.
But Doane is also a stone that kills a whole bunch of birds before the nasty Big Ten schedule begins.
For starters, it gives NU a chance to throw its freshman center — fresh off a 21-day COVID sit-out — in the shallow end of the pool before Wisconsin's twin towers await on Tuesday.
Eduardo Andre is 6-10 with a 7-4 wingspan. That'll help. But the London native needs to get his basketball legs under him. Treadmills, bikes and sprints won't do that, coach Fred Hoiberg said Wednesday.
"I promise you: You'll see him, after two or three times up the floor, he's going to be winded," Hoiberg said. "So we're really going to have to keep an eye on him. It's going to be short bursts when he's out there. But it is important we get him on the floor."
And equally important for NU to knock a game off forward Derrick Walker's wait to play. He's in a game-suspension scenario due to NCAA violations from two years ago, and the NCAA recently dropped the number of games to 11. Doane will be No. 7. That means Walker misses four Big Ten games and is back by Jan. 5 at Purdue.
The quicker Andre acclimates to the collegiate game and Walker gets back to the court, the better that is for Lat Mayen, the 6-9 forward who's taking his lean frame into the post because, outside of Yvan Ouedraogo, Nebraska has no one else. Mayen, perhaps NU's best 3-point shooter, has done everything asked of him, Hoiberg said, without complaint. He's also taking fewer and fewer shots in the past two weeks, a trend Hoiberg wants reversed.
Ditto for Mayen's recent foul trouble. When he leaves the floor, NU's offensive spacing gets worse because that's one fewer perimeter threat.
"We need Lat on the floor," Hoiberg said.
Said Mayen: "I've just got to do my part for what the team needs. Call for the ball more, get more shots up, obviously, get more involved with the team. But it's not hard for my teammates to pass me the ball or look for me when I'm open."
Mayen's drop in production — he's taken just six shots in the past two games — doesn't necessarily affect NU early in games. The Huskers (3-3) have gotten off to six quick starts thanks to a variety of players. But the deeper the game goes, the more Nebraska's signature stuff — and ball movement — has waned. The Huskers played with Georgia Tech for 33 minutes and Creighton for 26. Then the offense disappeared, the defense busted, too, and NU was left feeling frustrated.
Thursday's game is a chance to work out some of those bad vibes before Big Ten play. Hoiberg put the team through two tough workouts on Tuesday, and guard Trey McGowens said the atmosphere got "chippy." That's not necessarily a bad thing — iron can sharpen iron — but the toughness has to be applied to the opponent, too.
"We've got to flip that switch," McGowens said.
So, here comes 5-8 Doane, whose coach, Ian McKeithen, was once an intern for Hoiberg. The Tigers lost 91-63 to Nebraska last season in an exhibition. This time, the game counts, much like the 2018 game against Southwest Minnesota State, a 79-38 win, counted.
"You look across the board — I think everybody has pretty much lost a game at this point," Hoiberg said. "Some have rescheduled, some haven't, some will wait until the end of the season, but we felt like, with all the variables involved, this was the right thing to do."
Lakes could gain eligibility
% Nebraska shooting guard Trevor Lakes is eligible for this season as the NCAA passed a blanket waiver of immediate eligibility for all 2020 transfers Wednesday. Lakes, who came from Division II University of Indianapolis this summer, is able to play this year and next because the NCAA is allowing all seniors to return for an extra year of eligibility regardless of how many games they play or miss. Lakes is a career 41% shooter from 3-point range.