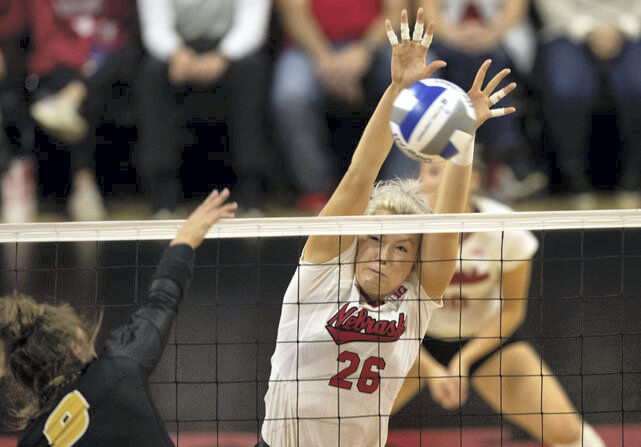 A significant part of the high expectations for the Nebraska volleyball team this season had to do with its four seniors.
Lauren Stivrins and Lexi Sun are All-Americans, Jazz Sweet is a three-year starter and Hayley Densberger has been a key contributor as a serving specialist.
But for now their senior seasons are on hold after the Big Ten Conference decided this week to postpone fall sports due to the nationwide health crisis.
Instead of sulking about postponed volleyball season, Cook working on plan for spring
Big Ten postponing football, other fall sports; NU leaders say they are 'very disappointed' in decision
The Big Ten said in a statement that competing in the spring remains "a possibility." Nebraska coach John Cook hopes the major health and financial challenges in college athletics can be overcome to make that happen, and he and the other league coaches have already drafted a plan for how the season can be played in the spring.
Otherwise, if the Huskers don't play again until August 2021, Nebraska will have gone about 20 months without playing a match.
With each semester that passes, it's possible that Nebraska could have a player graduate and choose to move on. And Stivrins, Sun and Sweet should have opportunities to play professionally after college.
Right now none of Nebraska's seniors has graduated, or will this summer.
Sun, Sweet and Densberger haven't redshirted and would be in their fifth year, while Stivrins had a redshirt year in 2016 and would be in her sixth year in college.
Does Cook think they'll lose any seniors if the Huskers don't play until next fall?
"I don't know, but I don't think so," said Cook to the Journal Star on Monday. "I think our team, based on the four days that we trained, they really like each other and they're having fun. And I think they think we can be pretty good."
If the spring volleyball season doesn't happen, the NCAA would have to rule on eligibility and scholarship limits, but it's expected that seniors could return, similar to what happened with the canceled spring sports. Then Nebraska would have to decide if it will allow seniors to return and provide scholarships.
At that point Nebraska would have an extremely large and talented roster. The Huskers are set to have six high school players join the team in 2021. The class has each of the top three recruits nationally in the 2021 recruiting class — Kennedi Orr, Lindsay Krause and Ally Batenhorst — and should be the No. 1 recruiting class in the country.
Some of the concerns about potentially playing college football in the spring is that there wouldn't be time for the players to recover physically between the end of the spring season and the start of the 2021 fall season.
Cook understands that concern, but says he's not worried about playing two seasons close together because the sport doesn't have as much contact as football.
"No problem with that," Cook said. "And I think actually volleyball players could have some summer off, which would be a first."
Nebraska began practice last week and had four practices before the season was postponed.
"We got a pretty veteran team, so we were playing at a high level for the first four days and they were very excited to be in there and it was great," Cook said.
But for now Cook says the Huskers won't practice. Nebraska had been in summer strength and conditioning workouts and player-led practices for about two months.
"We're going to give them some time off, because if we're going to practice all fall they need a break because they've been going all summer," Cook said.
After the volleyball program gets more details on how it can practice in the fall, and classes start at UNL, they'll regroup.
"Right now there is a lot of unknowns," Cook said. "Everyone is sick of guessing, and doing this and doing that. At least we know now we got a shot in the spring, and let's wait and see what works out and try and make that happen."
Cook says he hasn't felt any greater reliance on NU football program over the past few months as questions mounted about the impact lost football revenue could have on college athletics.
While the Husker volleyball program has generated enough revenue to cover its expenses, but that may not have happened with reduced seating capacity due to COVID-19. The largest percentage of revenue for Nebraska Athletics comes from football, and that's helped Nebraska volleyball start a beach volleyball team and increase coaching salaries in recent years.
"I've always felt how important football is," Cook said. "This doesn't feel any different for me. I've always known that, and that's why we've tried to be a self-supportive sport and moved (to a larger arena to achieve that). I know football is really, really important, and it's going to be really hard."
Be the first to know
Get local news delivered to your inbox!